Sweet Berry Muffins
We may earn money or products from the companies mentioned in this post.
Sweet Berry Muffins
Sweet Berry Muffins are delicious muffins that are topped with a light and lemony glaze. The perfect muffin to make for mom on Mother's Day. In fact, these muffins are so simple to make, kids of any age can tackle them. (With a little help from dad, of course.) Dad get out mom's muffin pan, gather the kids in the kitchen and make mom some sweet berry muffins. Mom will appreciate waking up to breakfast in bed. P.S. Dad, the muffins are made with Bisquick, making clean-up a breeze.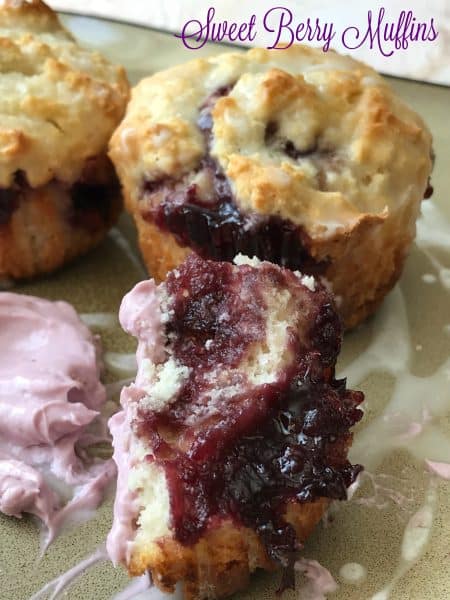 Bisquick
Traveling salesman, meets clever chef, which leads to Bisquick. It was a late evening in 1930. The train's dining car was closed. A hungry General Mills salesman named Carl Smith was on a train to San Francisco. A clever cook soon produced hot biscuits for him. Smith was amazed that the man could deliver fresh biscuits in such a short time. They went to the galley and the chef showed him how he had blended lard, flour, baking powder and salt, then stored the mixture in an ice chest.
From that batter the chef quickly made biscuits. In was a new idea in the Depression-era 1930's. There were few shortcuts that are available today. No cake mix, muffin or biscuit mix. Smith recognized the potential of a pre-mixed baking product and took it to a food expert at General Mills. The challenges were significant. Most importantly was to create the proper blend of ingredients to make the biscuits as good as or better than homemade.
It took a while, but a breakthrough was made. For over half a century, Bisquick in the familiar yellow and blue package, has been used by cooks everywhere to create a variety of delicious foods. Today, Bisquick remains the country's premiere convenience baking mix.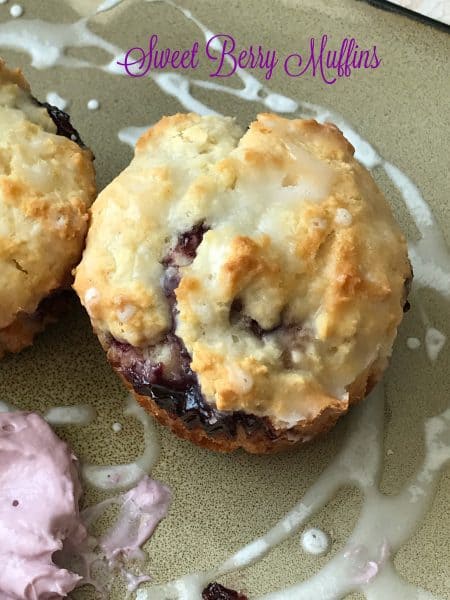 Make It Healthier
If mom is on a gluten-free diet, you're in luck. Bisquick has a gluten-free baking mix that you can use in place of the regular Bisquick used in this recipe. You can also reduce the sugar to one tablespoon instead of two or use a sugar substitute. I would stick with the regular butter though, but almond milk could be substituted for the regular milk. Use your favorite brand of sugar-free, low-sugar fruit/berry preserves or fruit/berry spread to fill the muffins.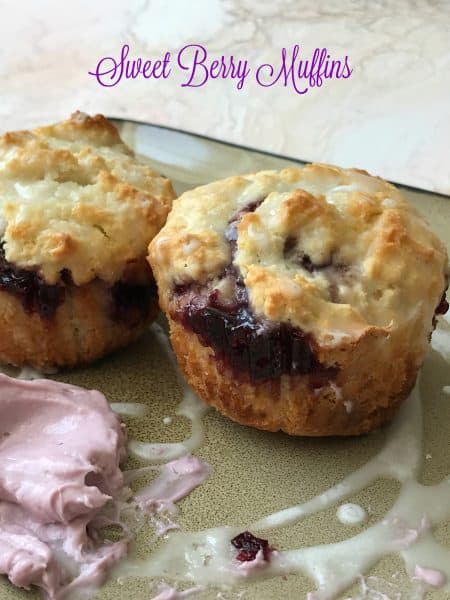 Want to Cut More Calories?
If you still want to cut more calories, simply omit the powdered sugar glaze and serve the muffins 'naked.' We served sweet berry muffins with whipped mixed berry cream cheese spread by Philadelphia Cream Cheese. The cream cheese spread was super with the muffins, really adding to the berry flavor. Honey, butter, jam can also be used to top these muffins. Sweet berry muffins are delicious anyway you serve them.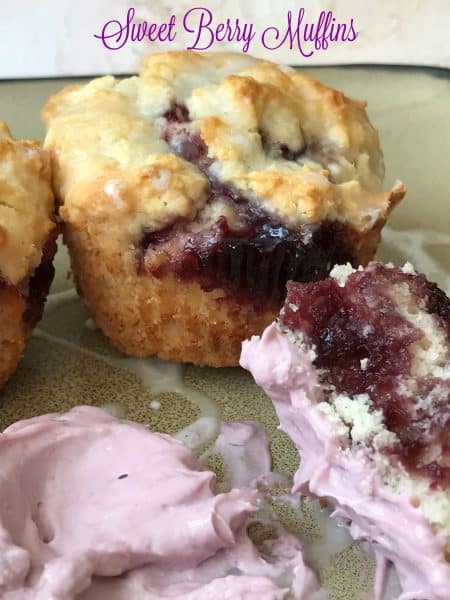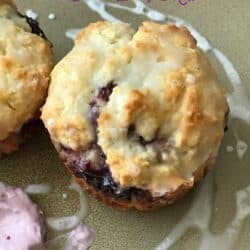 Sweet Berry Muffins
These moist and delicious muffins are made easy with Bisquick baking mix.
Ingredients
2

cups

biscuit/baking mix

,

Bisquick

2

tablespoons

sugar

1/4

cup

cold butter

2/3

cup

milk

1/4

cup

mixed berry superfruit spread

1/2

cup

confectioners' sugar

2

tablespoons

milk

1/4

teaspoon

lemon extract
Instructions
In a bowl, combine biscuit mix and sugar. Cut in cold butter until the mixture resembles coarse crumbs. Stir in milk just until moistened. (Batter will be thick) Spoon about 1 tablespoon of batter into 12-paper lined muffins cups. Top with 1 teaspoon of jam, jelly, preserves. Spoon the remaining batter, about 1 tablespoon each, over jam.

Bake at 425 degrees for 12-14 minutes or until lightly browned. Cool in pan for 5 minutes. Meanwhile make glaze. In a small bowl, combine confectioners' sugar, milk and lemon extract until smooth. Remove muffins to wire rack. Drizzle with glaze.
Notes
*For this recipe we used, Organic Superfruit Spread that we purchased at Aldi.
This superfruit spread includes: Morello Cherries, Red Grapes, Blueberry and Pomegranate.
Muffins? Did someone say 'Muffins?' Well we have muffin recipes for you. Carrot Raisin Sourdough Muffins and another favorite Apple Prune Muffins.