Lasagna Stuffed Bell Peppers
We may earn money or products from the companies mentioned in this post.
Lasagna Stuffed Bell Peppers (Gluten-Free and Low-Carb)
My very good friend Cindy from Just North of Wiarton  sent me the link to this super delicious recipe. This Lasagna Stuffed Bell Pepper recipe is from the fantastic website called Wholesome Yum. I've been interested in the gluten-free, low-carb, keto-friendly way of eating for sometime now. I 'thought' it would be difficult to adjust too, boring and expensive. The truth is, it's really not that difficult, it's certainly not boring and not expensive at all, actually quite the opposite. (This is a re-post from May 8th, 2019. See Note)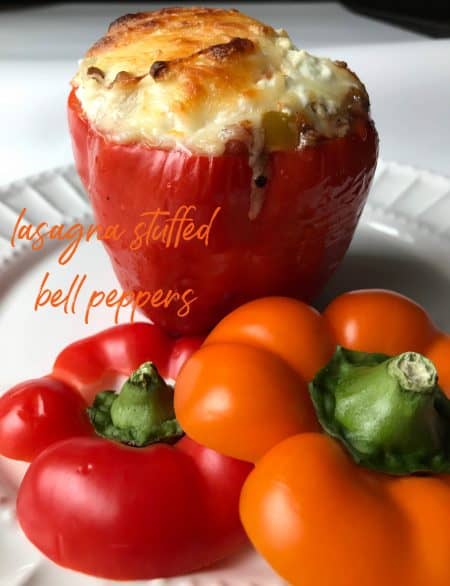 Wholesome Yum
Armed with some new knowledge, a handful of  delicious recipes and a good resource for information, you'll be well on your way to eating healthier too. That's where Wholesome Yum comes in. I've signed up for their free membership, have already read a ton of information on everything I need to know to "get started" and will be getting free recipes via email. What more could you ask for?With all of that being said, you'll likely be seeing more gluten-free, low-carb and keto-friendly recipes here on Turnips 2 Tangerines. If you get a chance, stop by Wholesome Yum and see what they're all about.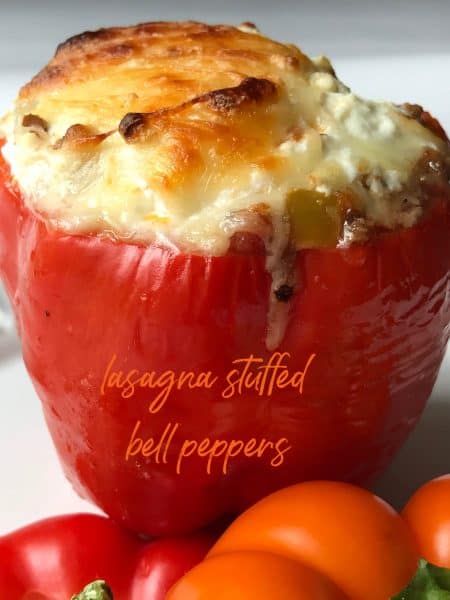 Friends
A good friend doesn't necessarily mean one that you have met or hang out with on a regular basis. Cindy and I met through blogging over seven years ago. We became fast friends and our friendship has developed over the years. Cindy doesn't blog as often as she once did, so we started chatting more on Facebook. Over time that has evolved to0. Now we text each other almost daily and have spoken on the phone a couple of times. I'm not much of a "talk on the phone" kinda gal but I can text all day:) I never thought it was possible to know someone who has the exact same interests, likes, dislikes, thoughts and past 'family life' history as we do.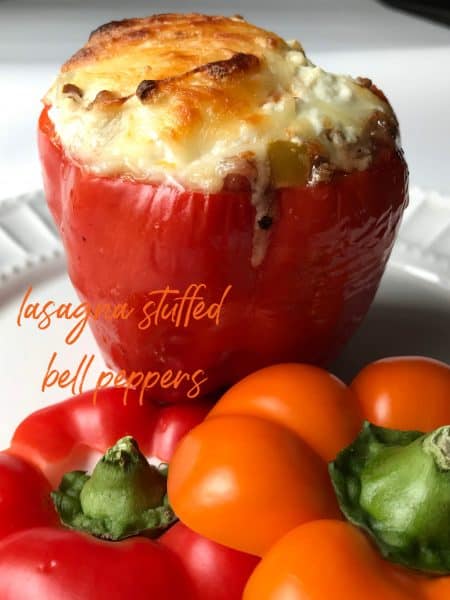 Twin Somewhere
The similarities between the two of us is uncanny, unreal and down right bizarre:) They say everyone has a twin somewhere!! Well mine lives in Canada. I'm planning a visit, hopefully this fall, to visit Cindy in Wiarton Ontario. All I need to do is get my passport (to get into Canada & back into the US), book a hotel room, book a flight to Toronto or somewhere close and cross my fingers that Rob, the Crabby Cabbie aka Hoarder Husband aka Cindy's hubby can pick me up:)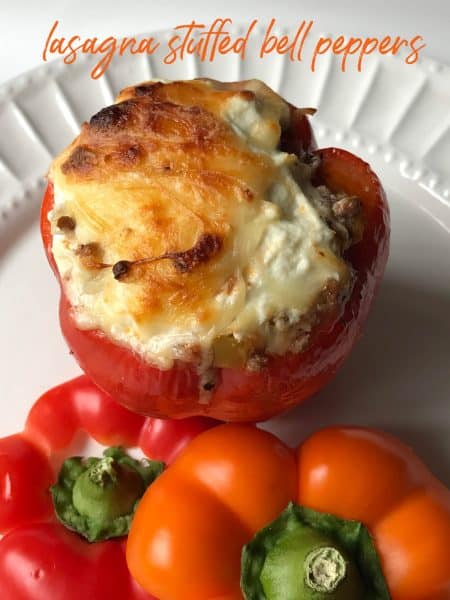 Life's Journey
I could drive to Wiarton Ontario. It's a twelve hour drive one way (the flight is an hour and a half) but that's just a little too far for this old lady to drive all by herself. My driving skills have gone down the toilet somewhat since I've reached the "Golden Years." You might be wondering then, why my hubby doesn't come with me? He could do the driving since that's what he does for a living. Well, there are some journeys in life you just need to do alone and for me, this is one of those journeys.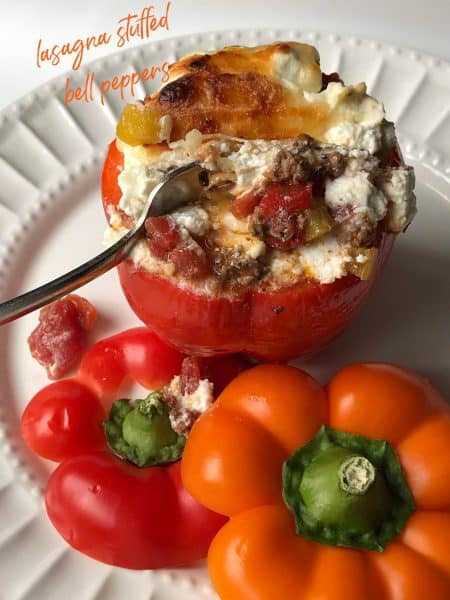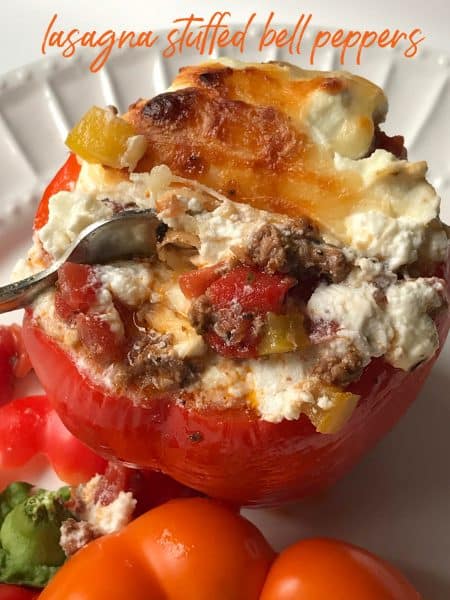 Recipe Note:
We added one 14.5 oz can sugar-free, sodium-free chopped tomatoes with roasted garlic and onion to the marinara/meat mixture.
LASAGNA STUFFED PEPPERS (GLUTEN-FREE) (Low-Carb)
Ingredients
1

tablespoon

oil

4

cloves

garlic minced

4

roasted red pepper strips, minced

,

(jarred)

1/2

large bell pepper, diced

1 1/2

lb

ground beef

2

cups

Marinara sauce or homemade marinara

1

teaspoon

Italian seasoning

sea salt and black pepper to taste.

6

large multi-colored bell peppers

1

cup

ricotta cheese

1

cup

mozzarella cheese, shredded
Instructions
To prepare the meat sauce: Heat one tablespoon oil in a skillet over medium heat. Add the garlic, red pepper strips, diced bell pepper and cook for about 2 minutes, until fragrant and the bell peppers are tender. Add the ground beef. Cook until browned, about 10 minutes, breaking apart the meat with a spoon or spatula.

Stir in marinara sauce and Italian seasoning. Add sea salt and black pepper to taste. Reduce heat to a gentle simmer. Simmer for about 30 minutes while preheating the oven and preparing the peppers.

Meanwhile, preheat the oven to 375 degrees F. Line a baking sheet with foil.

To prepare the peppers, chop off the tops and scoop out the seeds and ribs inside. Slice a tiny layer off the bottoms (without making a hole if possible) so that the peppers are stable standing upright.

To assemble the lasagna cups, layer 1-2 tablespoons each of meat sauce, ricotta cheese, and shredded mozzarella cheese inside the bell peppers. (You'll want a little more meat sauce compared to the other two layers.) Repeat until peppers are filled to the top, with mozzarella being the top layer.

Place the peppers on the lined baking sheet and tent with aluminum foil, making sure the foil is not touching the cheese. Bake for 30 minutes. Remove the foil and bake 10 more minutes, until cheese is melted and browned.
Living With Depression  Read a first hand account of what its like to live with Depression.
See Note:
*Re-post: this recipe is a re-post from May 8th, 2019. The stories I share here are my version of personal accounts that have taken place in my life. The stories shared here on Turnips 2 Tangerines aren't in any way meant to me hurtful or malicious. I'm simply telling you my personal account, of my life as I see it.  Furthermore, names and dates with be changed per request. Thanks, Lynn