Strawberry Yogurt Pops
We may earn money or products from the companies mentioned in this post.
Strawberry Yogurt Pops
Cool down this summer with a healthier version of everyone's  favorite summertime treat, ice pops! Popsicles, Creamsicles, Fudgcile and Fruit Bars have been summertime favorites for generations. I have purchased my fair share of all of the above in my time but now I prefer to make my own. It's easy, economical and above all better for you. Strawberry Yogurt Pops are made with non-fat Greek yogurt and fresh strawberries that have been infused with balsamic vinegar and fresh rosemary. Super cool and tasty!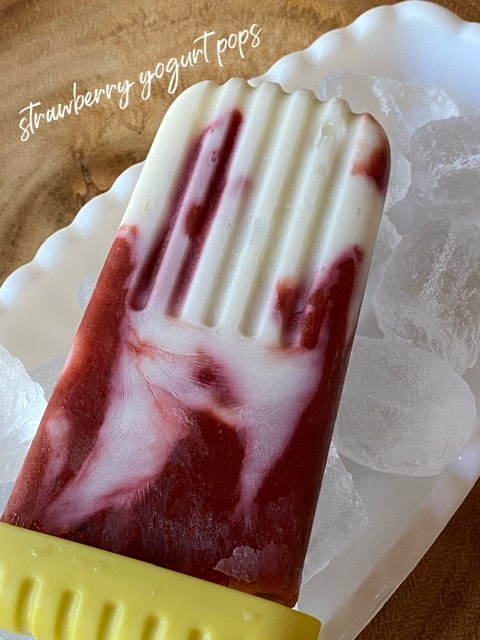 Days Gone By…
Popsicles have come a long way since I was a kid! My mom Aggie would make 'ice pops' using kool-aid and an ice cube tray. Back in the day, Aggie would make a big pitcher of kool-aid, made with a cuppa sugar and a packet of kool-aid. (any flavor) Back then, in the 60's, 20 packs of kool-aid went for a $1.00:) Five lb. bags of sugar sold for less than 50¢. A real bargain. Refrigerators came with metal ice cube trays, that had a metal lever that you pulled up after the water froze to release the ice cubes. This was also back in the day when freezers were often located inside the refrigerator. Yes, you read that right:)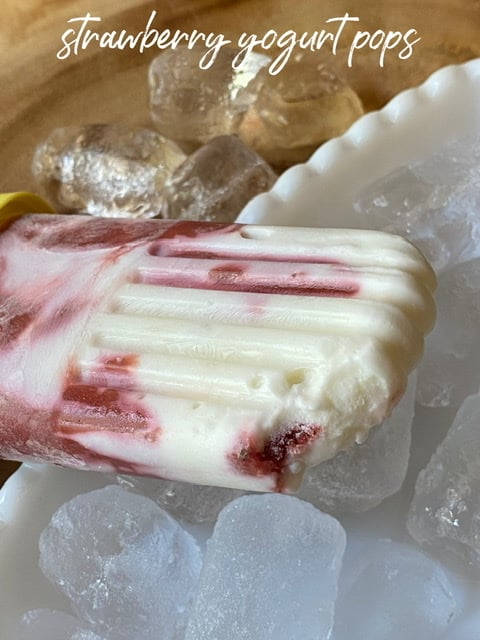 Old Fashioned Ways
Back in the olden days, most families were large. Anywhere from 6 to 8 kids on up, was considered normal. This meant that most families had huge, coffin-like chest freezers in their basements. Small refrigerator freezers were in the upper half of the refrigerator. Now these crude freezers were not by any means frost free, nor did they defrost themselves. Defrosting the freezer was a long painstaking process. One that was reserved for when the refrigerator was next to empty. Armed with a saucepan of hot water and a sharp object, the process slowly began. Now I can go on and on about the good ol' days but I need to get back to Aggie and popsicles.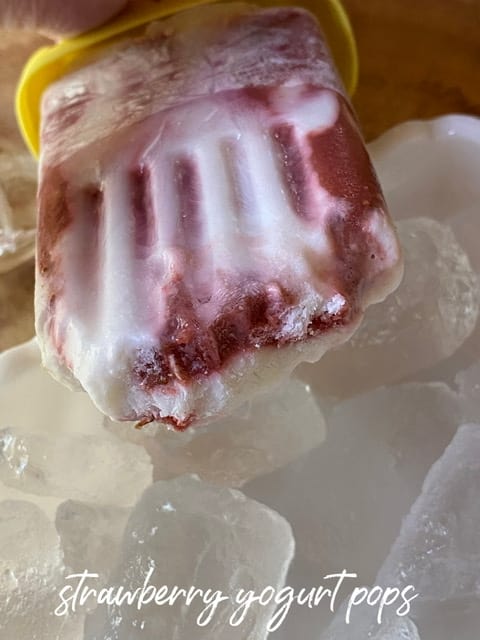 Homemade Ice Pops
Back to Aggie's popsicles. After the kool-aid was made, Aggie would dig out the metal ice cube trays and slowly pour the kool-aid into the ice cube tray. Clean popsicle sticks are inserted into the kool-aid and in the freezer it goes. Once frozen, the tray is taken out of the freezer and the leaver is pulled up. Wallah, the popsicles are ready. When my kids were young, I made ice pops in this same manner. Even though they weren't impressed, the neighborhood kids thought it was pretty neat to cool off with a square cube of frozen kool-aid that balanced on top of a popsicle stick.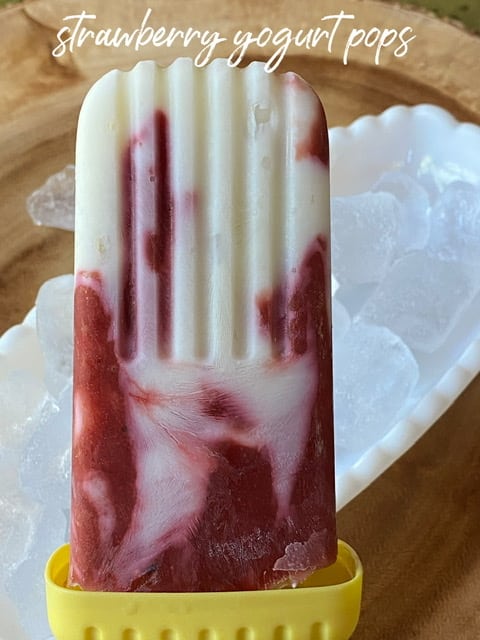 Times Have Changed
Thankfully times have changed. Popsicles come in every shape, flavor and style. My favorite ice pop is still the red, white and blue bomb pops. The white color or lemon-lime flavor has always been my favorite. When I was a kid the corner store sold the best popsicles. Favorite flavors were; lemon-lime, blue raspberry, cherry and lime green. They were the best popsicles ever, at lest to me. For the life of me, I can't remember the brand of popsicles. It had an blue Eskimo on the front of the white wrapper with red lettering?!? The popsicles weren't the usual twin pops but one solid popsicle. One thing that hasn't changed, kids still love cool, icy treats.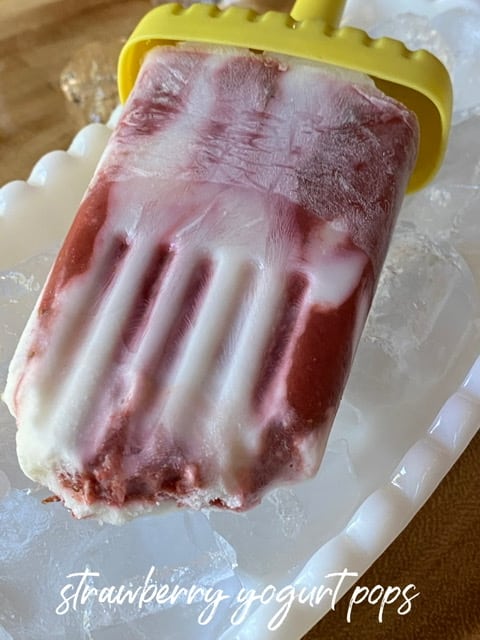 Summers Favorite Treat
As a kid I spent many hot summer days hopping on my blue Schwinn bicycle, pedaling as fast as I could down the block to the corner grocery store. After carefully 'parking' my bike, I'd run up the grocery store steps, pull open the door and head to the large chest freezer. Reaching inside to grab a popsicle and then waiting very impatiently in line to pay. When my turn came to pay, I'd hand over my now sweaty dime and grab my popsicle. The neighborhood kids would sit on the store steps and savor every lick and drip. Sometimes it would be so hot out that we'd swipe our popsicles across our cheeks and foreheads first:) Ahh, childhood memories.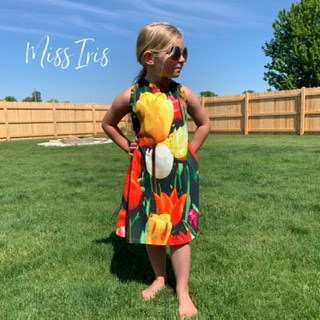 More Cool Treats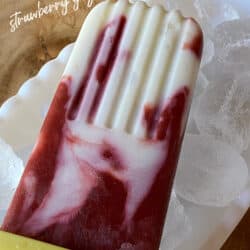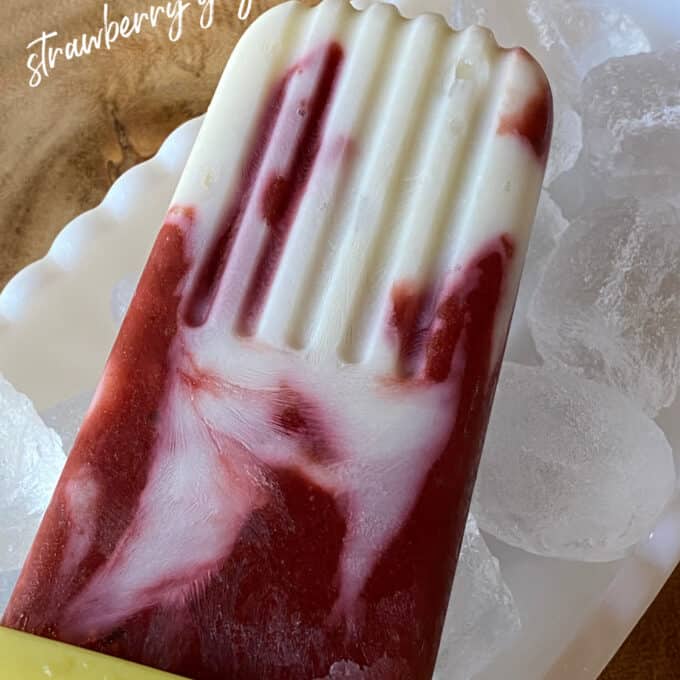 Strawberry Yogurt Pops
Cool, Creamy, and Delicious. Made with Greek yogurt and Fresh Strawberries infused with balsamic vinegar and fresh rosemary.
Ingredients
1 1/2

cups

sliced fresh strawberries

3

tablespoons

balsamic vinegar

1

teaspoon

sugar or vanillin-zucker

2

sprigs

fresh rosemary

1 1/2

cups

Greek yogurt

1 to 2

tablespoons

honey
Instructions
In a small bowl, mix strawberries, vinegar, sugar and rosemary. Let stand 1 to 2 hours. Strip rosemary leaves from stem, mince and set aside.

In a blender, combine strawberries and 2 tablespoons yogurt. Cover and process a few seconds. Transfer to a small bowl, stir in minced rosemary. Set aside.

In second small bowl, stir together remaining yogurt and honey until blended.

Spoon 1 or 2 tablespoons yogurt into bottom of each mold. Top with 1 or 2 tablespoons strawberry mixture. Repeat layers until all molds are full, tapping molds lightly on counter to remove air pockets.

Top molds with holders. Freezer until firm.
Ice Pop Molds Trovolo