Rhubarb Ginger Sauce
We may earn money or products from the companies mentioned in this post.
Rhubarb Ginger Sauce
When most people think of rhubarb and what to pair with rhubarb, they immediately think of strawberries. While pairing rhubarb with strawberries is popular in the USA, pairing rhubarb with ginger is popular in Britain. This was one pairing I simply had to try for myself. The pairing of tart rhubarb with sweet and spicy crystallized ginger is magical. The flavors blend together beautifully and together create a delicious sauce. One you won't soon forget.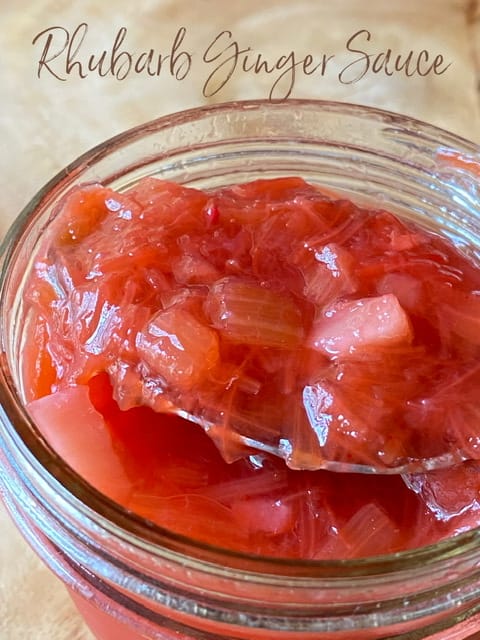 Rhubarb Facts
The thick, celery-like stalks of this buckwheat family member can reach up to 2 feet long. The stalks are the only edible portion of the plant. The leaves contain oxalic acid and therefore can be toxic. Although rhubarb is generally eaten as a fruit, it's botanically a vegetable. There are many varieties of this extremely tart fruit-vegetable. Most of which fall into two basic groups; hothouse and field grown. Since I live in an state (Wisconsin) where rhubarb grows unattended in backyard gardens and alongside garages, a third group was added: homegrown.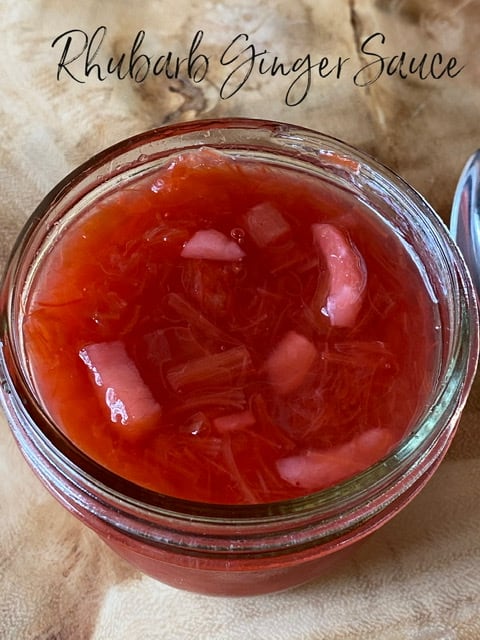 Groups of Rhubarb
The hothouse group is distinguished by its pink to pale red stalks and yellow green leaves. Hothouse rhubarb is available from December through March. Field grown rhubarb, which are more pronounced in flavor than hothouse rhubarb has cherry red stalks and green leaves. Field grown rhubarb can usually be found from March to October. Hothouse and field grown rhubarb can be purchased in supermarkets and specialty markets. Homegrown rhubarb is usually found growing in a backyard rhubarb patch and is available for picking from early May through early June.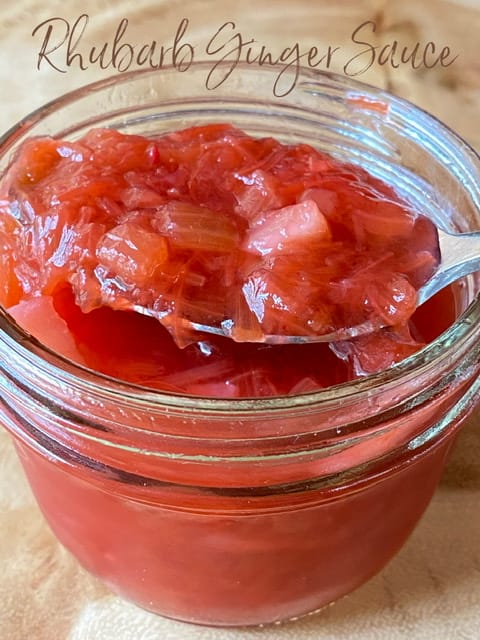 Homegrown rhubarb can be found in older neighborhoods, where it was once grown as a special springtime treat and a way to make pies for a large family. Rhubarb grows virtually unattended, alongside houses, garages and in backyard gardens. Once called 'pie plant' because most home cooks used rhubarb to make pies. You seldom see rhubarb growing in new sub-subdivisions areas. Once planted and established, rhubarb is literally hard to destroy. Rhubarb is best frozen, either chopped or left whole. Another way to preserve rhubarb is in jam.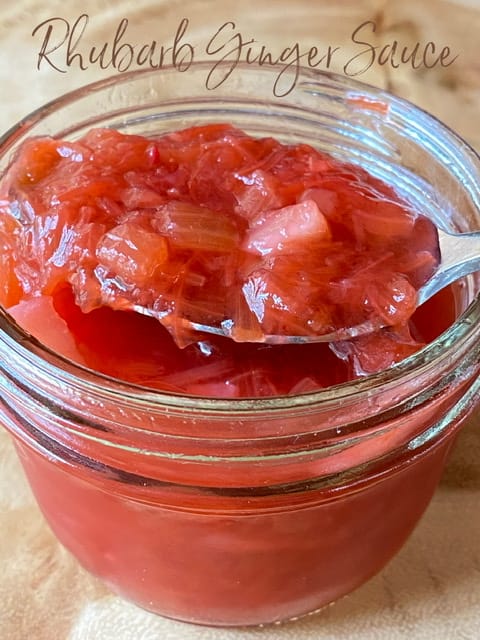 What to Look For
When purchasing or picking fresh rhubarb, choose crisp stalks that are brightly hued. The leaves should be fresh-looking and blemish free. Fresh rhubarb is highly perishable therefore should be refrigerated, tightly wrapped in a plastic bag. Rhubarb will keep this way up to three days. Wash and remove leaves just before using. Because of its intense tartness, rhubarb is usually combined with a considerable amount of sugar. Rhubarb makes delicious sauces, jams, desserts and so much more.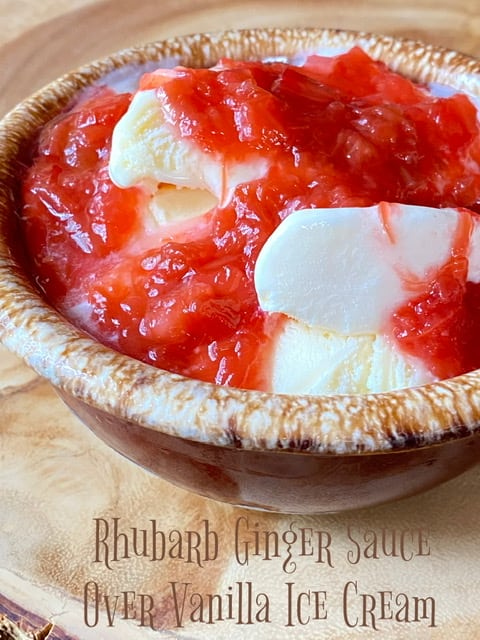 Paradise Fruit Co
As most of you know, I am a guest food blogger for Paradise Fruit Co. Something that I have enjoyed immensely. Paradise Fruit Co  is located in Tampa Florida and has been in business for over 50 years. Paradise Brands has been America's favorite brand for candied fruit products since 1961. Purchase a full line of candied fruit products with Paradise Fruit online store, powered by Amazon.
More Rhubarb Recipes
Rhubarb Ginger Sauce
A delicious rhubarb ginger sauce that is super over ice cream, Greek yogurt and anything else you can think of.
Ingredients
6

cups

rhubarb, cubed

1 1/2

cups

sugar

1/4

cup

crystallized ginger, diced

1/2

cup

water
Instructions
Mix the following in a large saucepan: rhubarb, sugar, crystallized ginger and water.

Heat over medium heat until the mixture starts to boil. Turn the heat to medium-low and simmer until the rhubarb breaks down and most of the liquid has evaporated. *Adjust sugar and/or ginger to taste.