Grapes and Papaya with Lemon Honey Yogurt
We may earn money or products from the companies mentioned in this post.
Grapes and Papaya with Lemon Honey Yogurt
A few years back, Grape Salad was all the rage and with good reason. It's sweet, creamy, addictive and delicious. In Oshkosh WI there is a restaurant called Pilora's  Cafe that serves grape salad. My daughter-in-law took my there specifically for the grape salad. This grape salad is out of this world delicious. Pilora's Cafe is a laid-back restaurant/cafe that serves coffee, tea and a light Mediterranean menu with a big selection of vegetarian options. Have you ever tried Roasted Grapes? You should! Warm roasted grapes are delicious served over vanilla ice cream. Grapes and Papaya with Lemon Honey Yogurt is super delicious and will soon become your favorite summertime fruit salad.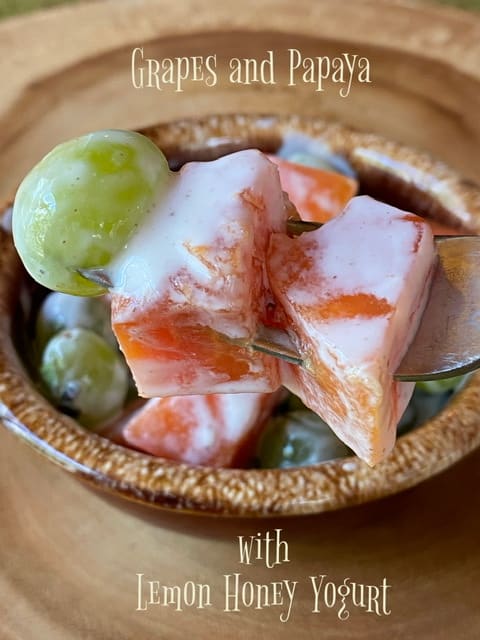 Lighter Version
Even though grape salad made with cream cheese is super fantastic, a lighter version seemed like a great option. Grape and papaya cubes are lightly tossed together with a delicious yogurt dressing. The yogurt dressing is made with fat-free plain Greek yogurt, honey, vanilla extract, lemon zest and ground cinnamon. Let me make one thing perfectly clear here; Lemon Honey Yogurt is fantastic!! In fact, as I was taste testing the yogurt dressing with my finger, different ways of using it came to mind. I even thought about drinking it, which I did end up doing. Seriously, it's that good.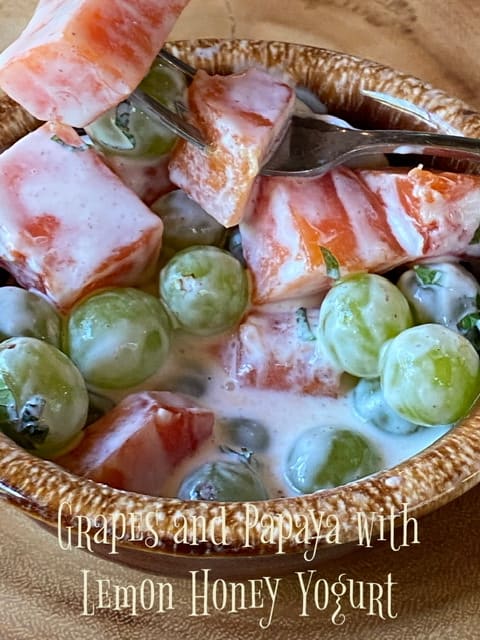 Papaw
Both the papaya and the papaw are sometimes referred to as  pawpaw, which is really confusing because they're entirely different fruits. The papaw is a North American native that's a member of the cherimoya family. It can range from 2-6 inches long and looks like a fat, dark-brown banana. The aromatic flesh is pale yellow and peppered with seeds. It has a custard-like texture and a sweet flavor reminiscent of bananas and pears. Papaws are seldom cultivated and are rarely found in markets. In areas where papaws grow, locals are in "the know" as to where they can be found.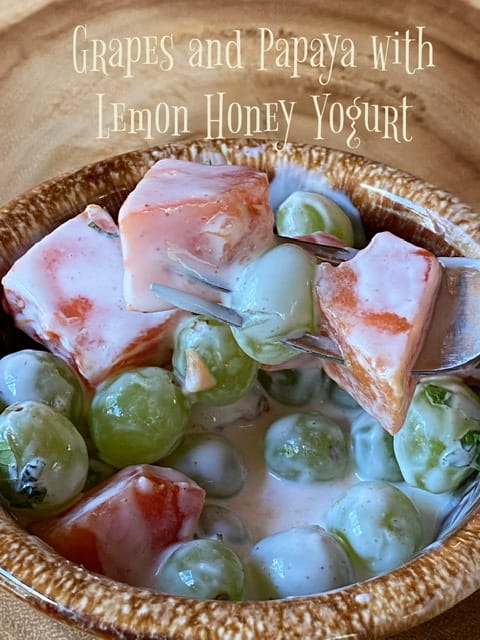 Papaya
Like the papaw, the papaya is native to the Americas. The papaya tree can grow from seed to a 20-foot, fruit-bearing tree in less than 18 months. Papayas are cultivated in semitropical zones. The papaya variety most often found in the United States is Solo. Grown in Hawaii, it's often referred to as Hawaiian Papaya. Pear shaped, about 6 inches long, it weights in at 1 to 2 pounds. When ripe, it has golden-orange skin and orange colored flesh that is juicy with an exotic sweet-tart flavor. The large center cavity is loaded with shiny, grayish-black seeds. Though the seeds are edible and aid in digestion, they're generally discarded. Mexican Papayas have green skin with salmon-red flesh.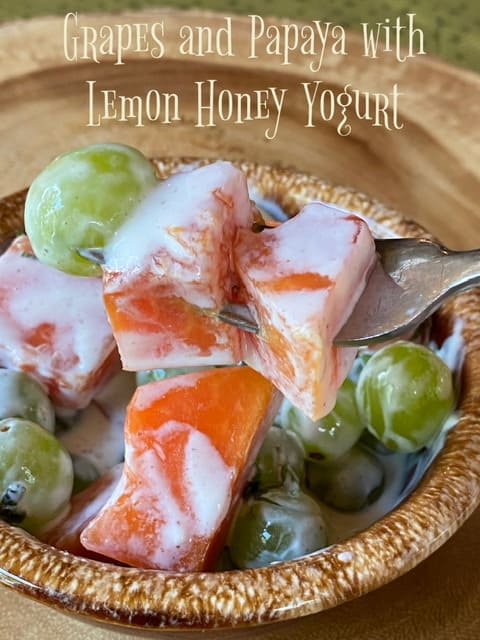 Purchase
Look for richly colored papayas that give slightly to pressure when pressed. Green papayas will ripen quickly at room temperature, especially if placed in a paper bag. Refrigerate ripen fruit and use as soon as possible  Ripe papaya is best eaten like you would a melon. Papaya contain papain, a digestive enzyme and is a very good source of vitamins A and C. Papaya is rich in antioxidants, fiber and is an anti-inflammatory.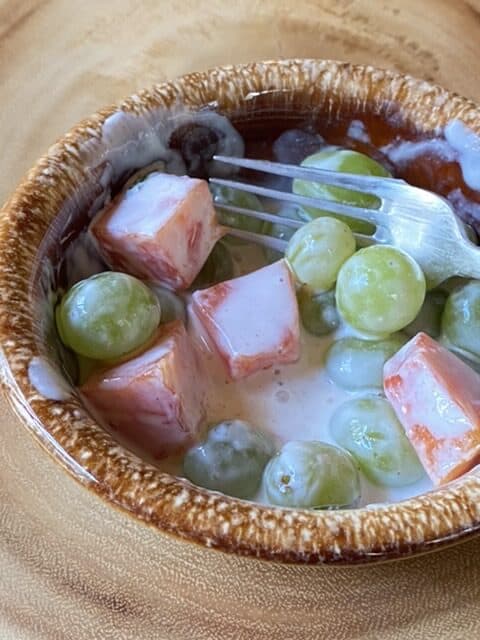 BABÁCO
Indigenous to Ecuador, this natural papaya hybrid is torpedo shaped and has five flattened facets. When sliced cross-wise, the facets give this exotic fruit a pentagonal outline. Babaco range from 8 to 12 inches long and are about 4 inches in diameter. The edible skin turns from green to golden yellow as it ripens. The riper and softer the fruit, the more flavorful it is. The rich flavor of the extremely fragrant babaco is a cross between banana and pineapple. The juicy, creamy white flesh has a texture similar to that of a casaba melon. The hard to find babaco is sometimes available in specialty produce markets. Babaco contains triple the amount of papain as the papaya and is a good source of vitamins A and C.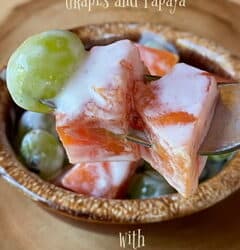 Grapes and Papaya with Lemon Honey Yogurt
Greek yogurt is sweeten up with honey, cinnamon and vanilla. This delicious mixture is drizzled over grapes and papaya.
Ingredients
1

cup

fat-free plain Greek yogurt

2

tablespoons

honey

1

teaspoon

vanilla extract

1/2

teaspoon

grated lemon peel

1/8

teaspoon

ground cinnamon

6

cups

green or red grapes (or both)

1

papaya, cubed

2

tablespoons

thinly sliced mint leaves, garnish
Instructions
In a small bowl, combine the first five ingredients. Place grapes and cubed papaya in a large bowl. Top with yogurt mixture. Lightly toss to coat. Garnish with mint ribbons. Serve Immediately.
Papaya Information From: The New Food Lover's Companion