Spinach Penne Pasta Salad
We may earn money or products from the companies mentioned in this post.
Spinach Penne Pasta Salad
Welcome Back to Turnips 2 Tangerines. Today's recipe is all about my favorite summertime meal; Pasta Salad! Nothing hits the spot on a hot summer evening like a pasta salad. Except maybe a dish of ice cream! Spinach Penne Pasta Salad is just one of many pasta salads we'll be sharing this summer here on T2T, so grab a fork and let's go go go.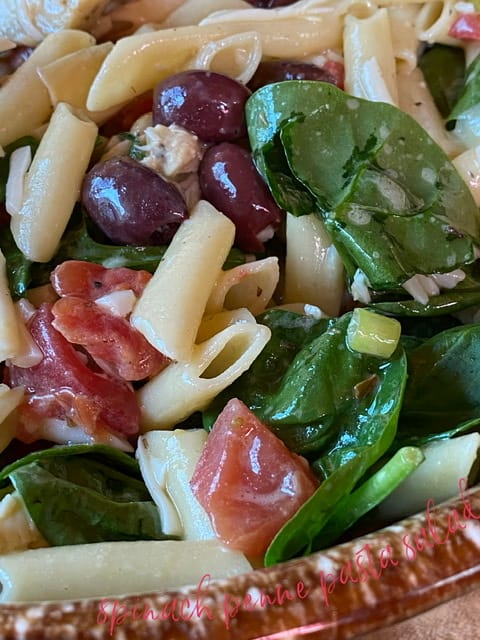 Playing Catch-up
Now that the lockdown has been lifted for the most part, its been a constant state of back peddling. Trying to catch-up on all the things that normally would have already been finished. Doctors and dentist appointments, mammogram appointment and a much needed haircut. When the new year began, I was going to get my blog 'video' ready. I bought a new computer with all the bells and whistles. Purchased video and image software to be installed on my new computer. Turnips to Tangerines is on 'Purr Design' waiting list, which is roughly 6 months. The computer was purchased along with the software way back in March. It wasn't until last week that I was able to bring it into Best Buy and have everything transferred over. So with all that being said, I'm finally caught up, except for one more thing.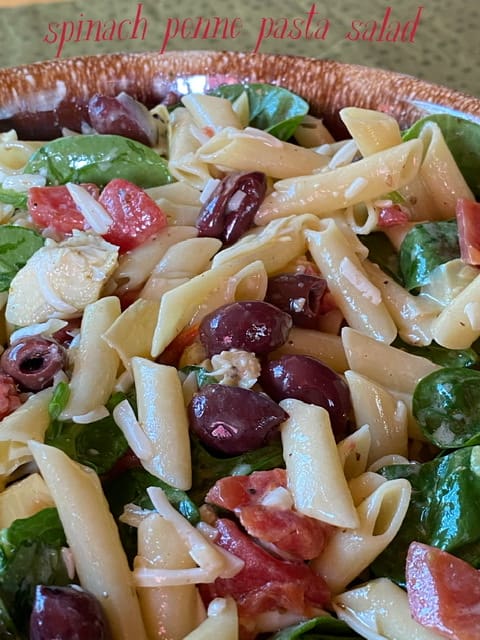 Kitchen Cupboards
My hubby and I have been married for 23 years. In all of those 23 years I've had a functioning 'finished' kitchen for roughly 2 years. When we bought our first home in 1996, it took us 12 yrs to remodel it. The kitchen was completed 2 years before we moved up north. It's been 10 years since moving up north and on the agenda this summer? To finally finish the kitchen! Woohoo! We picked out the flooring, cabinets and countertops in March. Then Covid-19 came on the scene and everything was put on hold. Now it's a waiting game as to when things come back in stock and so on and so forth.
UP NEXT: Grapes and Papaya with Lemon Honey Yogurt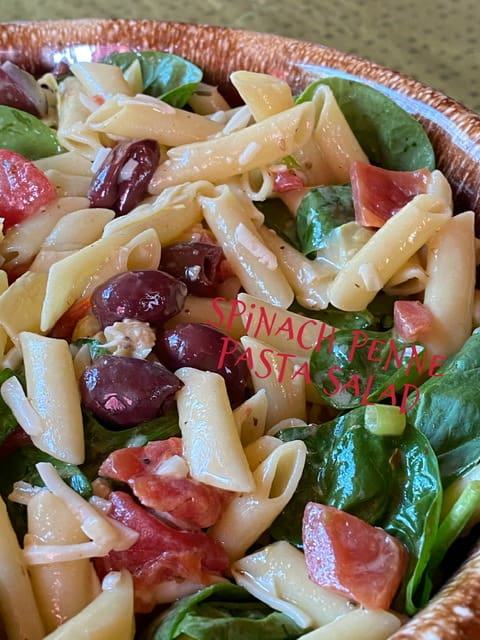 Versatile and Delicious
Spinach Penne Pasta Salad is very versatile. Grilled chicken, shrimp or salmon would be a great addition to this salad. Serve warm grilled chicken, shrimp or salmon on top of the salad and then drizzle with the vinaigrette. Have leftover chicken, shrimp or salmon? Serve on top of the salad, drizzle with vinaigrette, and add a few shavings of fresh Parmesan cheese. Serve with a chilled bottle of white wine, such as a Riesling, a loaf of crusty bread and you have a delicious summertime dinner. Spinach Penne Pasta Salad is made with Barilla whole wheat penne pasta.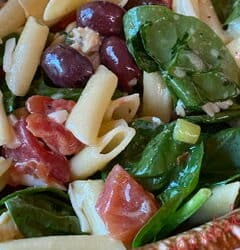 Spinach Penne Pasta Salad
Delicious! Serve this delightful salad with a chilled bottle of Riesling.
Ingredients
1

16 oz package

whole wheat penne pasta

1/2

cup

olive oil

1/2

cup

white wine vinegar

1/3

cup

grated Parmesan cheese

1

tablespoon

Dijon mustard

2

cloves

garlic, minced

1

tablespoon

fresh squeezed lime juice

1

teaspoon

dried oregano

1/4

teaspoon

salt

1/4

teaspoon

pepper

1

6 oz package

fresh baby spinach

3

medium

tomatoes, seeded and chopped

1

6 oz jar

marinated artichoke hearts, drained

3/4

cup

crumbled feta cheese

4

green onions, thinly sliced

1/2

cup

pitted Greek olives
Instructions
In a Dutch oven, cook pasta according to package directions. Drain and rinse in cold water; drain again.

Meanwhile, in a small bowl, whisk together the vinaigrette ingredients. In a large bowl, combine the pasta, spinach, tomatoes, artichoke hearts, feta cheese, onions and olives. Add vinaigrette; toss to coat. Serve immediately.
Notes
Recipe Note: Top salad with grilled chicken, shrimp or salmon before serving.
More Salad Recipes for your Dining Pleasure:
Blueberry Avocado Spinach Salad
Strawberry Spinach Salad
Strawberry Caprese Salad
Barley, Corn and Pepper Salad