Spiced Pears
We may earn money or products from the companies mentioned in this post.
Spiced Pears
This recipe can be made with any canned fruit; peaches, plums, apricots, or pineapple. Spiced fruit can be enjoyed for breakfast, lunch or as a snack. Need a quick dessert…warm spiced fruit is delicious served over ice cream, pound cake or served with a dollop of whipped cream, creme fraiche or Greek yogurt. After a heavy meal, spiced fruit may be just what your looking for to serve as a dessert.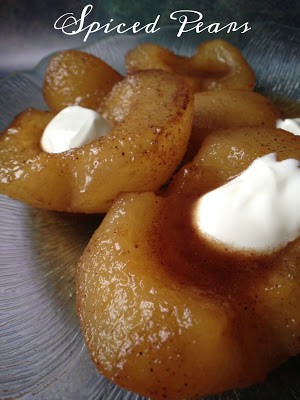 What is Spiced Fruit?
What exactly is spiced fruit? It sounds like something my grandma ate, like stewed prunes or something Aggie would have eaten, like dates or figs. Spiced fruit is simply fruit, canned or fresh but usually canned, that has been simmered in a mixture of butter, brown sugar, nutmeg, and cinnamon. The mixture is then served as a side dish or light dessert, with or without whipped cream or creme fraiche.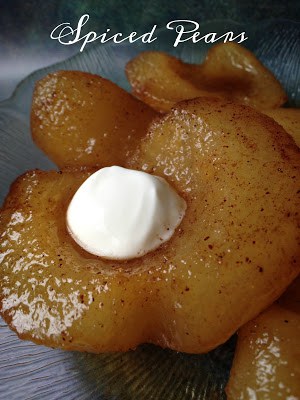 Canned or Fresh
When I make spiced fruit of any kind, I prefer to use canned fruit. The reason being is that canned fruit only needs to be heated through. It doesn't require a long simmering time, which makes it a fast and easy to prepare. Plus there is no prep work necessary, except to open a can. I like to serve spiced fruit as a side dish because it is fast and easy to make and it's a great way to turn canned fruit into something different and tasty. A side note here…the older I've gotten the more I have become just like Aggie…and my Grandma Rose…I like dates, figs and yes, even prunes:)
About Pears
There are over 5,000 varieties of pears grown throughout the world. France is well known for its superior pears and in the United States most of the pear crop comes from California, Oregon and Washington. Mother Nature has protected this easily bruised fruit by making it better to pick while still hard. Unlike most fruit, pears improve in both texture and flavor after it's picked.
Pears range in shape from spherical and bell-shaped. It ranges in color from lime green to golden yellow to tawny red. Ripe pears should be juicy and depending on the variety, can range from spicy to sweet to tart-sweet. Pears in season from late July to early spring, also depending on the variety and the region. Choose pears that are fragrant and free of blemishes. Store at room temperature until ripe and refrigerate ripe fruit.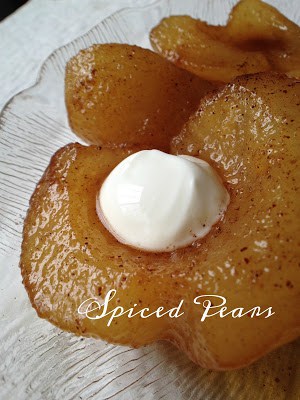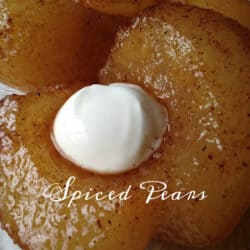 Spiced Pears
The easy recipe can be made with any fruit. Don't like pears? Try Apples.
Ingredients
2

16 oz cans

pear halves

2/3

cup

packed brown sugar

1

teaspoon

ground nutmeg

1

teaspoon

ground cinnamon

1

tablespoon

butter
Instructions
Drain the pears, reserving syrup. Set the pears aside.

Place the syrup, brown sugar, nutmeg and cinnamon in a saucepan.

Bring to a boil, reduce heat and simmer, uncovered, for 5 minutes, stirring frequently.

Add the pears and simmer 5 minutes longer, until heated through.
Nutrition
Serving:
1
g
,
Calories:
169
kcal
,
Carbohydrates:
37
g
,
Protein:
1
g
,
Fat:
3
g
,
Saturated Fat:
2
g
,
Cholesterol:
8
mg
,
Sodium:
35
mg
,
Potassium:
49
mg
,
Fiber:
1
g
,
Sugar:
36
g
,
Vitamin A:
90
IU
,
Calcium:
35
mg
,
Iron:
0.3
mg
Recipe On Tap:
Pineapple Jello Rings A true retro recipe.