On the Menu Today~
Pineapple Jello Rings A 1950's Retro Recipe…
Perfect to serve during #CookoutWeek!
Get those grills fired up… because it's #CookoutWeek 2017!
This week, I'm joining forces with over 40 food blogger friends,
to bring you delicious recipes perfect for every backyard BBQ,
picnic, summer party, or cookout.
We also have a fabulous giveaway,
featuring products from the brands who have made #CookoutWeek possible!
You can enter below to win:

This prize pack has an ARV of over $400!
You have until July 1 at 11:59 PM to enter by following our sponsors and
bloggers on social media:
Stay tuned… remember, throughout the week,
all of the participating bloggers will be posting delicious cookout recipes.
Here are all the bloggers who are part of #CookoutWeek 2017:
The PinterTest Kitchen • 2 Cookin Mamas • A Day in the Life on the Farm • A Kitchen Hoor's Adventures • Amy's Cooking Adventures • Ashees Cookbook • Baking Sense • Body Rebooted • Bottom Left of the Mitten • Chef Sarah Elizabeth • Cook's Hideout • Cookaholic Wife • Cooking with Sapana • Eat, Drink, Be Healthy! • Fairyburger • Faith, Hope, Love, & Luck Survive Despite a Whiskered Accomplice • Family Around the Table • Fix Me a Little Lunch • For the Love of Food • Full Belly Sisters • Hezzi-D's Books and Cooks • Home Sweet Homestead • Join Us, Pull up a Chair • Kate's Recipe Box • Kelly Lynn's Sweets and Treats • Little House Big Alaska • My Southern Sweet Tooth • Our Good Life • Oven Tales By Syama • Palatable Pastime • Rants From My Crazy Kitchen • Savory Moments • Seduction in the Kitchen • Sidewalk Shoes • That Recipe • The Freshman Cook • The Mad Scientists Kitchen • The Pajama Chef • The Redhead Baker • The Saucy Southerner • The Spiffy Cookie • The Weekday Gourmet • Tramplingrose • Turnips 2 Tangerines • Uncle Jerry's Kitchen
As one of the bonus entries in the giveaway,
leave a comment on this blog post…
What is your favorite dish to eat at a cookout?
And If your looking for a visually interesting and
easy dish for summer picnics, potlucks or holiday gatherings,
give this retro recipe a try.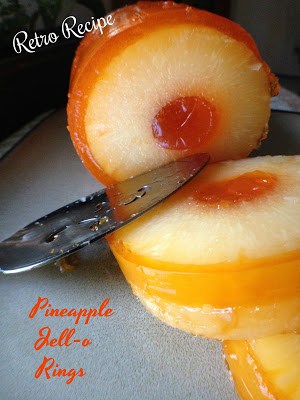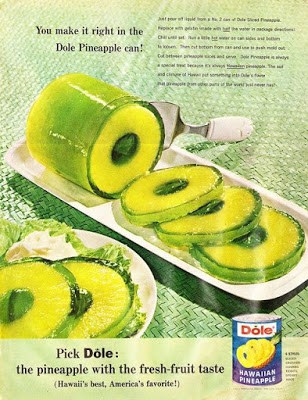 This one recipe from the makers of Jell-o and Dole Pineapple,
captures the heart and traditions of the 1950's.
Pineapple was becoming increasingly popular during the 1950's.
Due largely to the Soldiers who served in the Pacific during WWII and
with the availability of canned pineapple.
Fresh pineapple was starting to show up in grocery stores,
making this exotic fruit even more popular.
Many magazines of that time such as Ladies Home Journal and Family Circle,
were advertising fresh pineapple as the 'perfect' centerpiece for your party table.
Fresh and canned pineapple was becoming popular to use in appetizers,
served with ham as a main dish and
in dessert recipes such as pineapple upside down cake.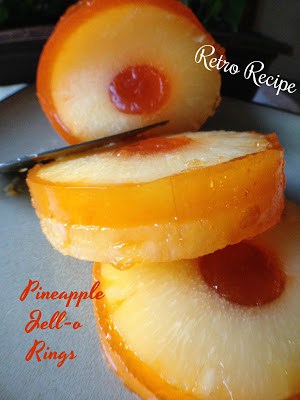 Dole advertisements used lime jell-o but
you can use any flavor of jell-o you like.
Over the years,
Dole advertised the recipe in different flavors and colors,
but the lime variation seems to be the favorite.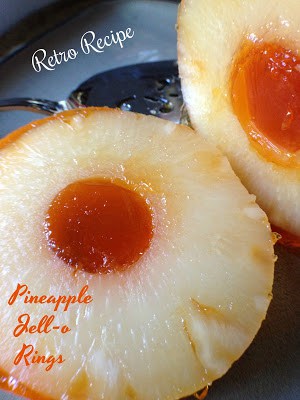 Serving Suggestions~
Slice the jell-o into individual rings and serve or
top pineapple jello rings with cottage cheese and
serve alongside half a turkey sandwich for a light lunch.
Serve pineapple jello rings with a dollop of whipped topping and
a maraschino cherry for a fast and fun dessert.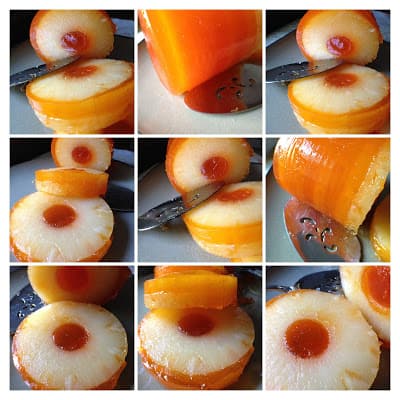 Pineapple Jell-o Rings
Kids especially love this fun jell-o dessert.
Pineapple Jell-o Rings
Ingredients
1 (20 oz) can




pineapple rings

1 (3 oz) box




lime (orange) jell-o (can use sugar-free and any color)

1 cup




pineapple juice plus water
Cooking Directions
Drain can of pineapple rings reserving the juice.
Leave pineapple rings in can, center the pineapple slices in the middle of the can so that when the gelatin is poured in, it surrounds the rings completely.
Measure reserved pineapple juice in a 1-cup measuring cup, add water if necessary to make 1-cup liquid.
Pour juice/water mixture into a small sauce pan, bring to a boil. Pour boiling juice/water into jell-o. Stir until dissolved. Pour the prepared jell-o into the can of pineapple until it covers the top ring. Cover and refrigerate overnight.
Set the can down in warm water for about thirty seconds, invert the can and gently shake out.
If you prefer, when you invert the can you can use a can opener to open the bottom of the can and push the Jell-O out.