Bacon Wrapped Grilled Trout on Cedar Planks
We may earn money or products from the companies mentioned in this post.
Bacon Wrapped Grilled Trout on Cedar Planks
Bacon Wrapped Grilled Trout on Cedar Planks is a fantastic way to serve rainbow trout. If you're looking for something new to throw on the grill tonight, why not try some trout. If you or someone you know likes to fish and is an avid fisherman or should I say fisherperson, than you are in luck. You can ask them for fresh lake trout, brook trout or rainbow trout. If not, many grocery stores, meat markets or specialty stores now stock all types of commercially raised fish, including rainbow trout.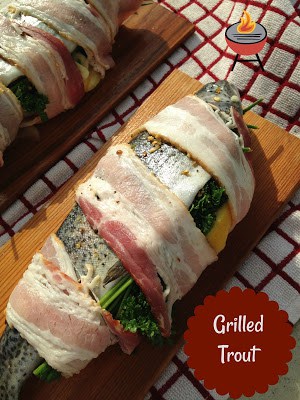 Cedar Planks
Cedar planks for grilling can be purchased at all stores that carry grilling supplies. Hardware stores, super centers, home decorating stores and grocery stores all stock grilling supplies. Cedar planks need to be soaked before putting on the grill. This allows the planks to 'smoke' and to not catch on fire. Cedar planks do become charred on the grill grate side but that's perfectly normal.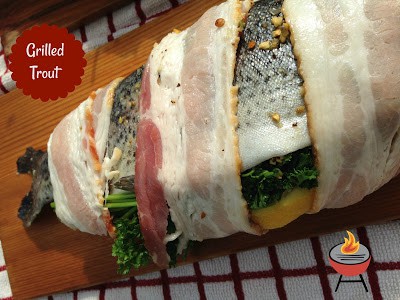 Rainbow Trout
Trout [TROWT] Trout are fresh water fish, with firm-textured flesh and a medium to high fat content, the good fat:) Rainbow trout is probably the best known of the freshwater species and is one of the most popular varieties in the world. Trout can grow up to over 20 pounds but most commercially raised fish average around 8 ounces. Rainbow, Brook and Speckled Trout are considered the best eating. Trout are available whole, fresh, frozen and in fillets. They're most often fried but can be poached, baked, steamed, grilled and broiled. Whole trout is often stuffed before being cooked or grilled.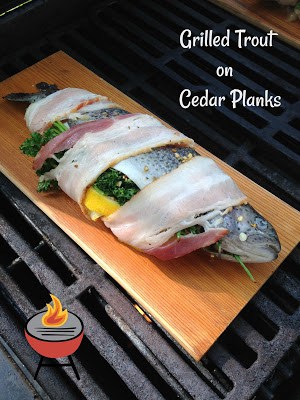 Whole Fish
Whole fish comes either ungutted or drawn. Drawn means the entrails and sometimes its gills have been removed. A fish that has been dressed has
in addition to being drawn, had the scales removed. Whole-dressed usually refers to the whole fish and Pan-dressed refers to a fish with the head, tail and fins removed. Whole fish can be stuffed with herbs, aromatic vegetables, bread or wild rice stuffing and stewed fruit.
Flavored Planks
For this recipe we used one cedar plank and one hickory 'flavored' plank. Adler and Mesquite are also favorites of ours. If your planks catch on fire while your grilling your fish, you can simply do what my husband does….he pours a small amount of his beer over the fish to put out the fire. The minute my hubby fires up the grill, he cracks open a beer🍺 He says that, "food just doesn't taste the same" if he grills without a beer. What-ever you say, dear😏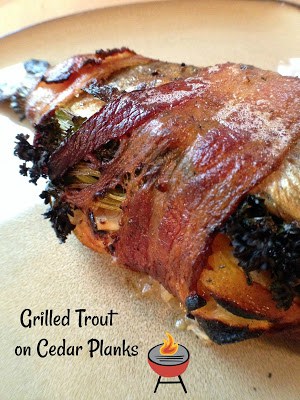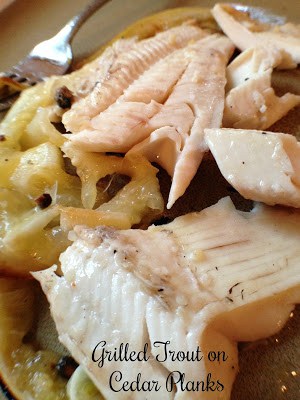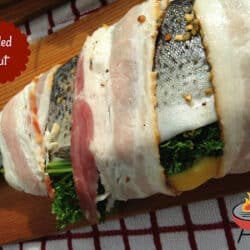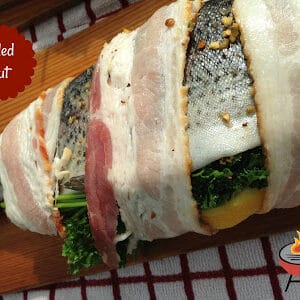 Bacon Wrapped Grilled Trout on Cedar Planks
Always a favorite in my house!
Ingredients
6

slices

bacon

2

medium

whole trout, dressed

4

tablespoons

olive oil, divided

2

teaspoons

lemon-pepper seasoning, divided

16

thin slices lemon, divided

1

bunch each

fresh chives and fresh parsley sprigs

2

cloves 

thinly sliced garlic

2

whole

garlic cloves

2

cedar planks, soaked in water, wine, juice or beer
Instructions
Soak cedar planks in water or white wine for 2 to 4 hours.

Preheat gas grill to medium heat.

Rinse trout in water. With a paper towel, carefully pat skin and flesh dry. Brush trout with olive oil and season with lemon-pepper seasoning inside and outside. Place one whole garlic clove in each fish head cavity. Fill the inside of both trout with lemon slices, (4 slices per trout), fresh chives, fresh parsley and thinly sliced garlic.

On a clean work surface, lay 3 slices of bacon for each trout. Place stuffed trout over bacon. Wrap bacon around trout.

Place remaining lemon slices on top of each cedar plank. Place bacon-wrapped trout on lemon slices. Place cedar planks on the grill, cook until the bacon has crisped and trout flakes easily with a fork, about 25 to 45 minutes. (cooking times will varServe immediately.