Creamy Tuscan Chicken
We may earn money or products from the companies mentioned in this post.
Creamy Tuscan Chicken
This is one of our favorite ways to prepare boneless, skinless chicken breasts. Made with heavy cream, chicken broth, Parmesan cheese, spinach, and sun-dried tomatoes. So simple, yet so special. Served over Artisan mushroom tagliatelle pasta, perfection. This is one of those recipes that comes together quickly and effortlessly. The flavors come together beautifully. One bite and you'll be coming back for more. You can serve Creamy Tuscan Chicken over any style pasta you like but lately we have been into 'Artisan' style, flavored pasta. We served this creamy chicken dish over mushroom tagliatelle.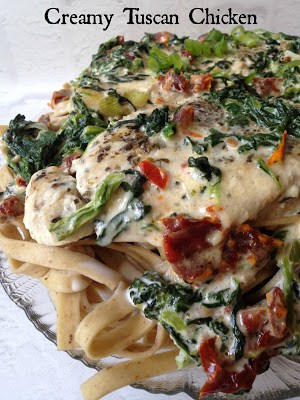 Evaporated Milk
If you want to 'lighten' up this dish, you can easily substitute low-fat evaporated milk for the heavy cream with the same great results. I always stock up on low-fat evaporated milk or evaporated milk when I go to the $1.00 store. Nothing can replace the distinctive flavor and creaminess that heavy cream brings to a dish but evaporated milk is easy to store and has a long shelf life. My mother-in-law Carlene swore by evaporated milk. She said it was the secret ingredient to many of her recipes. And Carlene was a damn good cook!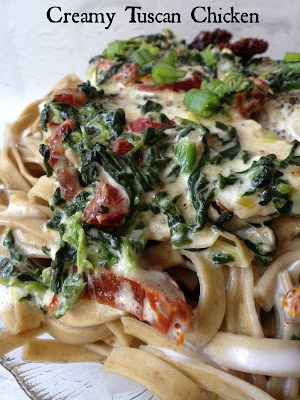 Tuscan
Like all Italian cuisine, Tuscan cooking is based upon using the most fresh and simple ingredients of the season. This list would include using legumes, cheese. vegetables and fruits. Typical Tuscan dishes are based solely upon what Tuscan cooks find fresh at their local market that week. This is why Tuscan meals are very easy to prepare and require few ingredients.
Although the food is simple, it's rich in flavor, hearty and very filling. All meals are served with the regional bread. A white, plain, unsalted loaf of bread. This tradition dates back to the 16th century when there was a tax put on salt. This changed the way locals made bread. This tradition of unsalted bread has carried on and now marks Tuscan bread apart from other regions in Italy. The purpose of Tuscan bread is to soak up all the delicious leftover juices on your plate.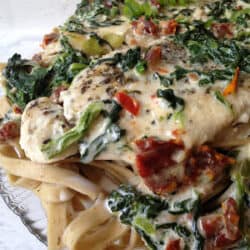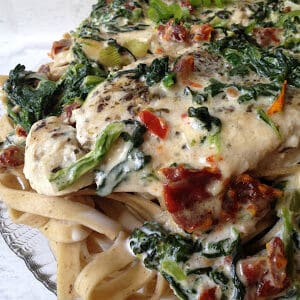 Creamy Tuscan Chicken
A delicious main dish your whole family will love.
Ingredients
2

tablespoons

olive oil

1

cup

heavy cream or evaporated milk

1/2

cup

chicken broth

1

teaspoon

garlic powder

1

teaspoon

Italian seasoning

1/2

cup

Parmesan cheese

1

cup

frozen spinach, thawed and squeezed dry

1/2

cup

sun-dried tomatoes, sliced

1

12 oz package

Artisanal mushroom tagliatelle pasta
Instructions
In a large skillet add olive oil and cook the chicken on medium high heat for 3-5 minutes on each side or until brown on each side and cooked until no longer pink in center. Remove chicken and set aside on a plate.

Add the heavy cream or evaporated milk, chicken broth, garlic powder, italian seasoning, and parmesan cheese. Whisk over medium high heat until it starts to thicken. Add the spinach and sundried tomatoes and let it simmer until the spinach starts to wilt. Add the chicken back to the pan, heat through. Serve over pasta
Nutrition
Serving:
1
g
,
Calories:
242
kcal
,
Carbohydrates:
5
g
,
Protein:
5
g
,
Fat:
23
g
,
Saturated Fat:
11
g
,
Cholesterol:
60
mg
,
Sodium:
264
mg
,
Potassium:
292
mg
,
Fiber:
1
g
,
Sugar:
1
g
,
Vitamin A:
3815
IU
,
Vitamin C:
12.4
mg
,
Calcium:
168
mg
,
Iron:
1
mg
Recipes On Tap and Made With:
Carnation Evaporated Milk  was used in this recipe to add creaminess and delicious flavor. Looking for more chicken recipes? Here are a few you are certainly going to want to try: Creamy Lemon Chicken,  Light Creamy Pesto Chicken and  Waldorf Chicken Salad