Spaghetti Squash 'n Cheese
We may earn money or products from the companies mentioned in this post.
Spaghetti Squash 'n Cheese
Make Mac 'n Cheese using Spaghetti Squash. The "noodles" in this recipe are the strands from the spaghetti squash. It's easy, cheesy and super delicious!  A fun and new way to eat spaghetti squash. From now on your family will enjoy eating their veggies! Spaghetti Squash n' Cheese is packed full of many yummy flavor sensations like crisp bacon, tender garlic and a home-made cheese sauce. starts with a roux, that has chicken broth and milk added.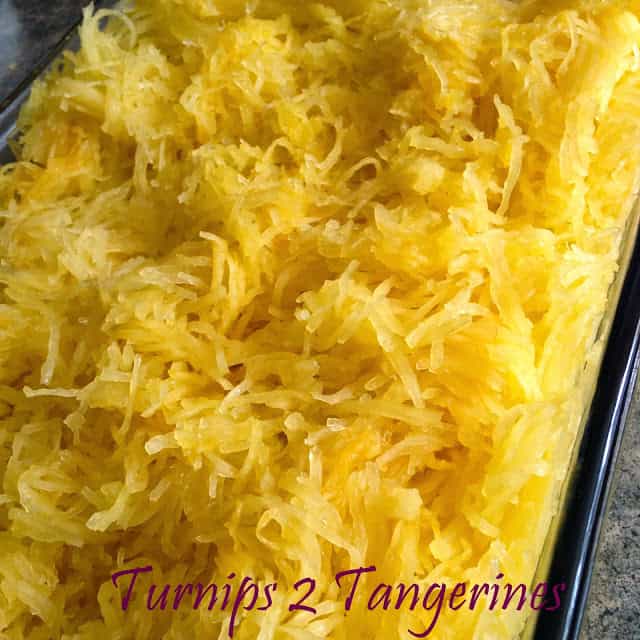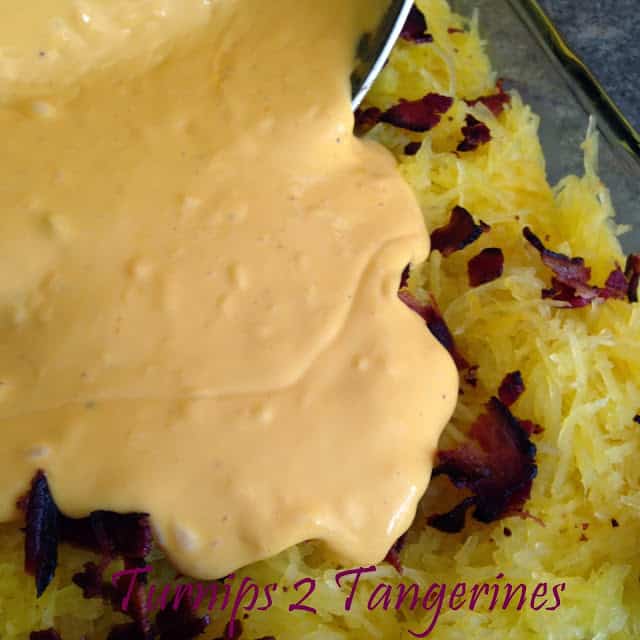 Cheese Sauce
Spaghetti sauce n' cheese is made with delicious and easy home-made cheese sauce. This cheese sauce starts off with a roux. The roux is made with butter and oil that is heated until hot, garlic is then added and cooked until tender. Flour, salt and pepper are whisked in cooked for several minutes. Chicken broth and milk is added and then cooked until smooth and thickened. Add cubed Velveeta cheese, stir until melted and Presto, you have a delicious and thick cheese sauce.
 Now My Favorite Part
If this casserole didn't contain enough delicious ingredients, I've decided to add two more and my favorite part of casseroles, a buttery cracker crumb topping, dotted with cubes of butter. I love a good buttery cracker crumb topping and will top just about anything with it. You can use your favorite buttery crackers but we usually use either Townhouse Crackers or Ritz Crackers. I do love a crispy, buttery cracker topping.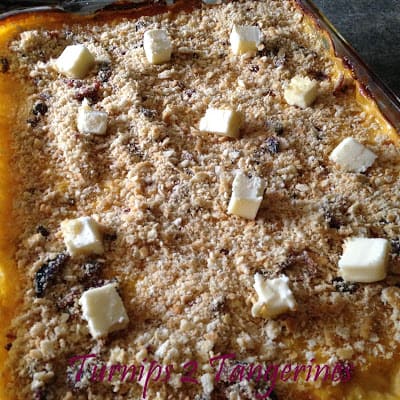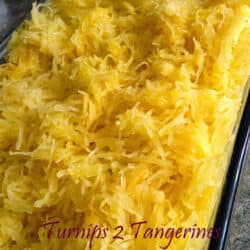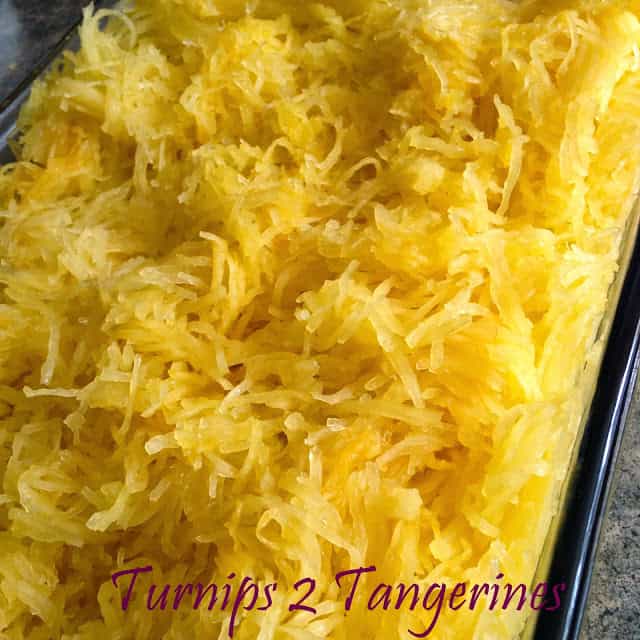 Spaghetti Squash 'n Cheese
Ingredients
5 1/2

cups

spaghetti squash, cooked (about 2 medium)

1

tablespoon

olive oil

1

tablespoon

butter

2

cloves

garlic

,

minced

1/4

cup

flour

salt and pepper, to taste

2

cups

milk

1/2

cup

chicken broth

8

ounces

Velveeta cheese

,

cubed

1/2

pound

thick slices bacon, cooked until crisp

1

sleeve buttery crackers, crushed

3

tablespoons

cold butter, cubed
Instructions
Preheat oven to 350º. Lightly butter a 13 x 9 in baking dish. Cut the squash in half, lengthwise. Remove and discard seeds. Place squash, upside down, in a shallow baking dish. Prick outer skin with a fork. Add a 1/2 inch of water. Bake for 45 minutes. Turn squash over, bake an additional 20 minutes, or until tender. Remove from oven. Remove squash from shallow baking dish. Set aside until cool enough to handle.

Using a fork, separate squash into strands.

Spoon spaghetti strands into prepared 13 x 9 inch dish. Discard shells.

Heat butter and oil in medium skillet over medium heat. Add garlic, cook 2 minutes. Whisk in flour, season with salt and pepper. Reduce heat to low and cook, stirring constantly, 3 to 4 minutes. Add milk and broth. Continue whisking, raising heat to medium-high

Whisk until mixture comes to a boil and becomes smooth and thick, about 2 minutes. Once mixture becomes thick, remove from heat. Add cubed cheese and mix well or until cheese is melted. Sprinkle crumbled bacon over squash. Stir cheese sauce and pour over bacon and squash. Loosely cover with foil and bake for 45 minutes.

Remove from oven. Sprinkle crushed crackers over squash, dot with cold cubed butter.

Bake for an additional 15 minutes, uncovered, until golden brown and bubbly.
Nutrition
Serving:
1
g
,
Calories:
317
kcal
,
Carbohydrates:
14
g
,
Protein:
12
g
,
Fat:
24
g
,
Saturated Fat:
11
g
,
Cholesterol:
52
mg
,
Sodium:
779
mg
,
Potassium:
299
mg
,
Fiber:
1
g
,
Sugar:
7
g
,
Vitamin A:
620
IU
,
Vitamin C:
2.3
mg
,
Calcium:
247
mg
,
Iron:
0.5
mg
Prepare the Spaghetti Squash and Bake. 
With a fork, shred baked squash into strands.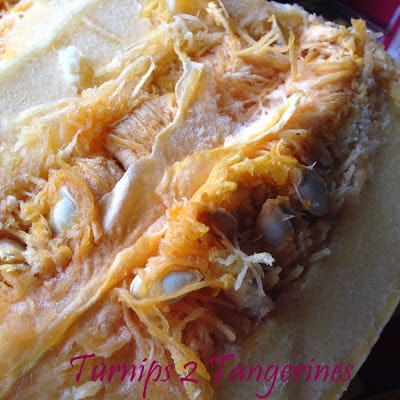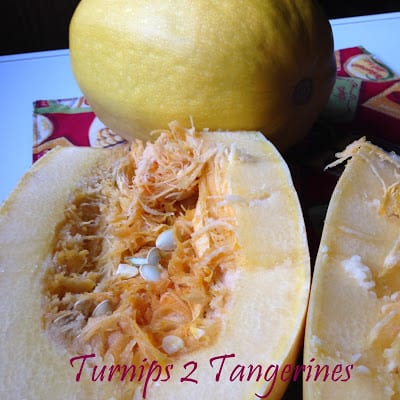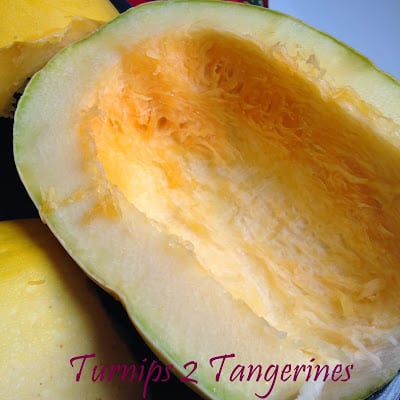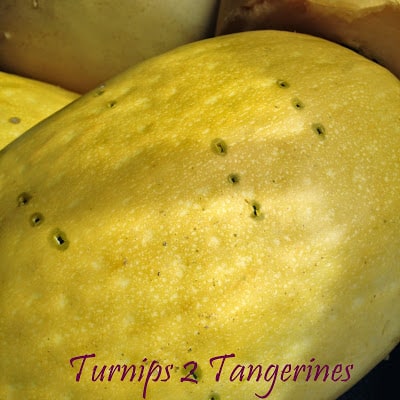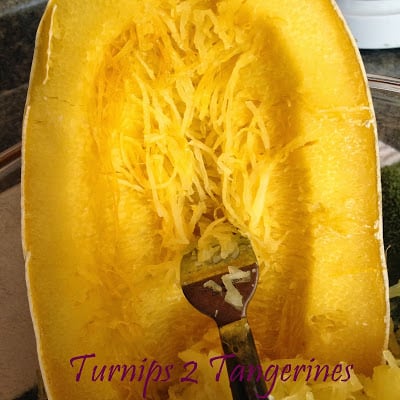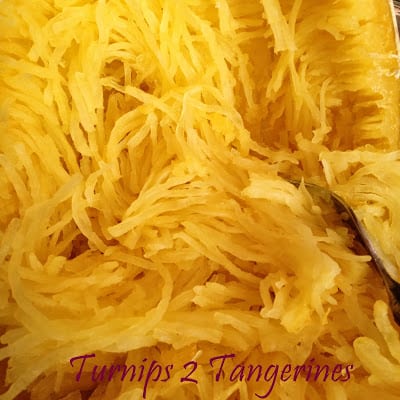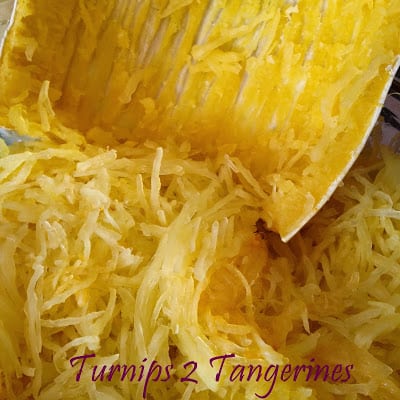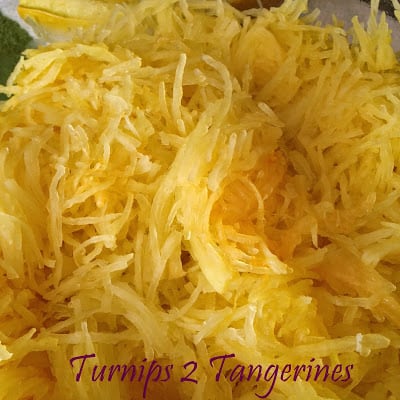 Prepare Cheese Sauce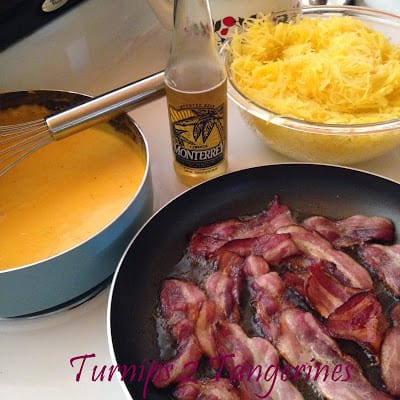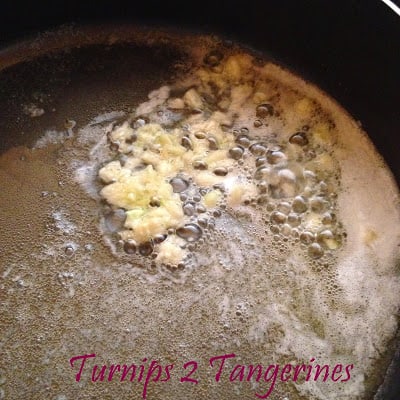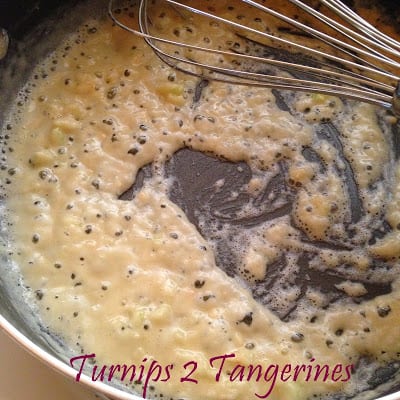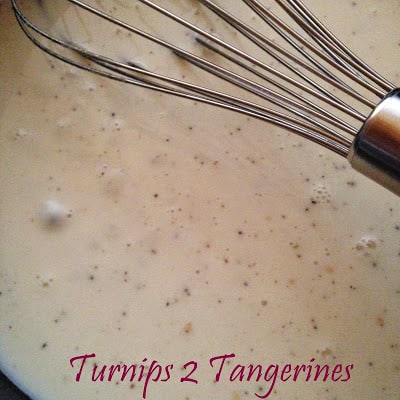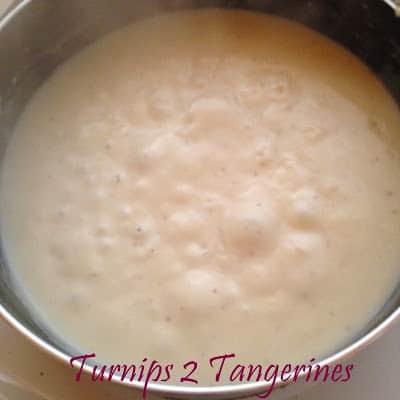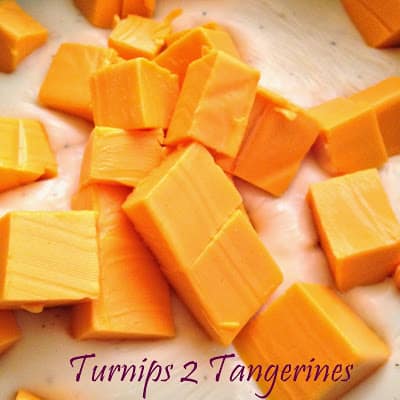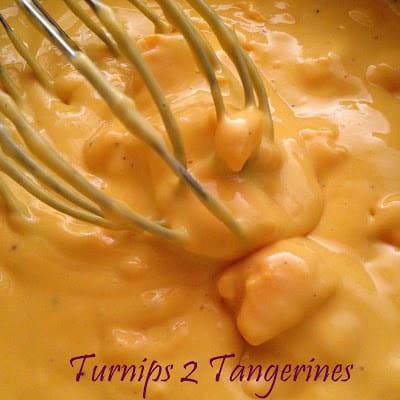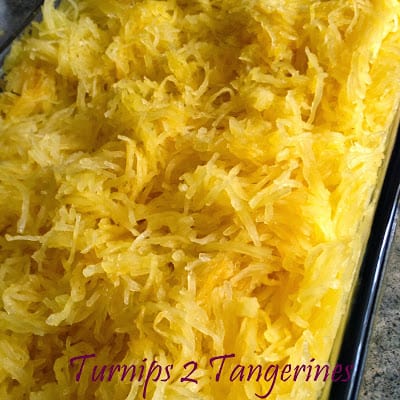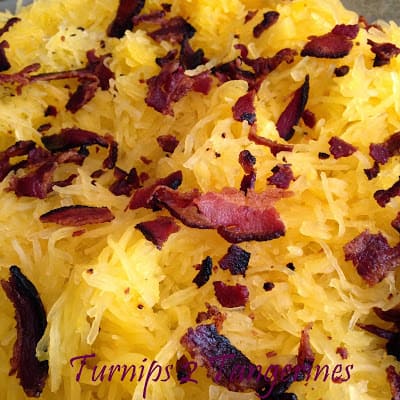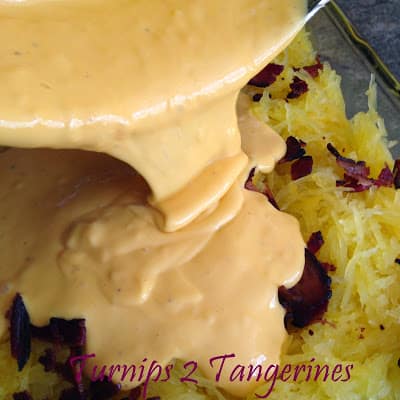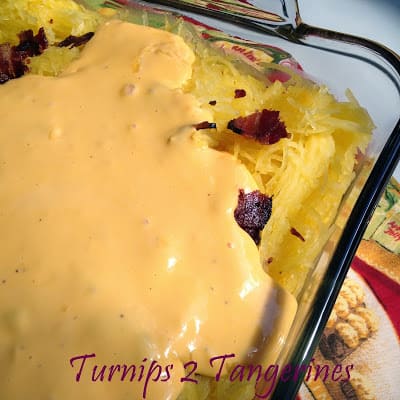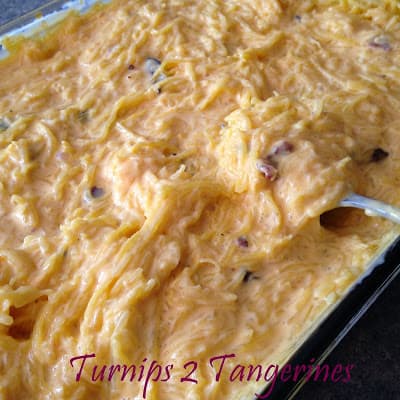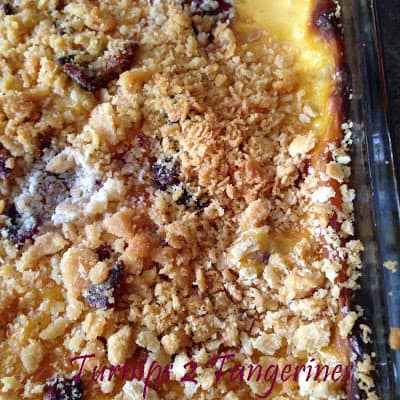 Spaghetti Squash n' Cheese makes for a delicious dinner option but you can also serve as a side dish alongside Easy Lemon Haddock or Creamy Tuscan Chicken. Let's face it, everything made with Velveeta Cheese is going to taste good!