Spooky Meringue Bones with Blood
We may earn money or products from the companies mentioned in this post.
Spooky Meringue "Bones" with Blood
Your little ghosts and goblins will be spooked when they see these delicious "bloody bones." Like all meringue cookies, these "bloody bones" are light, crisp, airy and delicious. Spooky Meringue "Bones" with Blood are super delicious, super scary, so much fun to make and too eat.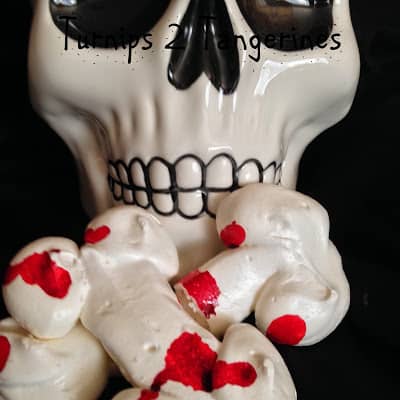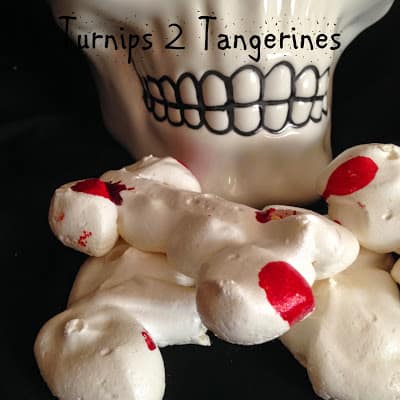 Meringue Facts
Meringue [muh-RANG] Very simpl, a meringue is a mixture of stiffly beaten egg whites and granulated sugar. In order for the sugar to dissolve completely and therefore produce an absolutely smooth meringue, it must be beaten into the whites a tablespoon at a time. Soft Meringue is used as a swirled for pie, puddings and other desserts such as Baked Alaska. It's baked only until the peaks are nicely browned and the valleys golden.
Hard Meringue
Hard Meringues begin by being piped onto a parchment-lined baking sheet. They're usually round and my be large or small. Then baked at a very low temperature for as long as 2 hours and left in the turned-off oven until complete dry. Hard meringues often have a center depression that is filled with ice cream, custard, whipped cream and/or fruits. Tiny, one or two-bite size, mound-shaped meringues are called "kisses" and are eaten as a confection. Kisses often contain chopped nuts, cherries or coconut etc. They may be baked until completely dry or until crisp on the outside and chewy inside.
Cookies
A cookie can be any of various hand-held, flour-based sweet cakes-either crisp or soft. The word cookie comes from the Dutch koekje, meaning 'little cake." The earliest cookie-style cakes are thought to date bake to 7th-century Persia, one of the first countries to cultivate sugar. There are six basic cookie styles, any of which can range from tender-crisp to soft. The cookie styles are drop cookies, bar cookies, molded cookies, pressed, refrigerated cookies or ice box cookies and lastly, rolled cookies.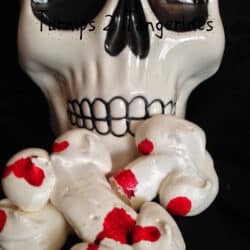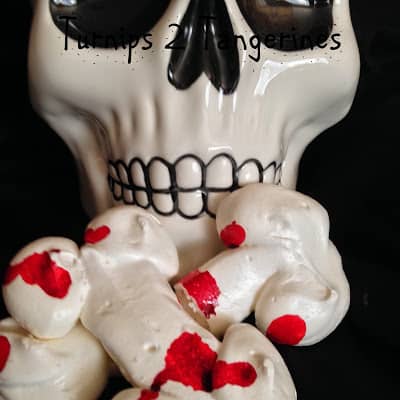 Spooky Meringue Bones with Blood
Spooky, Scary and Delicious!
Ingredients
2

egg whites

1/8

teaspoon

cream of tartar

1/2

cup

sugar

red food coloring optional (to give your "bones" blood drops)
Instructions
In a small bowl, beat egg whites and cream of tartar on medium speed until soft peaks form. Gradually add sugar, 1 tablespoon at a time, beating on high until stiff peaks form.

Place mixture in a heavy-duty resealable plastic bag, cut off a small corner of bag (you can also use a pastry bag with a round decorating tip)

On parchment-lined baking sheet, pipe meringue into a 3-inch log, pipe two 1-balls on opposite sides of each end of the log. Repeat with remaining meringue.

Bake at 225º for 1 1/2 hours or until firm. Remove to wire racks.

Drop droplets of red food coloring on bones to represent blood.

Store in an airtight container
Recipe on Tap:
Pink Strawberry Rosetta Meringue Cookies are the perfect cookie to make for your sweetheart on Valentine's Day or any day.