We may earn money or products from the companies mentioned in this post.
Creamy Tuscan Chicken
This is one of our favorite ways to prepare boneless, skinless chicken breasts. Made with heavy cream, chicken broth, Parmesan cheese, spinach, and sun-dried tomatoes. So simple, yet so special. Served over Artisan mushroom tagliatelle pasta, perfection. This is one of those recipes that comes together quickly and effortlessly. The flavors come together beautifully. One bite and you'll coming back for more. You can serve Creamy Tuscan Chicken over any style pasta you like but lately we have been into 'Artisan' style, flavored pasta. We served this creamy chicken dish over mushroom tagliatelle.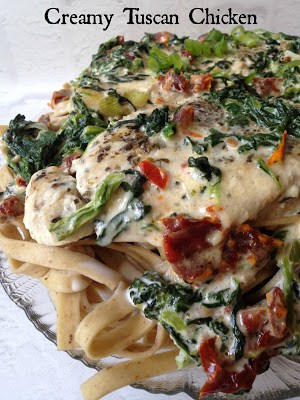 Evaporated Milk
If you want to 'lighten' up this dish, you can easily substitute low-fat evaporated milk for the heavy cream with the same great results. I always stock up on low-fat evaporated milk or evaporated milk when I go to the $1.00 store. Nothing can replace the distinctive flavor and creaminess that heavy cream brings to a dish but evaporated milk is easy to store and has a long shelf life.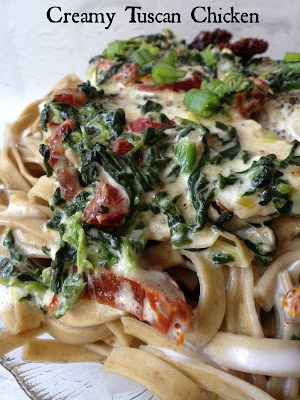 Ingredients
4 to 6 

boneless, skinless chicken breasts

2 tablespoons




olive oil

1 cup




heavy cream

1/2 cup




chicken broth

1 teaspoon




garlic powder

1 teaspoon




Italian seasoning

1/2 cup




Parmesan cheese

1 cup frozen

 spinach, thawed and squeezed dry

1/2 cup




sun-dried tomatoes, sliced

1 (12 oz) package




Artisanal mushroom tagliatelle pasta
Cooking Directions
In a large skillet add olive oil and cook the chicken on medium high heat for 3-5 minutes on each side or until brown on each side and cooked until no longer pink in center. Remove chicken and set aside on a plate.
Add the heavy cream, chicken broth, garlic powder, italian seasoning, and parmesan cheese. Whisk over medium high heat until it starts to thicken. Add the spinach and sundried tomatoes and let it simmer until the spinach starts to wilt. Add the chicken back to the pan, heat through. Serve over pasta