Sourdough Cornmeal Millet Bread
We may earn money or products from the companies mentioned in this post.
Sourdough Cornmeal Millet Bread
It has been quite some time since I have made anything using my sourdough starter but the wait was well worth it. Sourdough Cornmeal Millet Bread is super fantastic and I've made several loaves of bread since discovering this delicious recipe. I have made 25 of the 39 recipes in the recipe booklet "Simple Sourdough" "The Alaska Way" by Kathy Doogan. This bread is made with millet, which is a tiny grain that gives this light yet hearty bread a delightfully crunchy texture. Millet can be found in the natural foods section of most supermarkets.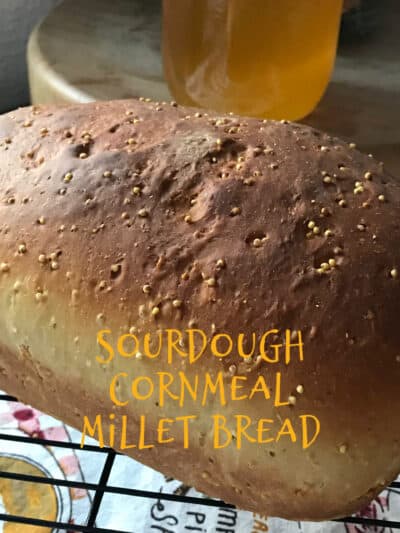 Millet
Bob's Red Mill is a great source for millet. What is millet? Though America cultivates this cereal grass almost exclusively for fodder and bird seed, millet is a staple for almost 1/3 of the world's population. There are many varieties of millet, most of which are rich in protein. Millet has a bland flavor that leads itself well as a background to other seasonings. Its prepared like rice by boiling it in water. Its used to make hot cereal, and dishes such as pilaf. Ground millet is used as a flour to make puddings, breads, and cakes. Millet can be found in Asian markets and natural food stores.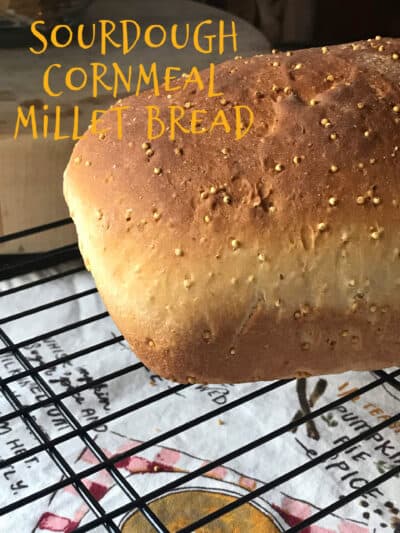 Cornmeal
Basically cornmeal is made with dried corn kernels that have been ground in one of three textures; fine, medium or course. There are two methods of grinding. The old-fashioned water-ground method, also called stone-ground method. This is the type of cornmeal used in this recipe. Stone-ground cornmeal is so called because water power is used to turn the mill wheels. This method retains some of the hull and germ of the corn. Because of the fat in the germ, water-ground or stone-ground cornmeal is more nutritious. It won't keep long though and should be stored in the refrigerator.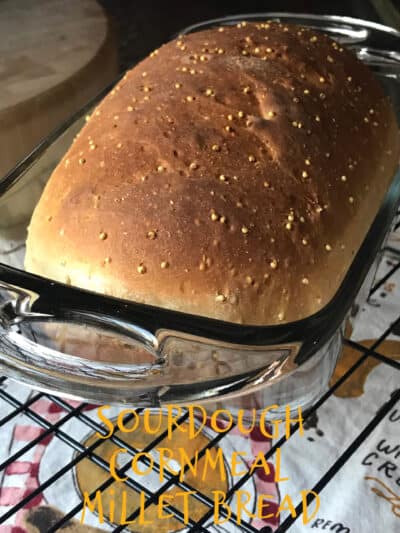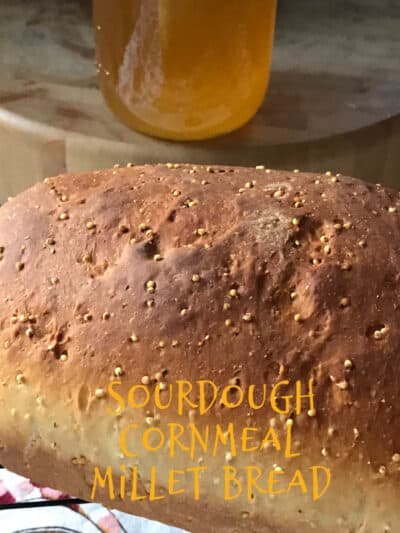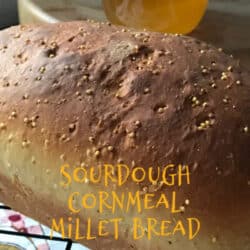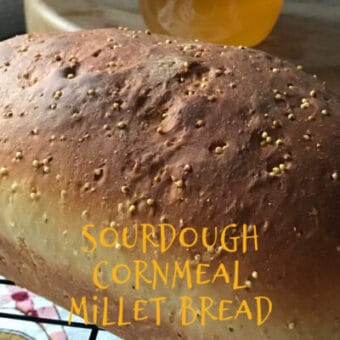 Sourdough Cornmeal Millet Bread
A light, yet hearty bread with a wonderful crunchy texture from the millet.
Ingredients
1

teaspoon

yeast

1/4

cup

honey

1/2

cup

warm water

1

cup

sourdough starter

2

tablespoons

vegetable oil

1/3

cup

millet

1/3

cup

cornmeal

1

teaspoon

salt

3

cups

flour
Instructions
In a mixing bowl, dissolve yeast and honey in warm water; set in a warm spot for about 10 minutes, until mixture becomes bubbly. Add starter, oil, millet, cornmeal and salt; mix well. Stir in 1 1/2 cups of the flour then continue mixing in enough of the remaining flour to make a soft dough that pulls away from the sides of the bowl.

Turn out onto a lightly floured board and knead 5 to 8 minutes, until dough is smooth and elastic, kneading in more flour if needed to keep dough from sticking. Form dough into a ball and place in a lightly oiled bowl, turning to coat all sides. Cover loosely and set in a warm place to rise until doubled, about 1 1/2 to 2 hours.

Punch down dough and knead briefly on a floured surface. Shape into a loaf and place in a greased 9 x 5-inch pan. Cover loosely with plastic wrap and place the loaf in a warm spot to rise for about 1 hour.

Bake at 375° for 30 to 35 minutes, or until golden brown. If desired, brush top of hot loaf with about 2 teaspoons of butter. Cool on wire rack.
Recipes On Tap