Sourdough Cake Doughnuts
We may earn money or products from the companies mentioned in this post.
Sourdough Cake Doughnuts
To ensure success when making these delectable Sourdough Cake Doughnuts, use a candy or deep fat thermometer to keep the temperature of your oil as close to 375 degrees as you can. This will allow for even browning. Another secret to deep-frying success, is an important "tip." Don't crowd your pan! This step will allow for even frying and therefore, even browning. For deep frying, choose a light-colored oil with a mild flavor, such as a canola oil.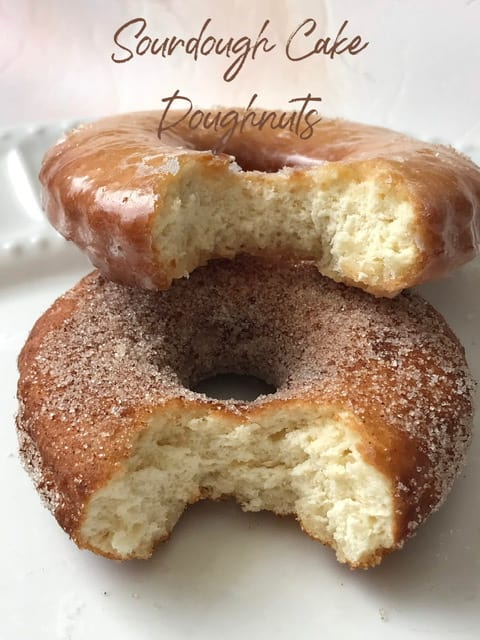 Cast Iron Skillet
A few years back, I purchased a nicely seasoned, deep cast iron skillet at Goodwill. The price was right too, $5.00. The main purpose for buying the cast iron skillet was to use it for deep frying. The skillet is super deep and when frying doughnuts, depending on their size, it will hold 3 to 4 doughnuts at one time. I will admit, this was one of the best purchases I've ever made! We don't deep fry often but when we do out comes the heavy, duty cast iron skillet.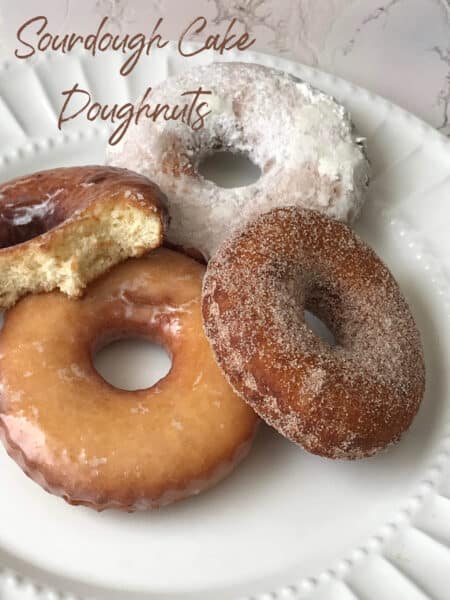 Lodge Cast Iron
In 1877, Joseph Lodge and his wife, Anna, made their home in South Pittsburg, Tennessee. This move forever altered the course of this small, southern community. In 1896, Joseph Lodge started the Blacklock Foundry. The company focused on manufacturing a wide range of cast iron products, including cast iron cookware. Blacklock experienced success until 1910, when a fire destroyed the foundry.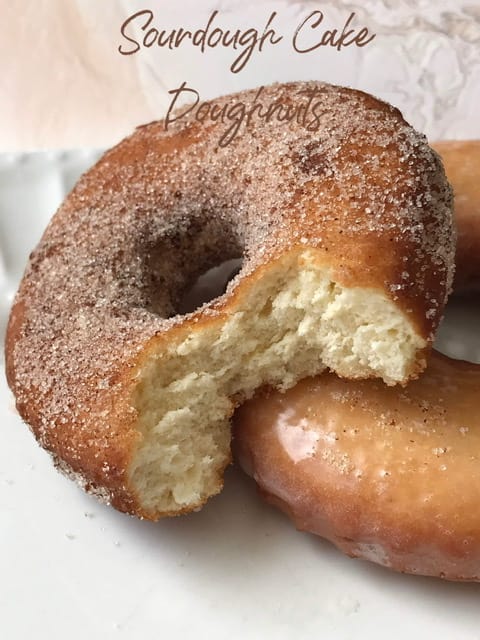 Three months after the fire, the company was reborn into the company we know today: Lodge Cast Iron. During the hard times of the 1930's, the Lodge family found ways to keep the doors open. Novelty items, such as cast iron garden gnomes and animals were produced and sold to keep workers employed. As the economy bounced back, Lodge responded to a growing business demand, and in 1950 converted its foundry from a hand-pour operation to an automated molding process. A very new and inventive process for its time.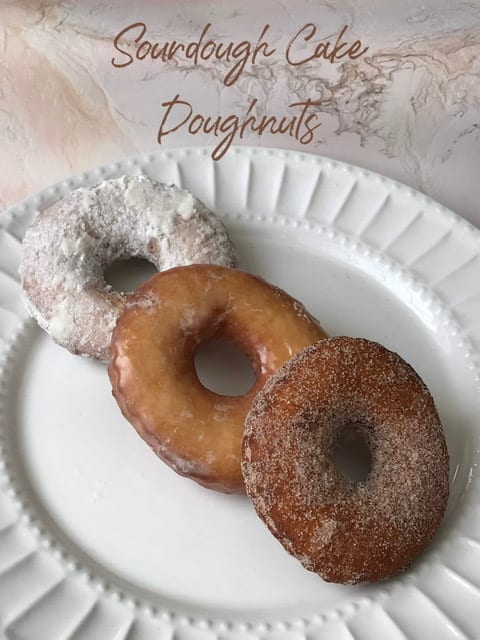 During the tough economic times in the 1970's, William Kellermann, Joseph Lodge's grandson, drafted a plan to reconstruct the foundry. This multi-year project enabled Lodge to bring employees back to full, 5-day workweeks. The Lodge Logo was created in 1973. The simple black skillet frying a single egg was destined to become an iconic symbol of American-made cast iron cookware. The official brand logo has been updated over the years, but the same black iron skillet icon is still in use today.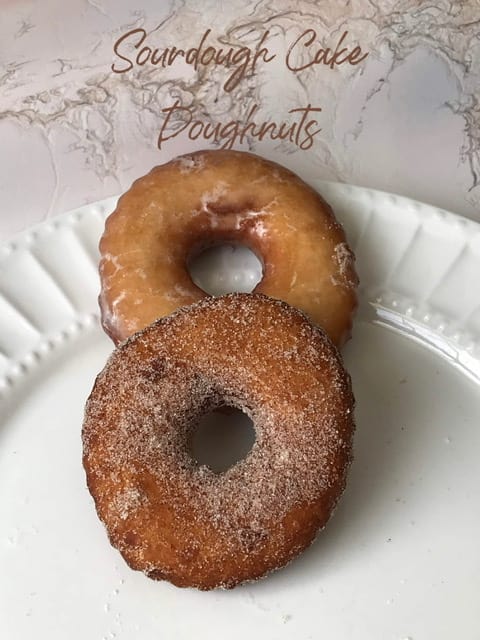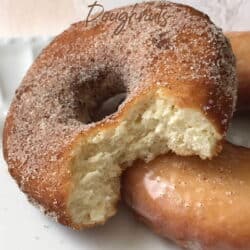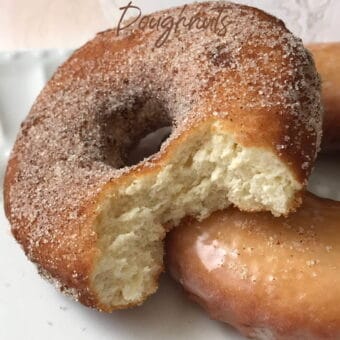 Sourdough Cake Doughnuts
Ingredients
1 1/2

cups

sourdough starter

2

eggs

1/4

cup

milk

1/4

cup (1/2 stick)

butter, melted and cooled slightly

1

teaspoon

vanilla extract

1 1/4

cups

sugar

4

cups

flour

1

teaspoon

salt

2

teaspoons

baking powder

2

quarts

vegetable for deep frying
Equipment
cast-iron deep sided frying pan

Deep fat fryer
Instructions
Mix starter, eggs, milk, melted butter, vanilla, and sugar in a large bowl. Stir together flour, salt and baking powder and add to the starter mixture; mix thoroughly (dough should be the consistency of a soft biscuit dough). Roll dough out on a floured surface to 1/2-inch thickness and cut with a well-floured 3" to 4" doughnut cutter (or use a 3" to 4" biscuit cutter to cut rounds, then use a small thimble-like cap to cut out the holes.)

Meanwhile, heat oil to a depth of about 3" to 4" in a large, deep-sided pan to 375° This can take 15 to 20 minutes over medium heat. Gently lower doughnuts into oil, frying only 3 or 4 at a time. Don't crown pan. Cook until golden brown on both sides, turning once, 2 to 3 minutes total for doughnuts and about a minute for holes. *The doughnuts will expand while frying, so try not to crowd pan.*

When done, remove with slotted spoon and drain on racks set over paper towels. If desired, roll warm doughnuts in a mixture of 1 cup water and 2 teaspoons ground cinnamon. Serve immediately.
Recipes On Tap:
Irish Cream Chocolate Sourdough Cake
*All Sourdough Recipes on T2T are made with an fed starter, unless the recipe states otherwise.*
Please Excuse Our Mess While We Remodel Our Kitchen.