Mint Chocolate Cookies with Mint Buttercream
We may earn money or products from the companies mentioned in this post.
Mint Chocolate Cookies with Mint Buttercream
If there is one thing that I love is chocolate and mint. Whom ever came up with this flavor combination should be awarded the Nobel Culinary Peace Prize! Pure Genius! This is the first time that I've made a mint buttercream 'filling' for cookies. It won't be the last. Cool & creamy with a hint of mint. Now on to the mint chocolate cookies. Made with baking cocoa and mint chocolate chips, they're super good! Mint Chocolate Cookies with Mint Buttercream are the perfect sweet treat to indulge in this St. Patty's Day!!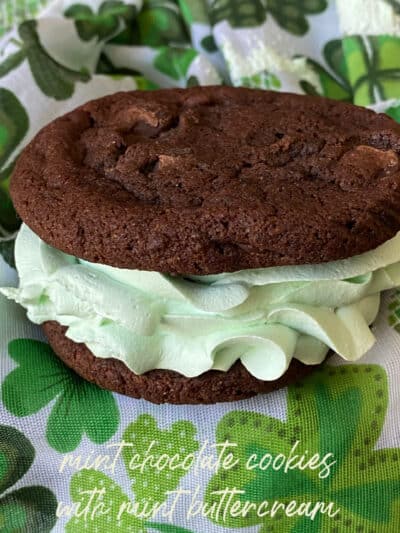 St Patrick's Day Celebrations
St. Patrick's Day observes the death of St. Patrick, the patron saint of Ireland. The holiday has evolved into a celebration of Irish culture complete with parades, special foods, music, dancing and drinking green beer. In 1848, the official New York City St. Patrick's Day Parade began. Today, that parade is the world's oldest civilian parade and the largest in the United States.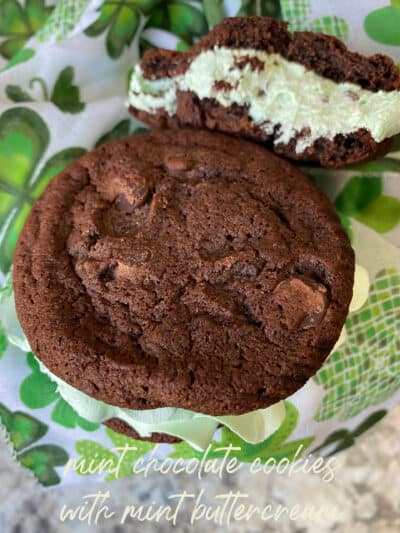 Each year, nearly 3 million people line the 1.5-mile parade route to watch the festivities. With over 150,000 participants, the parade takes more than five hours. Boston, Chicago, Philadelphia and Savannah also celebrate the day with parades. As Irish immigrants spread throughout the United States, other cities developed their own traditions. One such tradition is Chicago's annual dyeing of the Chicago River Green. The river is dyed green using 40 lbs. of green vegetable dye that turns the river green for several hours.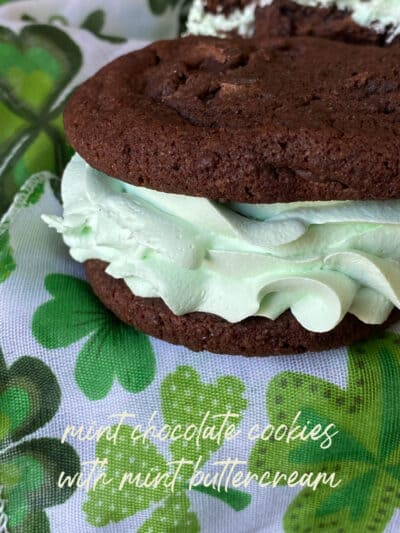 Celebrations Around the World
Today, whether or not you're Irish, everyone seems to celebrate St. Patrick's Day. Wearing o' green, drinking green beer or eating corned beef and cabbage, everyone is Irish at least for one day of the year. St. Patrick's Day is celebrated throughout the US, Canada and Australia. Although North America is home to the largest parades, St. Patrick's Day is celebrated around the world in locations far from Ireland. Such as Japan, Singapore and even in Russia.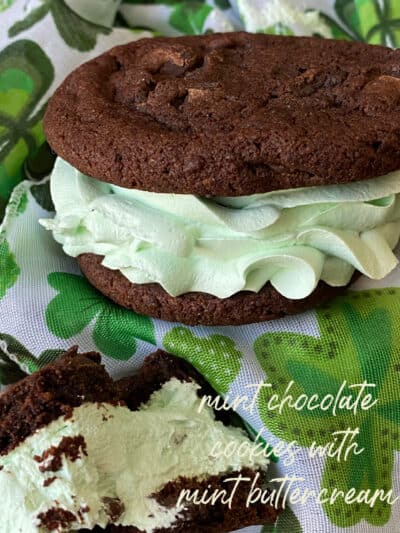 Popular St Patrick's Day Foods
St. Patrick's Day has is popular recipes, just like any holiday. Here on Turnips 2 Tangerines we have made several of the most popular St. Patrick's Day recipes. Irish Soda Bread Scones, corned beef and cabbage, Colcannon An Irish Classic, and Irish Beef Stew. Other favorites include; Shepard's Pie, Boiled Dinner, Braised Cabbage and for dessert Irish Apple Cake.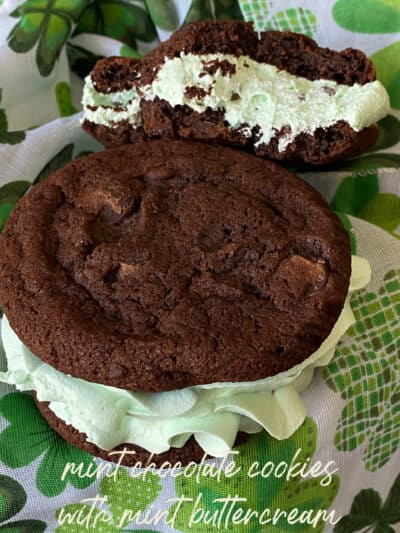 A Word About the Buttercream
Before moving on to the recipe, let me quick say that the mint buttercream frosting holding the two mint chocolate cookies together is out of this world! I'm not a fan of most frostings. In fact, I'm the type Of person that usually takes a finger and swipes most of the super sweet, crisco-powdered sugar frosting off with my finger. And yes, I wipe it off with a napkin and throw it away.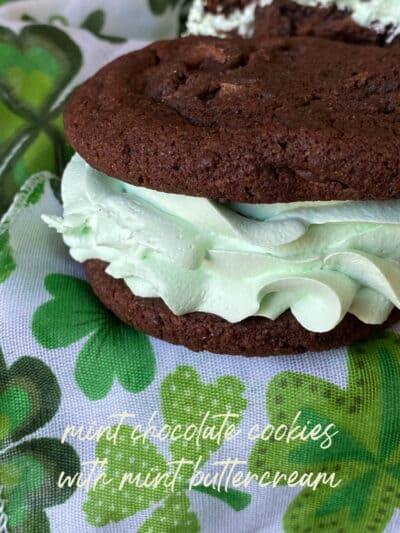 But not when it comes to buttercream frosting. No, No, Never, Never. I could and have eaten buttercream frosting with a spoon or right off my finger! Basically, buttercream is a light, creamy frosting made with softened-butter, powdered sugar, egg yolks and milk or light cream. This uncooked frosting is beaten until light and creamy. It can be flavored in many ways and is used both as a filling and frosting for a variety of cakes, pastries and now Mint Chocolate Cookies.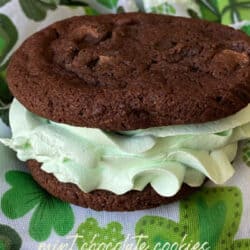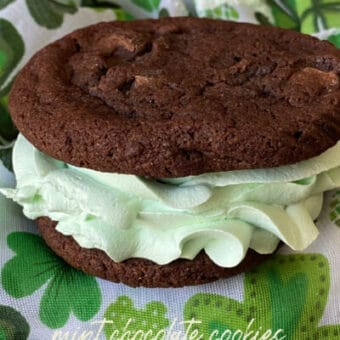 Mint Chocolate Cookies with Mint Buttercream Frosting
Ingredients
4

cups

of powdered sugar

1 

sticks

butter, softened

1 

tablespoon 

milk

1/2

teaspoon

peppermint extract

green food coloring

decorating bags

Wilton 2D decorating tip

2

cups

all-purpose flour

2/3

cup

baking cocoa

1

teaspoon

baking soda

1

cup (2 sticks)

butter, softened

2/3

cup

sugar

2/3

cup

packed brown sugar

1

teaspoon

vanilla extract

2

large

eggs

1

10 oz package

mint chocolate chips (Nestle)
Instructions
Beat on low, powdered sugar and softened butter. Mix until powdered sugar is incorporated.

Continue beating on medium-high speed. Scrap sides and bottom of bowl often. When completely mixed together the frosting may appear dry.

Add milk, a little bit at a time until frosting is the proper consistency. Add peppermint extract, mix well.

Fit decorating bag with decorating tip. Spoon mint buttercream frosting into decorating bag. Pipe mint buttercream frosting on flat side of one cookies. Place second cookie, flat side down, on top of mint buttercream frosting. Set aside and continue with remaining cookies.

Combine flour, cocoa, baking soda, and salt in small bowl. Beat butter, sugar, brown sugar and vanilla extract in large mixer bowl until creamy. Add eggs, one at a time, beating well after each addition. Gradually beat in flour mixture. Stir in morsels. Drop by well rounded tablespoon onto un-greased baking sheets.

Bake for 11 to 13 minutes or until cookies are puffed and centers are set. Cool on baking sheets for 2 minute; remove to wire racks to cool completely.
This recipe was made with Nestles mint chocolate chips and baking cocoa.