Slow Cooker Cranberry Apple Oatmeal
We may earn money or products from the companies mentioned in this post.
Slow Cooker Cranberry Apple Oatmeal
Slow Cooker Cranberry Apple Oatmeal screams Autumn to me. Made with dried cranberries (substitute dried cherries or raisins), diced fresh apples, apple pie spice and steel-cut oats this will soon become a family favorite. It's a delicious and great way to start your day.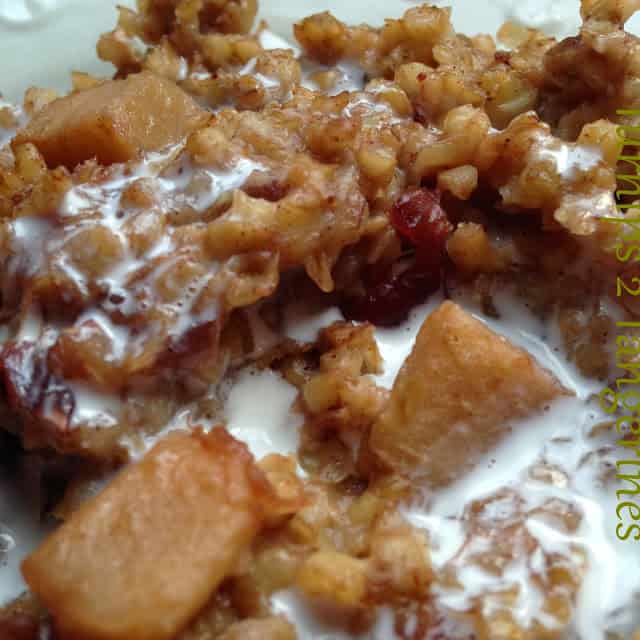 Steel-cut Oats
When slow cooker oatmeal and "overnight" oatmeal became all the rage, I was happy to jump on the bandwagon. I've always loved oatmeal but I'm not a super fan of instant, flavored oatmeal. I find it watery and fake tasting. Having been brought up on old fashioned oats, I prefer a heartier, chewier textured style oats. When Steel-cut oats/Irish oats/Scottish oats became fashionable I was thrilled. I thought, "Well, it's about time!" Now you can buy steel-cut oats everywhere, not only at the health food stores and that's fine by me. Our favorite; McCann's.
Cooking Time
What we like about cooking oats in the slow cooker is all of the recipes call for steel-cut oats, which we love. Another ingredient that many recipes call for is almond milk. We've been using almond milk in recipes for sometime now and we really like it. After making several recipes for slow cooker oatmeal, we've changed all of the cooking times in every recipe here on T2T, ( if you come across a recipe we haven't changed, please let us know)
Why did we change all of the cooking times? Simple. We found that cooking slow cooker oatmeal "overnight" just isn't possible. Cooking steel cut oats longer than 4 to 6 hours in a slow cooker, results in burnt oatmeal. This may not be true for you or your slow cooker oats but in my slow cooker, anything longer than 5 hours is stretching it. With that being said, we have changed the times. Give the recipe a try but keep your eye on it. Read the recipe suggestion below.
Recipe Suggestion
If you aren't familiar with making steel-cut oats in  your slow cooker, here's a recipe suggestion. Pick a day, Saturday or Sunday works great, and make up a batch of slow cooker oatmeal. Start in the morning, throw everything in the slow cooker, write down the time and turn the slow cooker to low. Check the oatmeal every hour (without lifting the cover) for four hours. After four hours, remove the cover and stir. Continue to cook the oatmeal until it's done to your liking. When the oatmeal has finished cooking, cool and divide the oat into individual serving containers. Another fantastic thing about slow cooker oatmeal, it freezes beautifully. Find out how here: Freezer Steel-Cut Oatmeal in Slow Cooker.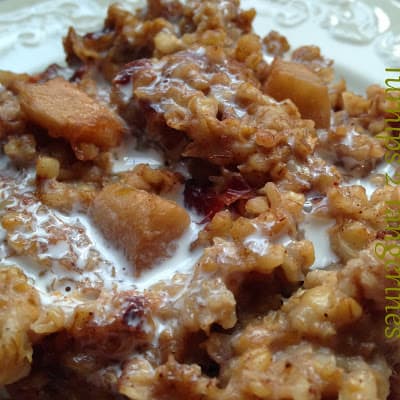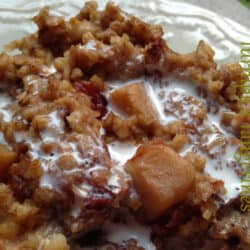 Slow Cooker Cranberry Apple Oatmeal
Ingredients
4

cups

steel cut oats

1/2

teaspoon

salt

3

teaspoons

apple pie spice*

4

cups

water

4

cups

almond milk or milk*

2

teaspoons

vanilla extract

4

small apples, peeled and diced

2

cups

dried cranberries

1/4

cup

brown sugar*
Instructions
Add oats, salt, apple pie spice to crock-pot. Add water, almond milk, vanilla, apples, cranberries and brown sugar. Stir and cover.

Cook on low 4-5 hours.

Stir again before serving.

*Adjust milk, sugar and spice to your personal taste.
Nutrition
Serving:
1
g
,
Calories:
499
kcal
,
Carbohydrates:
98
g
,
Protein:
14
g
,
Fat:
8
g
,
Saturated Fat:
1
g
,
Sodium:
318
mg
,
Potassium:
124
mg
,
Fiber:
13
g
,
Sugar:
36
g
,
Vitamin A:
50
IU
,
Vitamin C:
4.4
mg
,
Calcium:
213
mg
,
Iron:
3.8
mg