Almond Butter Filled Dates
We may earn money or products from the companies mentioned in this post.
Almond Butter Filled Dates
Happy Halloween! Welcome Back to Football Friday and the Game Day Recipe. Today's recipe is for Almond Butter Filled Dates a.k.a. Zombie Eyes. Made with pitted dates and filled with a mixture of almond butter and cream cheese. One chocolate chip is inserted in the center of the almond butter/cream cheese filling to make an eye. Wonderfully, Frightfully Delicious. Kids and Adults alike will love these different and good for you treats.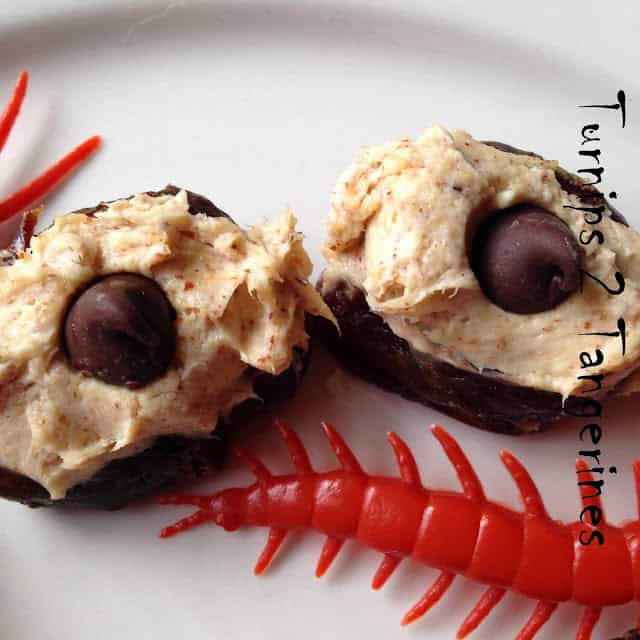 Recipes Come From Everywhere
It often surprises me where recipes come from. Many times recipes pop into your lap on the back of boxes, packages and labels. The minute I saw this recipe I knew I would love it. First off, I adore dates. Sweet and chewy. Secondly, they're filled with a cream cheese and almond butter mixture. Almond butter is a relatively new to me product but one I've embraced. Thirdly, the stuffed dates are topped with milk chocolate chips. What's not to like!
The Inspiration
The inspiration for this recipe came about one evening when I was watching the Disney channel with my grandkids when Helen Cavallo from "That's Fresh" came on. Helen made stuffed dates with trail mix and I thought to myself, "Wow, those look really good!" So I proceeded to make my version of Helen's Trail Mix Stuffed Dates. I made Helen's recipe along with this recipe for "Zombie Eyes" and both are super delicious!!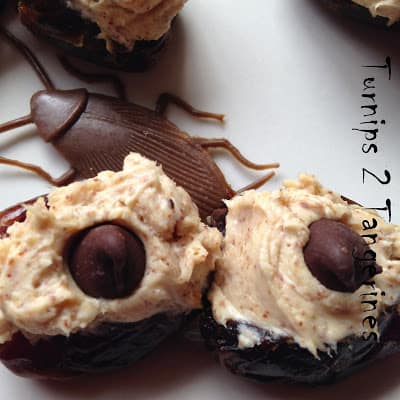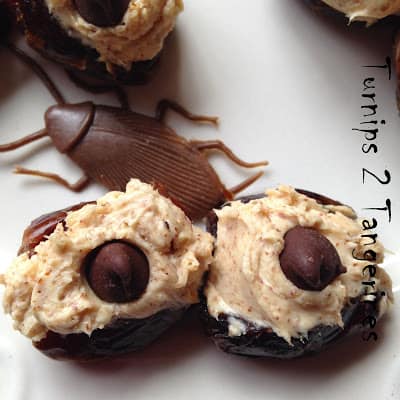 Substitution Option
This recipe calls for using Almond Butter but a great substitution would be Cookie Butter & Hazelnut Chocolate Duo Spread by italione. A product I purchased on Amazon, after I made this recipe. I was browsing Amazon, as I often do, looking for almond butter(s) and Nutella when this product came up. It sounded super good so I ordered Cookie Butter & Hazelnut Chocolate Duo Spread, Cookie Butter Spread and Hazelnut Spread. All three turned out to be really good…sweet but good! It looks like I'll be stuffing more dates in the future.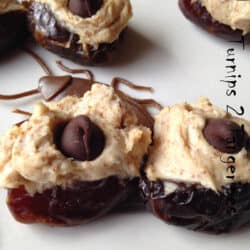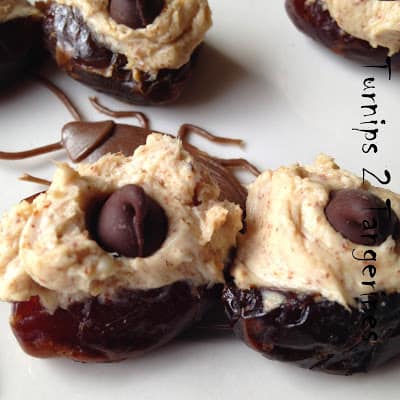 Almond Butter Filled Dates
A different, tasty and good for you too treat.
Ingredients
12 to 16

pitted dried dates

1

3 oz package

cream cheese, room temperature

1/3

cup

almond butter or more to taste

1/4

teaspoon

ground cinnamon

1

cup

chocolate chips
Instructions
Carefully slice a small opening into date. Do not cut all the way through date. Carefully open date. Set dates aside until ready to fill.

Beat cream cheese until smooth. Add almond butter and cinnamon to cream cheese. Cream together cream cheese, almond butter and cinnamon until smooth.

Spoon cream cheese mixture into dates.

Top each filled date with one or two chocolate chip(s).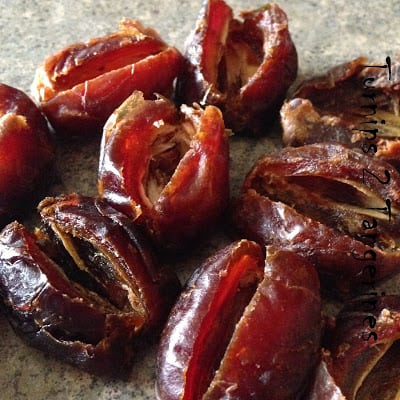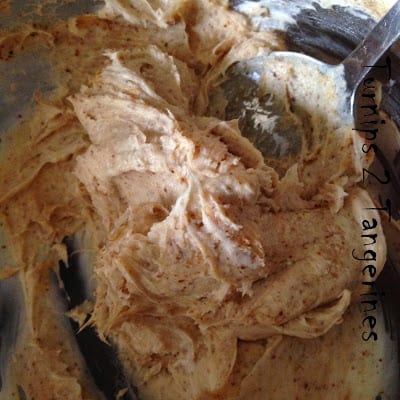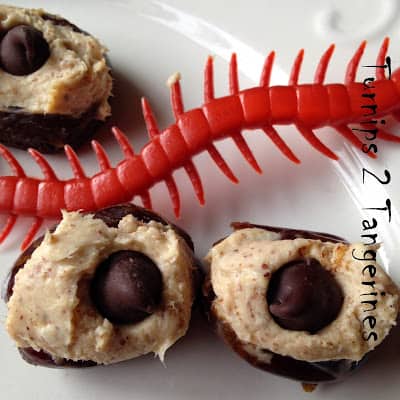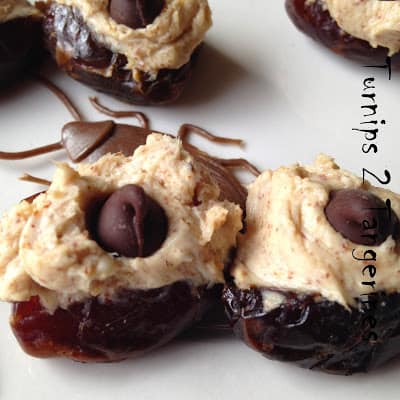 Ingredients Used in this Recipe:
Certified Organic Medjool Dates
Here are a few more these tasty tidbits you'll want to try:  Almond Butter Thumbprint Cookies and Ants on a Log Bagel Spread.