Apple Orange Cranberry Crostata
What is a Crostata?
A Crostata is an Italian baked tart,
a free-form rustic style pie/tart.
A Crostata is easy to make,
delicious and impressive to serve.
It can be made with a number of fillings,
but my favorite filling is:
Apple Orange Cranberry.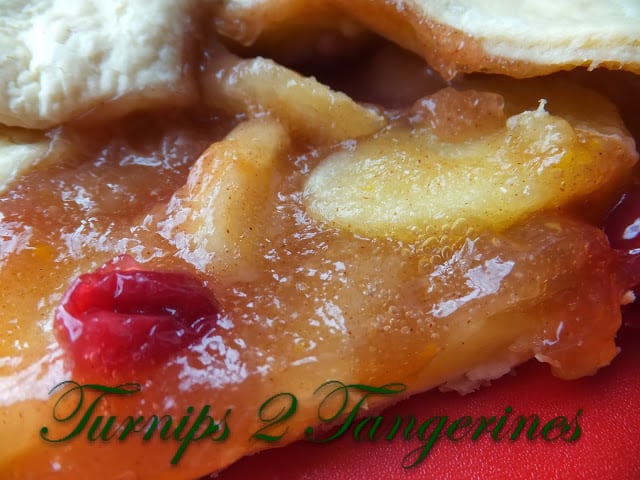 Apple Orange Cranberry Crostata
Crust
Apple Orange Cranberry Crostata
Ingredients
4




apples, peeled, cored and sliced

1/4 cup




butter

1/2 teaspoon




ground cinnamon

1/4 teaspoon




nutmeg

1/2 teaspoon




apple pie spice

2 tablespoons




orange zest

1/4 cup




orange juice

1/3 cup




brown sugar, firmly packed

1 cup




fresh cranberries

1




egg beaten with 1 teaspoon water for egg wash

1 teaspoon




sugar
Cooking Directions
Preheat oven to 425º  Spray baking sheet with nonstick cooking spray.
In a skillet, melt butter over medium heat.
In a medium bowl, place apple slices; add cinnamon, nutmeg and apple pie spice. Toss to coat and add to skillet. Cook for 10 minutes and then stir in cranberries. Cranberries will pop when heated through. Add orange zest and orange juice. Cook until liquid cooks down slightly and apples are tender, cool.
Unroll pie crust onto prepared baking sheet. Roll out into a large circle. Spoon prepared apple and cranberry mixture into center of crust and fold in sides loosely and unevenly. Using a pastry brush, brush egg wash over crust. Sprinkle crust with 1 teaspoon sugar.
Bake at 425º for 12 to 15 minutes or until crust is golden brown.
Serve with vanilla ice cream or whipped cream.
Apple Pie Spice~
4 tablespoons ground cinnamon
1 tablespoons ground allspice
2 teaspoons ground nutmeg
2 teaspoons ground ginger
1/2 teaspoons ground cardamon
Combine all ingredients, blend well.
Store in a small, air-tight container.
You can adjust the amounts to your own personal taste