Scalloped Spinach
We may earn money or products from the companies mentioned in this post.
Scalloped Spinach
If you're looking for a way to add more vegetables to your diet, give this recipe for scalloped spinach a try. It's delicious and the left-overs (if there are any) are great too. If you stick your nose up at spinach and say "no way, never!" then think again. I was the same way, until I tried this recipe. Visions of warmed canned spinach, swimming on my plate as a child still haunts me to this day. I've learned over the years that spinach has gotten a bad rap.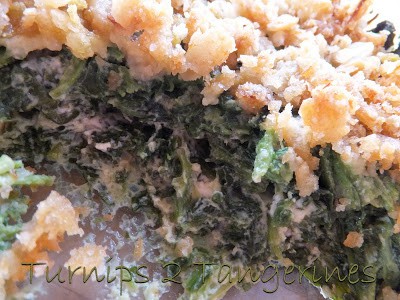 What Does Scalloped Mean?
Scalloped is a French term that basically means to prepare a food, most notably potatoes, by layering slices with cream or a creamy sauce in a casserole dish. Then topped with a bread or cracker crumb topping before being baked. Scalloped spinach is a mixture of frozen spinach, eggs, heavy cream, blue cheese, onions and spices. The topping is a mixture of cracker crumbs and french fried onion rings. Sounds good, doesn't it and it is. Scalloped spinach has turned even the so-called spinach haters, like my hubby, around.
Spinach
Popeye's addiction to this "power packed" vegetable comes from the fact that it's a rich source of iron as well as vitamins A and C. Fresh spinach is available year-round and is now available pre-washed as well. Choose leaves that are crisp and dark green with a nice fresh fragrance. Avoid spinach that is limp, damaged or discolored. Refrigerate in a plastic bag for up to 3 days. Frozen spinach is often used in dips and casseroles.
Recent Recipe: Kentucky Derby and a Mint Julep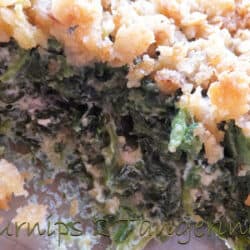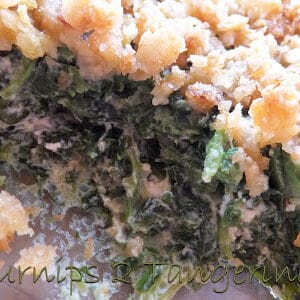 Scalloped Spinach
Scalloped Spinach makes an excellent side dish to any Sunday pot roast or roasted chicken dinner.
Ingredients
3

10 oz packages

frozen chopped spinach, thawed and squeezed dry

4

eggs, beaten

3/4

cup

milk or heavy cream

1/2

cup

crumbled blue cheese

1/4

cup

finely chopped onion

1/2

teaspoon

salt

1/4

teaspoon

pepper

1/8

teaspoon

nutmeg

1/2

cup

buttery crackers, crushed

1/2

cup

french fried onions, crushed

1

tablespoon

butter, melted
Instructions
Preheat oven to 350º

In a large bowl, combine the spinach, eggs, milk, cheese, onion, salt, pepper, and nutmeg. Spoon into a greased 1-1/2 to 2 quart round glass baking dish. Bake at 350º for 50 minutes.

In a small bowl, combine cracker crumbs, french fried onions and melted butter. Sprinkle over top of spinach mixture. Bake 10 to 15 minutes more or until a knife inserted 1 inch in the center comes out clean.

Let stand 10 minutes before serving