Peanut Butter Bacon Tidbit Sandwich
We may earn money or products from the companies mentioned in this post.
Peanut Butter Bacon Tidbit Sandwich
Most people who know me are well aware of the fact that I collect cookbooks. (and jars but that's a different post:) Some of you may have even helped me move my collection of over 300 cookbooks from time to time. 'Ouch' You might be wondering about right now, "Why?" I just have a thing for cookbooks! I can't explain it either.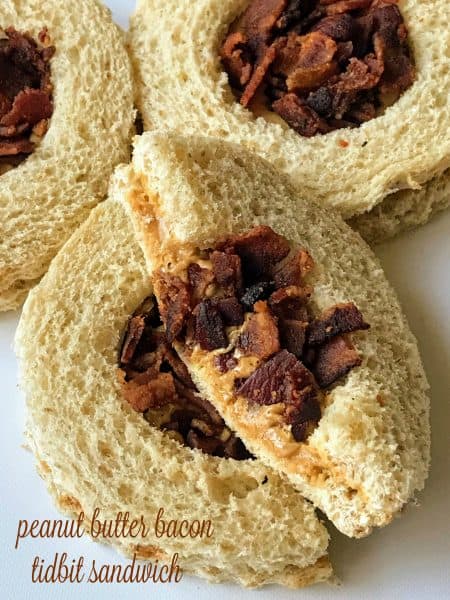 Gas Company Cookbook
I found this recipe for peanut butter bacon tidbit sandwich in a Wisconsin Gas Company Cookbook from 1971. The recipe was listed in the 'appetizer' section of the cookbook, which I thought was odd. Even though I was only around 13 in 1971, I never saw peanut butter bacon tidbit sandwiches on the buffet at a family party my parents dragged me too. Come to think about it, I've never seen peanut butter bacon tidbits on any appetizer table ever.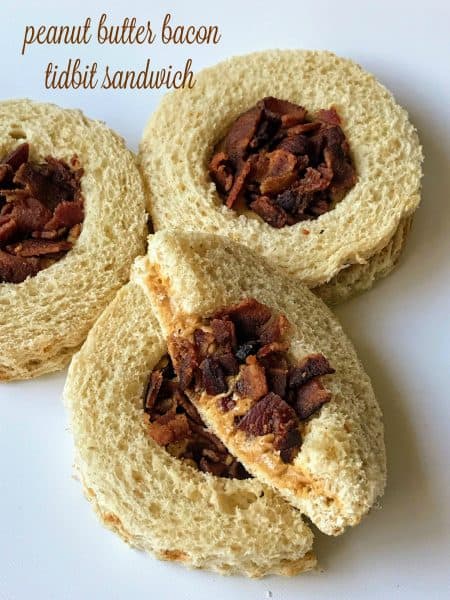 The Original?
My grandkids love those little peanut butter and jelly "uncrustables" sandwiches. I mean they flip over them. When I decided to make peanut butter bacon tidbit sandwiches and started to assemble them, the first thing that came to mind were those round uncrustables that my grandkids love so much. They're basically the same thing, except for the opening in the top of the bread of the tidbit sandwiches. I wonder if the person who shared this simple sandwich appetizer knows that they may have possibly been the inventor of the original uncrustables.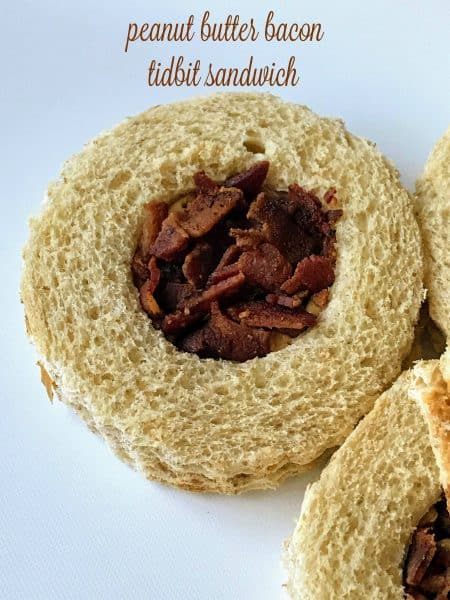 Peanut Butter
Anyone who has read Turnips 2 Tangerines knows how much we love peanut butter. So it probably doesn't come as a surprise that we loved these tidbit sandwiches. After all, what's not to like? Peanut butter, bacon and honey equals yum. Sometimes the simplest recipes are the best. Another favorite recipe made with peanut butter is this recipe for Ants on a Log Bagel Spread. My hubby and I love this dip/spread with apples, celery sticks and cinnamon raisin toasted bagels.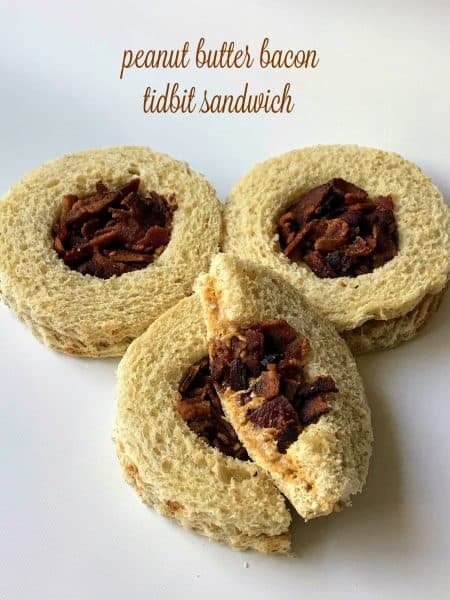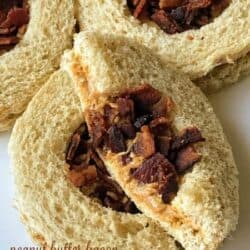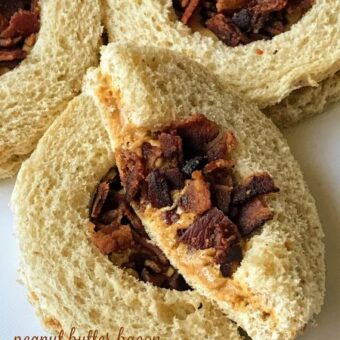 Peanut Butter-Bacon Tidbit Sandwich
This unusual sounding snack sandwich was found in a cook booklet from the early 1970's.
Ingredients
1

cup

creamy style peanut butter

2

tablespoons

mayonnaise

2

tablespoons

honey

24

slices

white or wheat sandwich bread

9

slices

bacon, cooked, drained and diced
Instructions
Combine peanut butter, mayonnaise and honey. Using a 2-inch round cookie cutter, cut 48 rounds of bread. Spread 24 of the rounds with peanut butter spread. With a 1 1/2 inch round cutter, cut and set aside for later use the centers from the remaining 24 rounds if bread. Place remaining narrow bread circle on top of each of the 2-inch peanut butter rounds and sprinkle the center with bacon.
Notes
Recipe is from Wisconsin Gas Company, Festive Foods 1971.
Recipes On Tap
Stuffed Dates, Yogurt Dill Dip with Guinness Beer Bread  and Special Stuffed Fresh Strawberries .
For this recipe we used Jif Peanut Butter