BBQ Bacon Wrapped Onion Bombs
We may earn money or products from the companies mentioned in this post.
BBQ Bacon Wrapped Onion Bombs
BBQ Bacon Wrapped Onion Bombs are a sure fire hit! If you're looking for the perfect meal to make for Dad this Father's Day, then this recipe will definitely make him smile. I made these onion bombs for my hubby yesterday and he loved them, heck I loved them too.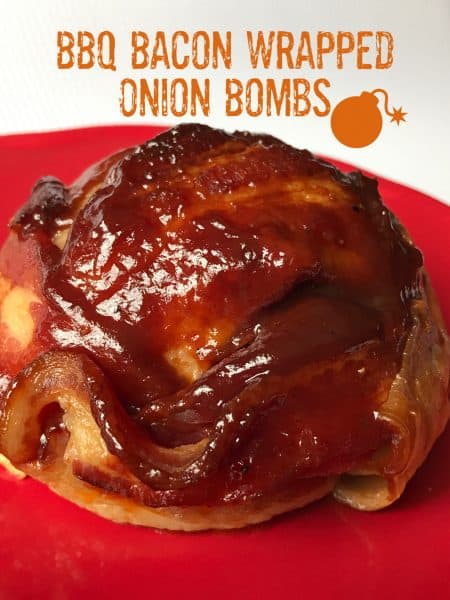 Pinterest Recipe
I have seen this recipe for bbq onion bombs floating around Pinterest for some time now. I finally decided to take the plunge and give this recipe a try. Boy, am I glad I did! I really can't say enough about how good this recipe is. I was a little hesitant about trying this recipe because I wasn't sure how the onion was going to turn out. We used just your basic yellow onions but I would definitely recommend using a nice sweet onion such as a Vidalia, Walla Walla or Maui Maui. Another option would be a Bermuda or Spanish onion. The onion adds a delicious layer of flavor in this recipe, so much so that it deserves a special place in the line-up.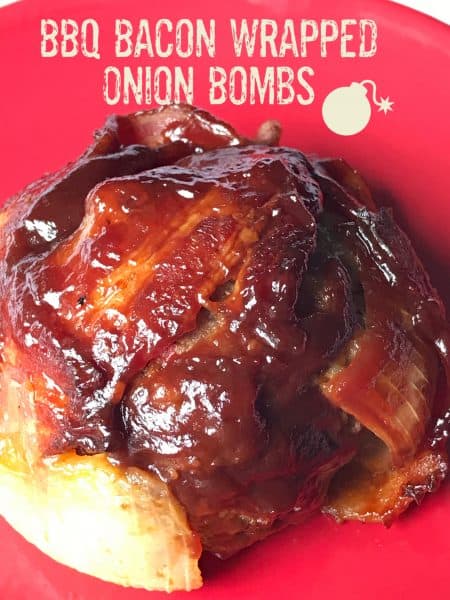 Layers of Flavor
In this recipe each ingredient adds a layer of flavor that compliments the next. A single bite of onion, meatball, bacon and bbq sauce was truly a tasty bite to savor. Above we stated the importance of the onion, the next ingredient to savor is the ground meat. The ground beef should be of a good quality but as with any meatball recipe, the ground beef should contain some fat. The fat adds extra flavor and helps to keep the meatballs juicy. A mixture of half ground beef and half ground pork or ground turkey could be used. Ground bison, elk or venison is another option to consider.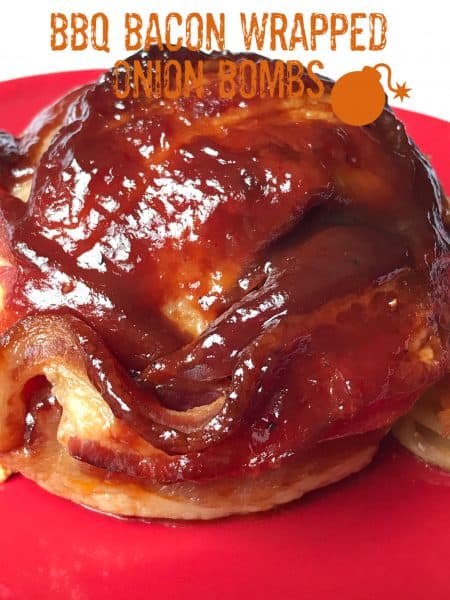 More Layers of Flavor
Another important flavor layer in this recipe is the bbq sauce. Sweet Baby Rays  is our go to bbq sauce. For this recipe we used Sweet Baby Ray's Honey BBQ sauce. The sauce adds another layer of flavor when added to the meatball mixture and when brushed on the baked onion. Now, on to the bacon. The bacon also adds a layer of flavor that only bacon can. Crisp, smokey and salty bacon. If possible use a good quality, thick-cut bacon. Cut a few slices in half for the tops of the stuffed onions and use a full slice or two to wrap around the onion. Secure the bacon with toothpicks if necessary.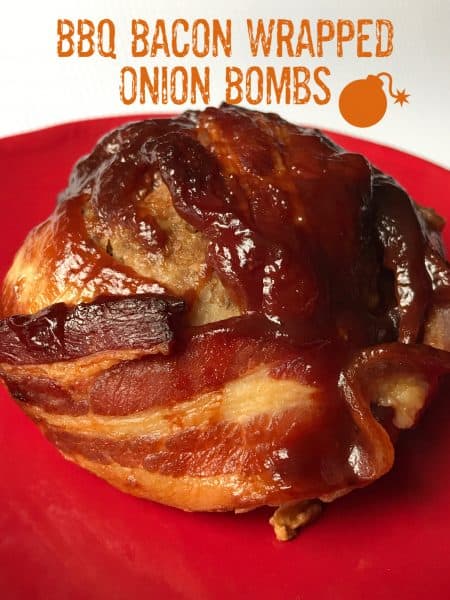 Appetizer Size?
After making this recipe and then throughly enjoying it, I started thinking. I wonder if it would  be possible to make this recipe for bbq bacon wrapped onion bombs into an appetizer. At my local grocery store they often sell 'globe' onions in the produce department. Globe onions are similar to green onions only on steroids. The bulb end is roughly about the size of a cherry tomato, the perfect appetizer size. The recipe will stay the same except for making smaller meatballs and placing them into smaller onions. Cooking times will vary also but just think of all the little appetizers you'll have! I'm looking forward to making these little bites already.
I
This summer when I'm out and about, I'm going to be on the lookout for fresh small globe size onions. When I stop at my favorite farm produce stands or farmers markets. Fresh farm stand onions, either large or small, will definitely add another flavor dimension to the onion bombs.

BBQ Bacon Wrapped Onion Bombs
Meatball stuffed onions are wrapped in bacon and smothered in bbq sauce. BBQ Bacon Wrapped Onion Bombs are "The Bomb!"
Ingredients
MEATBALLS

2

lbs.

lean ground beef

2

cups

panko bread crumbs

1

egg

,

beaten

1/2

cup

milk

1/2

cup

BBQ sauce

2

cloves

garlic

,

minced

1/4

cup

minced onion

1/3

cup

minced sweet peppers

1

tsp.

salt

1/2

tsp.

onion powder

1/2

tsp.

Italian seasoning

1/2

tsp.

freshly ground pepper

1/2

tsp.

garlic powder

ONION BOMBS

5-6

large sweet onions

1/2

" cube of cheddar cheese per meatball

1

lb.

bacon

Additional BBQ sauce
Instructions
Mix the meatball ingredients together in a large bowl with your hands until well combined. Preheat the oven to 425 Line a 11 x 7-inch baking dish with foil and set aside.

Slice the top and bottom off of each onion and peel off the papery skin. Slice the onion half through and now peel back the layers and remove the inside of the onion. Form a handful of the meat mixture into a ball, insert a 1/2" cheese cube into the middle and form into a meatball. Insert your meatball in the onion halves and make sure it fits nicely, not too small or too large. It's fine if the onion doesn't wrap perfectly around the meatball.

Wrap each of the onion bombs with 2-3 slices of bacon depending on the size of the bomb. Secure with toothpicks if necessary. Place bombs in lined baking dish and bake for 40 mins. Remove dish from oven and carefully drain excess grease with a spoon. Discard grease. Return bombs back to the oven. Add about 1/2 cup warm water to the bottom of dish. Cover with foil and bake for an additional 40 mins. Brush liberally with BBQ sauce, cover and bake another 10 min. Brush the bombs again with bbq sauce, cover and bake 10 mins longer.
Recipes On Tap
Lasagna Stuffed Bell Peppers, Cheese Stuffed Cucumber Bites, Stuffed Poblano Pepper Egg Rolls and for dessert Special Stuffed Fresh Strawberries .