Individual Lemon Blueberry Trifle
We may earn money or products from the companies mentioned in this post.
Individual Lemon Blueberry Trifle
This year for my hubby's birthday, I decided to make him something that I have never made before, a Trifle. A trifle is basically a fancy name for a layered dessert. A trifle is usually made in a fancy trifle bowl or better known as a "glass bowl." Individual Lemon Blueberry Trifle is really the same as a regular trifle only the ingredients are divided between four smaller glass bowls. (If that makes any sense!?)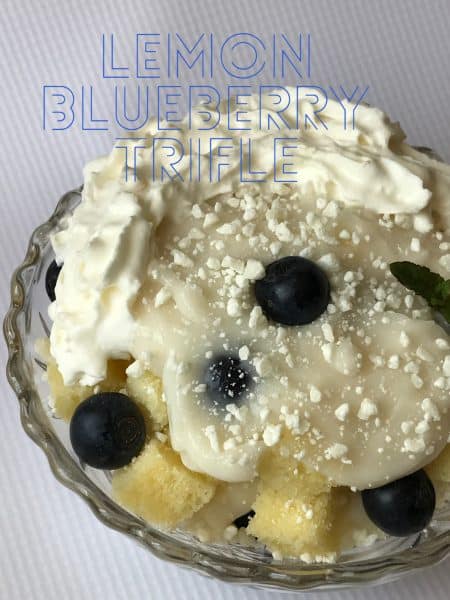 What is a Trifle?
Trifle pronounced [TRI-fuhl] is originally from England. This dessert consists of sponge cake or ladyfingers doused with spirits, usually sherry. The cake is then covered with jam and a custard. The trifle is topped with whipped cream and garnished with candied or fresh fruit, nuts or grated chocolate. Trifle is refrigerated for several hours before serving. A trifle is a delicious dessert that's perfect for any occasion. My next trifle attempt will be a brownie/cherry concoction of some sort.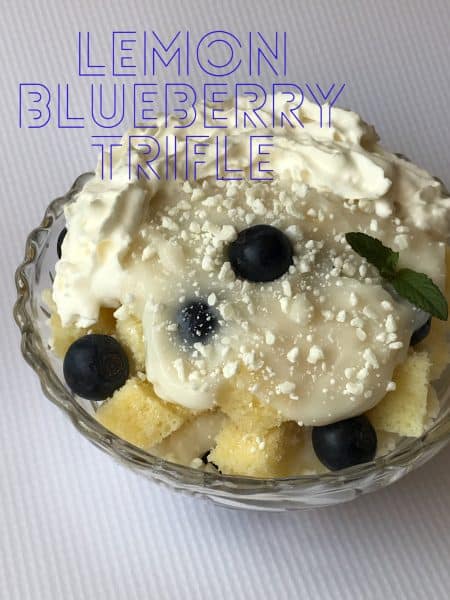 Lemon Pound Cake
For this recipe we walked away from the traditional angel food cake and went with a lemon pound cake. My hubby is a huge fan of all things lemon, so this choice was an easy one. It may also have something to do with the fact that I had a boxed lemon pound cake that I have been wanting to try. My hubby, whom is a big fan of strawberries and berries in general, can no longer eat them due to his diverticulitis. Therefore I went with blueberries. Feel free to substitute any berry you like and add nuts too, another favorite he no longer can enjoy.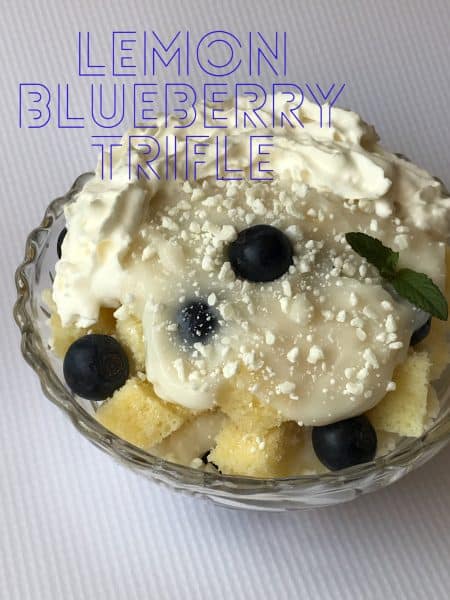 What is a Pound Cake?
Originally this fine-textured loaf cake was made with one pound each of; flour, butter, sugar and eggs, plus a flavoring like vanilla or lemon. A myriad of variations have evolved throughout the years. Additions such as leavening, (baking powder or baking soda) plus flavorings such as coconut, nuts, raisins, and dried fruit. With reduced cholesterol and calories in mind, there are now pound cakes made with vegetable oil, as well as nonfat variations.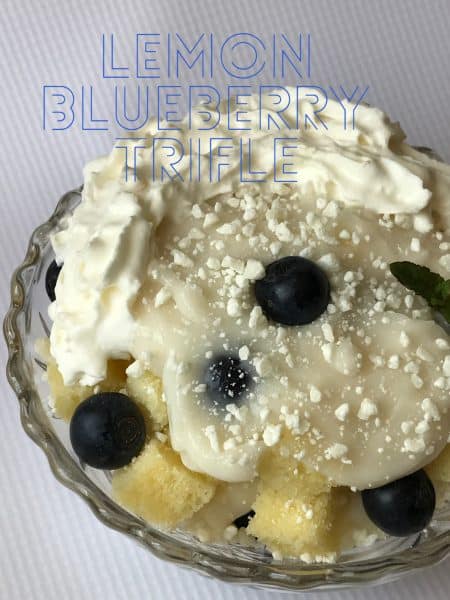 Boxed Pound Cake
This recipe for Lemon Blueberry Trifle is made with a boxed lemon pound cake mix that included a lemon glaze. For this recipe we purchased the lemon cake mix from Aldi. Another super delicious lemon pound cake mix with lemon glaze too use is from Krusteaz Lemon Cake Mix. (We are huge fans of Krusteaz products here on T2T.) For this recipe we added lemon extract to the pound cake and glaze. The lemon extract adds a small blast of flavor. Glazing the cake first before slicing into cubes adds extra sweetness.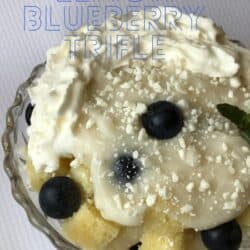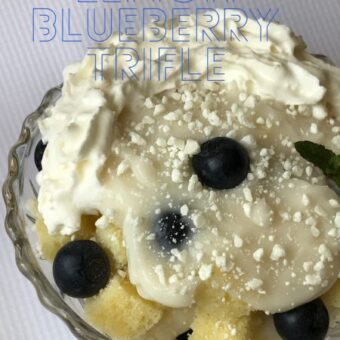 Individual Lemon Blueberry Trifle
Lemon Blueberry Trifle can be made in a large glass bowl or divided up between individual serving size serving bowls.
Ingredients
1

16.5 oz package

Lemon Pound Cake Mix with Lemon Glaze

1/4

cup

water

10

tablespoons

butter, melted

1

teaspoon

lemon extract

2

eggs

1-2

tablespoons

cold water

1/2

teaspoon

lemon extract

1

8 oz package

cream cheese, softened

1/2

cup

confectioners sugar

1

14 oz can

sweetened condensed milk

1

package (4 serving size)

instant white chocolate pudding and pie filling

1

12 oz carton

frozen whipped topping, thawed, divided

1

quart

fresh blueberries

1/2

bar

Milka Weisse Schokolade (Germany) white chocolate bar, grated
Equipment
Trifle Bowl or Glass Bowls
Instructions
Make Pound Cake: Heat oven to 350 degrees for metal pans or 325 degrees for dark or non-stick pans. Grease an 8 x 4-inch loaf pan with non-stick cooking spray or shortening. Set aside.

Beat cake mix, water, butter, lemon extract and eggs in medium bowl with an electric mixer until blended. Batter will be thick with some lumps. Pour batter into prepared pan.

Bake 50-55 minutes or until toothpick inserted into the center comes out clean. Cool in pan for 15 minutes before removing from pan. Cool completely on wire rack before glazing.

Make Glaze: Whisk together lemon glaze mix and 1 or 2 tablespoons cold water and lemon extract until glaze is smooth. Add up to 1 tablespoon additional cold water for desired consistency. Spoon glaze over cooled cake. Allow the cake to set before cutting into cubes.

In a mixing bowl, beat cream cheese and confectioners sugar. Add milk and pudding mix; mix well. Fold in 1 1/2 cups of whipped topping.

Layer Trifle: Place half of the cake cubes in a 3-quart glass bowl or divide half of cake cubes between 4 single-serve glass bowls. Layer with half of the berries, half of the grated white chocolate and pudding mixture.Cover with remaining cake cubes. Layer with remaining berries, grated chocolate, and pudding mixture. Spread remaining whipped topping over top. Garnish with additional berries and grated chocolate if desired.
Recipe Option: To make this trifle in the true English fashion, spread seedless raspberry jam or lemon curd on the cake cube layer and continue per directions.
Recipes On Tap
Sweet Berry Muffins, Blueberry Lemon Oatmeal Bars and Lemon Cream Pomegranate Scones.