Old Fashioned Peach Crumble
We may earn money or products from the companies mentioned in this post.
Old Fashioned Peach Crumble
Did you know that you can freeze fresh peaches whole? Yes, you read that right. Whole, pit and all, with little to no preparation. Simple rinse fresh whole peaches, wipe dry with a soft dish towel, place 6 whole peaches at a time in a large ziplock freezer bag. Lay peaches flat in your freezer. When the urge strikes you to make this recipe for Old Fashioned Peach Crumble, you'll have fresh frozen whole peaches waiting for you.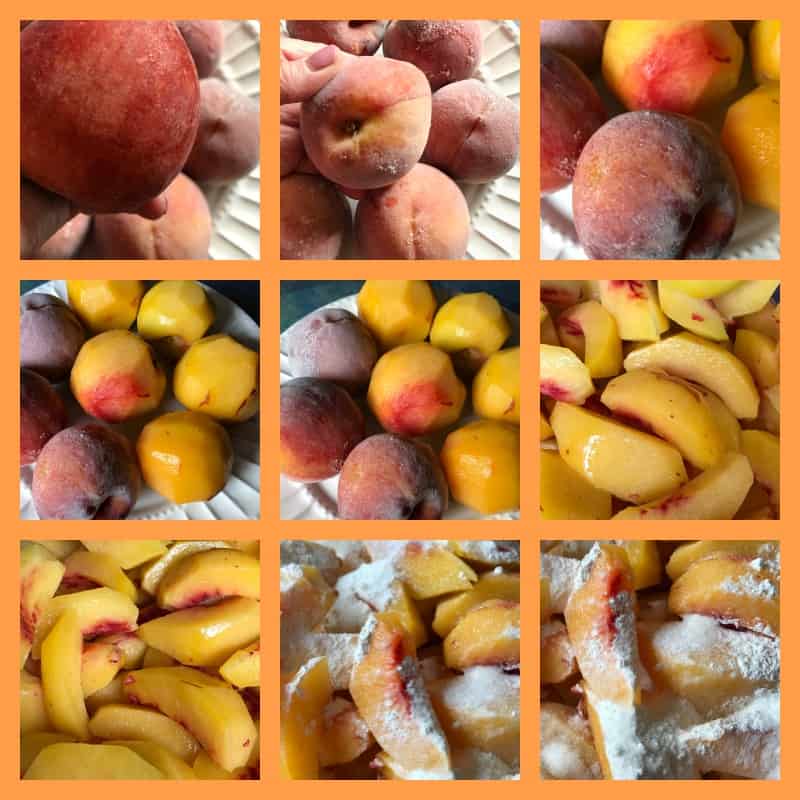 Fresh Peaches
My daughter-in-law Kim is a Science Teacher but she also works part time at Original Mall of Antiques in Oshkosh WI. During the summer months, different vendors park their trucks in the Original Mall of Antiques parking lot. They sell fish, seafood, vegetables and fruit. One particular weekend a vendor was selling Georgia peaches. On the last day of selling, he gave the employees leftover peaches he didn't sell. Being the good in-law that she is, Kim called and asked me if I wanted any. Well of course I did! I'm not passing up fresh Georgia peaches!!!
Just Like Fresh
Since I had never froze peaches before, whole or otherwise, I wasn't sure how this little experiment was going to turn out. I might end up with an ooey, gooey, peachy mess. But I was going to give it a go anyway. When Kim called and asked if I wanted any peaches, I told her to rinse them off, wipe them dry, put them in a baggie and freeze them. She asked me,  "Whole?" and I said "Yes ma'am." The experiment was underway.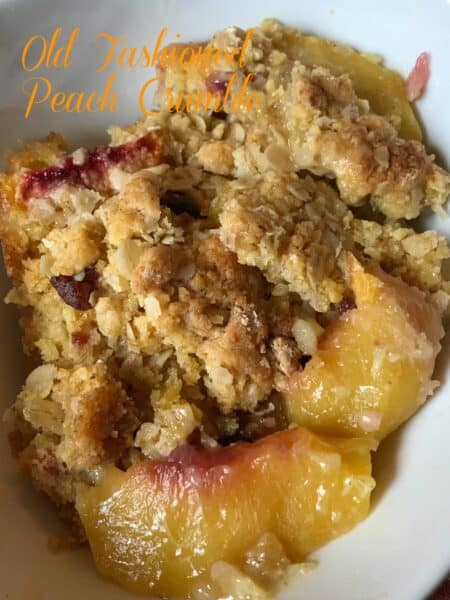 Storm in July
You are probably wondering why or how I remember something that happened way back in July?  My husband compliments me all the time on my memory, often asking me, "Do you remember everything? "Don't you ever forget anything?" "Can't you just forget about it?" We'll that's a yes, a no and another no:) Anyway at the end of July here in Northern WI we had a terrible storm. The storm came with rain and high winds.
It took down power lines, houses, and trees. Lots of trees. An estimate of over 250,000 trees went down. Sections of the Chequamegon-Nicolet National Forest, where I live, is no longer there. It will take a couple of years to clean up. What does this or that have to do with freezing peaches? It was possible that we would be without power for over week. That's why I had Kim freeze the peaches. Thankfully the power went back on after 4 days, along with my refrigerator and freezer.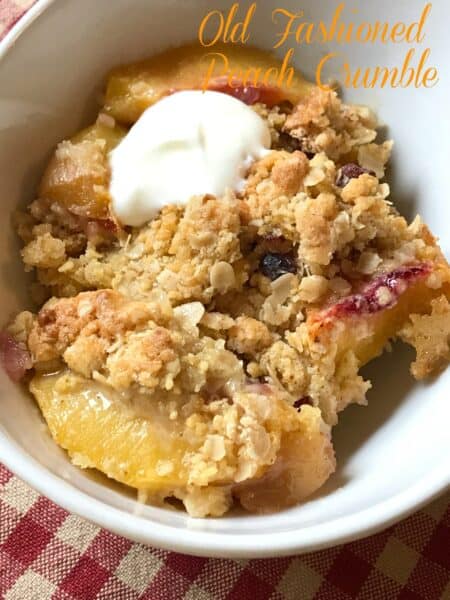 Just Like Fresh
When I decided to make this recipe for old fashioned peach crumble, I had my fingers crossed. To my surprise and sheer delight, freezing whole peaches not only was easy and economical, if I wouldn't have frozen them myself, I seriously would have thought they were fresh. When I took my first bite of warm old fashioned peach crumble with a scoop of vanilla ice cream, I was transported back in time, when life was simpler. Needless to say, this experiment was a huge success.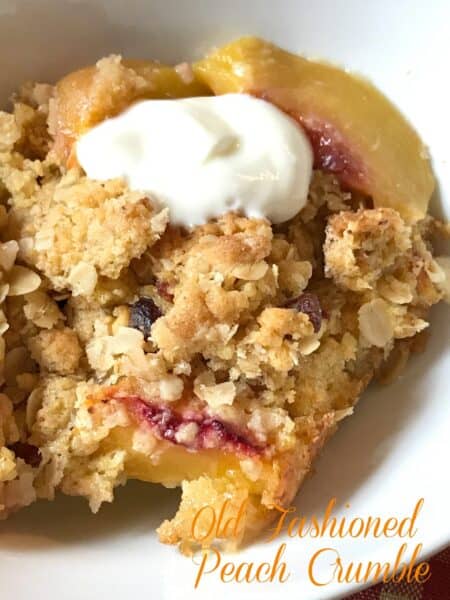 The Original Mall of Antiques is located in Oshkosh WI., located on the service road off of Highway 41. For more information check out their website: 
Original Mall of Antiques.
RECIPE NOTE:
To thaw fresh frozen whole peaches follow these few simple steps. Remove peaches from freezer. Take frozen peaches out of the ziplock baggie and place peaches on top of counter or set on a plate. Allow peaches to thaw at room temperature. Thawing time will depend on many different factors, room temperature etc. Check peaches often, peaches can be used in any recipe partially thawed. As the peaches thaw, the skin will slip off. Slice or chop peaches per recipe directions.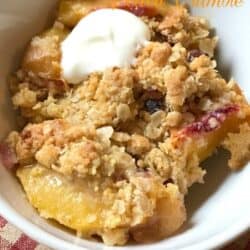 Old Fashioned Peach Crumble
An old fashioned favorite!
Ingredients
2 1/2 to 3

pounds

peaches

1/4

cup

brown sugar, packed

2

tablespoons

chopped crystallized ginger

1

cup

all-purpose flour

1

cup

granulated sugar

1/2

cup

old fashioned oatmeal

1/3

cup

chopped pecans or dried cranberries

1/2

teaspoon

salt

1/2

teaspoon

ground cinnamon

1

large

egg

1/2

cup

butter, melted

Serve with Ice Cream or Whipped Cream
Instructions
Peel the peaches with a small, sharp knife. The skins should slip off easily.

Remove the pits and slice the peaches thinly.

Prepare the Peach Crumble

Preheat the oven to 375 F.

Butter a 1 1/2-quart baking dish.

Combine the fresh sliced peaches, brown sugar and chopped ginger; stir to blend thoroughly.

The combination of the fresh peaches with the brown sugar and ginger will create the syrup. Pour the fruit and sugar mixture into the prepared baking dish.

In a separate bowl, combine the flour, granulated sugar, oatmeal, pecans, salt, and cinnamon. Stir with a spoon or whisk to blend.

In a small bowl, whisk the egg. Add the egg to the dry ingredients and stir with a fork until the mixture is crumbly.

Sprinkle the crumb mixture evenly over the peach filling.

Drizzle the melted butter evenly over the crumb topping.

Bake the peach crumble for 40 to 45 minutes, or until the topping is lightly browned and the filling is bubbling around the edges.

Serve the crumble warm with a scoop of your favorite ice cream.
Recipes On Tap:
If you are a fan of peaches, you'll want to give both of these recipes a try: Paradise Ginger Peach Hand Pies, and  Buttermilk Peach Scones. Tropical Baked Steel Cut Oatmeal is a new and different way to prepare and enjoy steel cut oatmeal.