Apple Fritter Bread
We may earn money or products from the companies mentioned in this post.
Apple Fritter Bread
Apple Fritter Bread is a recipe that I made during "apple season" and have been making ever since. I just can't seem to get enough of this bread! It's delicious! I first saw this recipe on Pinterest or should I say, I first saw a 'picture' of apple fritter bread on Pinterest and have always wanted to make it. This recipe is outstanding and I'm so glad that we gave it a try!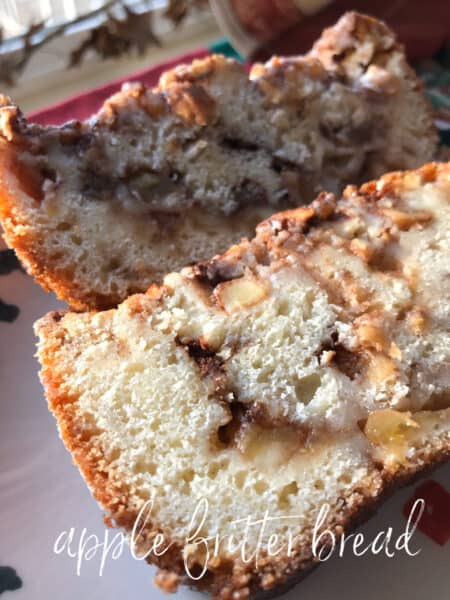 Apple Season
"Apple Season" here in Wisconsin starts in early September and runs through early November, with the peak season being in October. Since then I have made this recipe for  apple fritter bread more times than I can count. It's that good! My husband was on vacation in September and we stopped at our favorite apple orchard; Everflow. With this recipe in mind and an arm load of apples, back home we went  for some apple baking time.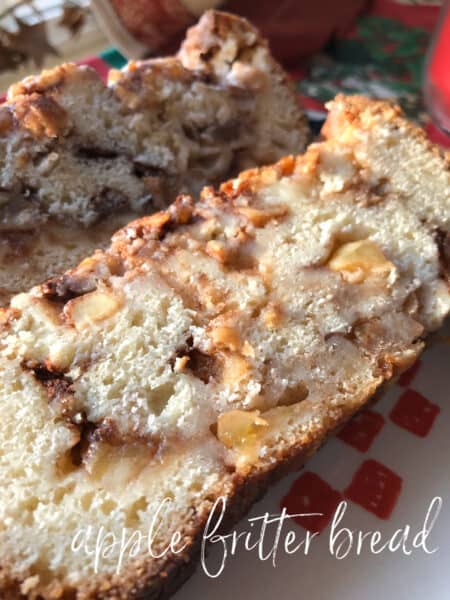 Anytime is a Good Time
Now just because it's no longer apple season doesn't mean you can't make a loaf or two of apple fritter bread. Thankfully apples are available year round and come in many different kinds, shapes and sizes. The next time you go grocery shopping pick-up a large honey crisp apple and make some bread. If you aren't a fan of honey crisp apples, purchase your favorite kind of apple. Personally I love honey crisp apples. Aldi has super large honey crisp apples that you can purchase individually. They're really, really good and one jumbo apple will easily make one loaf of apple fritter bread.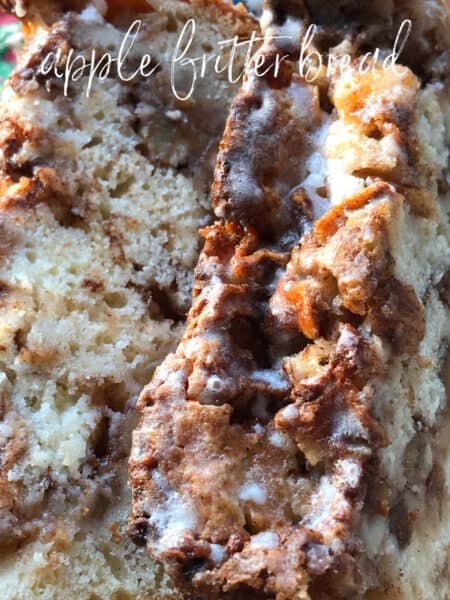 Like Apples?
Do you like apples? So do we. Here are a few of our favorite apple recipes. Apple Walnut Sourdough Muffins, and Waldorf Chicken Salad, Apples can be used in both sweet and savory dishes. The next time you prepare a pork roast in the crock pot, add a cored, sliced apple along with the vegetables. Add sweetness to sauerkraut by adding a chopped apple. During cooking the apple will become soft and therefore blends with the sauerkraut. Delicious piled high on a grilled bratwurst.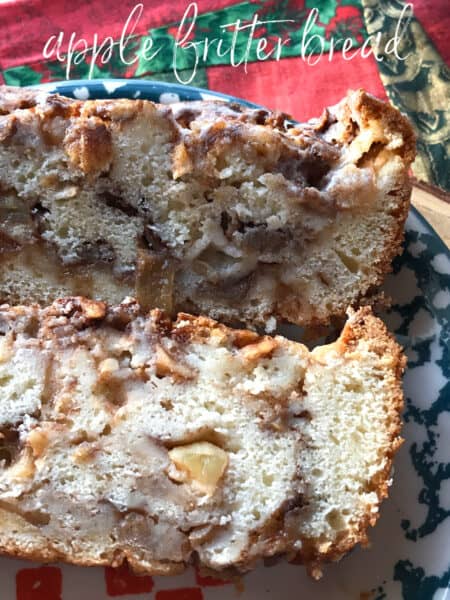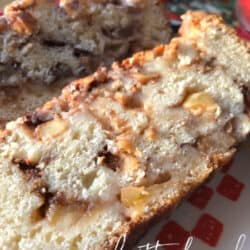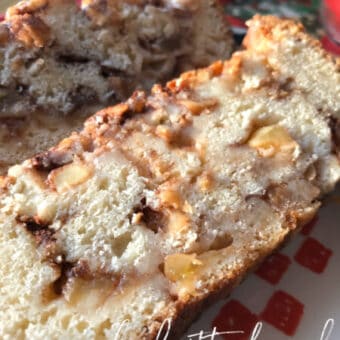 Apple Fritter Bread
Apple Fritter Bread is super delicious!
Ingredients
Cinnamon-Brown Sugar Mixture

1/3

cup

light brown sugar

1

teaspoon

ground cinnamon

Bread

1/2

cup

butter softened

2/3

cup

granulated sugar

2

eggs, room temperature

1 1/2

teaspoons

vanilla extract

1 1/2

cups

all-purpose flour

1 3/4

teaspoons

baking powder

1/2

cup

milk or almond milk room temperature

Chopped Apple Mixture

2

large

apples, peeled and chopped small

Toss apples with 2 tablespoons granulated sugar and 1 teaspoon cinnamon just before adding to the bread mixture.

Glaze

1/2

cup

of powdered sugar

2-3

tablespoons

of milk or cream
Instructions
Preheat oven to 350 degrees. Spray 9 x 5 loaf pan with non-stick spray.

Mix together 1/3 cup brown sugar and 1 teaspoon cinnamon in a small bowl. Set aside.

Combine 1 1/2 cups flour and 1 3/4 teaspoons baking powder together in another small bowl and set aside.

In a large bowl, beat 2/3 cup granulated sugar and 1/2 cup softened butter with an electric mixer until smooth and creamy.

Beat in 2 eggs, one at a time until blended. Add 1 1/2 teaspoons vanilla extract, stir until combined.

Add flour mixture to creamed butter mixture and mix until blended.

Mix 1/2 cup milk into batter and continue mixing until smooth.

Pour half the batter into the prepared pan; add half the chopped apple mixture.

Sprinkle 1/2 of the cinnamon-brown sugar mixture on top of apple layer.

Pour the remaining batter over apple layer and top with remaining chopped apples, then the remaining cinnamon-brown sugar mixture.

Lightly pat apples into batter; swirl cinnamon-brown sugar mixture through apples using knife.

Bake in preheated oven until a toothpick inserted in the center of the loaf comes out clean, approximately 60 minutes.

To make glaze, mix together 1/2 cup powdered sugar and 2 to 3 tablespoons milk or cream until well mixed.

Let loaf rest in pan for about 15 minutes before removing from pan. Cool completely on cooling rack. Drizzle with glaze.