Nutella People Puppy Chow
We may earn money or products from the companies mentioned in this post.
Nutella People Puppy Chow
Everybody loves puppy chow and who doesn't like Nutella! Combine nutella with chocolate chips, cereal and powdered sugar and you have sensational. I love puppy chow. Personally I think it's the next best thing to sliced bread. I don't care what flavor it is either, I love it! I'm sure that I've eaten every kind of puppy chow ever made but my two favorites are peppermint, that usually comes out during the Holidays and of course this version Nutella People Puppy Chow.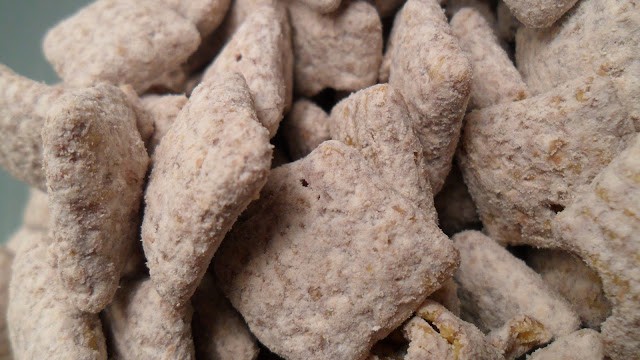 Puppy Chow
Puppy chow has been around for probably longer than you might think. Once sold only in the bakery/deli department of most grocery stores, long before home cooks started making it. What originally started out as a holiday snack, has turned into a year round super snack available in a wide range of flavors. What was once found only on holiday snack tables is now just as comfortable sitting on a picnic table. And that's fine by me!
First Time
I'll never forget the first time my daughter and I tried making puppy chow. Her husband was in the Army and he had recently been deployed to Kuwait. She wanted to send him a "care package" of puppy chow and homemade suckers (that story will have to wait for another post) I had never made puppy chow before and neither had she. I have no idea what we did wrong but we ended up with a yucky, chocolaty, powdery mess in a paper bag. Needless to say, the whole greasy, gloppy mess went right in the trash can.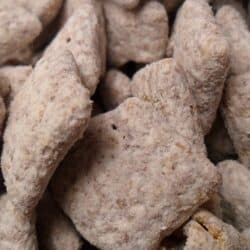 Nutella People Puppy Chow
Ingredients
1

14 oz box

corn chex cereal or crispix cereal

2

cups

milk chocolate chips

1/2

cup

peanut butter

1/2

cup

nutella

4

tablespoons

butter

1/2

teaspoon

vanilla extract

1

16 oz package

powdered sugar
Instructions
Pour cereal into a large bowl, set aside.

In a 1-quart saucepan, heat chocolate chips, peanut butter, nutella and butter over low heat, stirring frequently. Stir until completely combined and melted. Remove from heat; stir in vanilla extract. Pour mixture slowly over cereal while stirring with a spatula to evenly coat.

Pour cereal mixture into a large paper bag. Add powdered sugar slowly, close bag. Shake bag until well coated. Spread on waxed paper to cool.

Store in an air tight container.
Frozen Coffee Adult Version is a yummy drink made with coffee and Van Gogh espresso flavored vodka.