Mini Cheese Biscuits with Country Ham
We may earn money or products from the companies mentioned in this post.
Mini Cheese Biscuits with Country Ham
Mini Cheese Biscuits with Country Ham and Campfire Sauce. Wow, doesn't that sound good! Being from WI the mini cheese biscuits are made with good old Wisconsin sharp cheddar cheese. To keep things festive, we cut out the biscuits using a mini holly leaf cookie cutter. And who doesn't like a campfire, especially in winter:) This time we by-passed the usual honey mustard sauce and went with a campfire sauce. And the star on top of the Christmas tree or in this case the mini cheese biscuits, Clifty Farm Country Ham Biscuit Slices.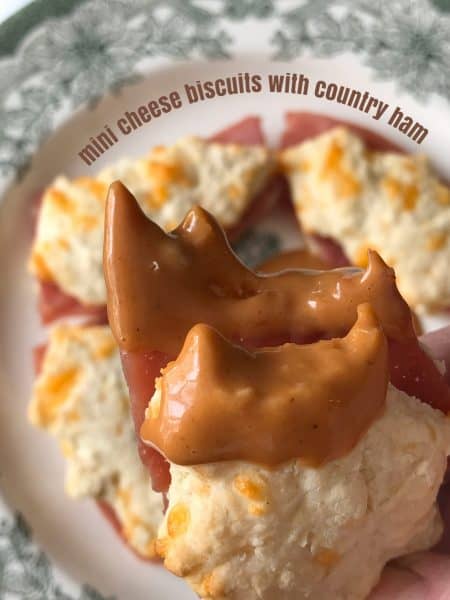 Country Ham
I was first introduced to country ham years ago when I worked at the Cracker Barrel Old Country Store. At that time, I really wasn't a fan of ham. Why? Because I didn't know any better. I grew up on canned ham, boiled ham and that dreaded dried out Easter ham, that was decorated with pineapple slices and maraschino cherries. So when I had my first taste of country ham, I knew that was how ham was suppose to taste. Since then I have discovered the wonderful world of ham.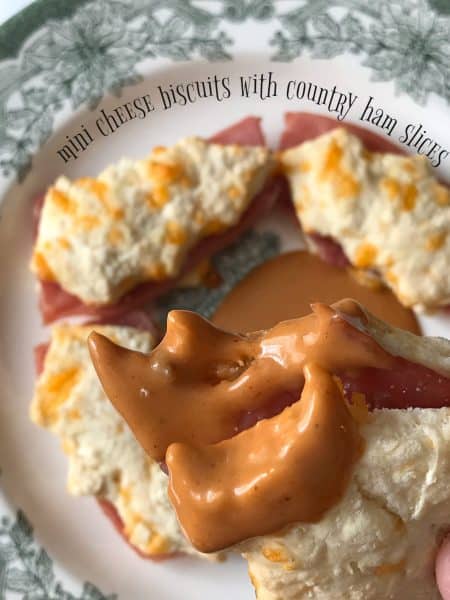 Clifty Farms country ham slices are tucked into mini cheese biscuits and served with campfire sauce. They make the perfect party appetizer to serve this holiday season. The campfire sauce, biscuits and ham slices can all be made a day in advanced. This gives you more time to jingle, I mean mingle with the party goers. The day of the party, set out the campfire sauce, slice the mini biscuits and stuff them with ham. Let the festivities begin!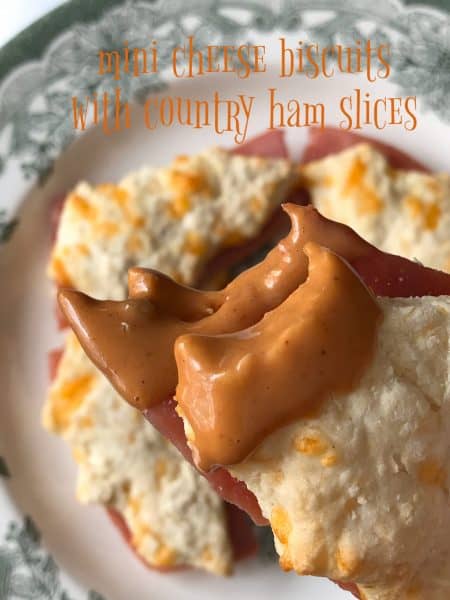 Campfire Sauce 
Campfire sauce is really very easy to prepare and certainly is delicious. Dipping a mini cheese biscuit filled with country ham into campfire sauce, well that's just plain good. What is campfire sauce? Campfire sauce is basically mayonnaise, hickory smoked barbecue sauce, chili powder and hickory liquid smoke. There are many variations of this sauce made popular by Red Robin  Gourmet Burgers and Brews.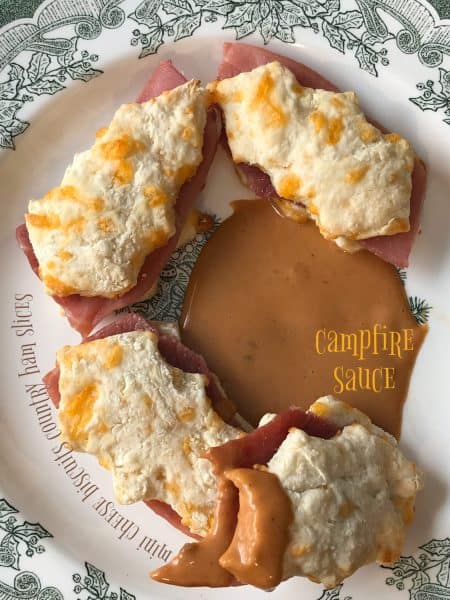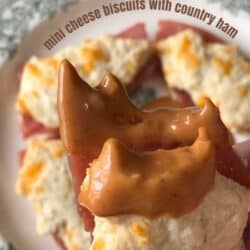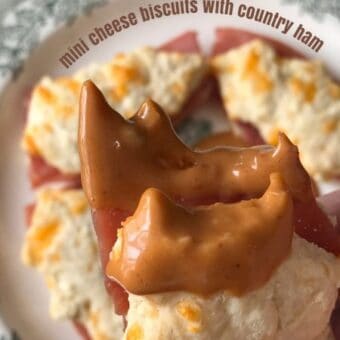 Mini Cheese Biscuits with Country Ham and Campfire Sauce
A delicious appetizer to serve throughout the holiday season.
Ingredients
1/2 

cup 

mayonnaise

1/2 

cup 

inexpensive hickory smoked barbecue sauce

1 

tablespoon 

Tabasco Chipotle Sauce

1/2 

teaspoon 

ground chili pepper

6 

drops

hickory liquid smoke or to taste

1

cup

all-purpose flour

1 1/2

teaspoons

baking powder

1/2

teaspoon

dry mustard

1/4

teaspoon

baking soda

1/4

teaspoon

onion powder

1/2

cup

reduced-fat sour cream

1/3

cup

shredded sharp cheddar cheese

3

tablespoons

milk

2

6 oz packages

country ham biscuit slices

,

Clifty Farms Country Meats

water and apple juice
Instructions
Make campfire sauce: Combine all ingredients together in a small bowl and stir well. Allow the sauce to sit for 1 hour before serving.

Preheat the oven to 450° In a medium-size bowl, stir together the flour, baking powder, dry mustard, baking soda, and onion powder until well mixed. Using a wooden spoon, stir in the sour cream, cheddar cheese and milk; mix just until a soft dough forms.

Knead for 30 seconds on a floured surface, then pat into a 7-inch circle. Using a well-floured 1-inch scalloped or holly leaf cutter, cut into biscuits; reroll and cut scraps. Place biscuits 1-inch apart on a lightly greased baking sheet; brush tops with additional milk if you like. Bake for 10 minutes or until golden.

Fry Ham Slices: Heat a skillet over medium-high heat. Add equal parts water and apple juice to cover bottom of skillet. Fry ham slices approximately 2 1/2 minutes on each side.

To Serve: Slice biscuits open. place a ham slice in the biscuit. Serve with campfire sauce.