Chocolate Dipped Peanut Butter Ritz
We may earn money or products from the companies mentioned in this post.
Chocolate Dipped Peanut Butter Ritz
♪ Well, the Holidays are a rockin', don't bother knockin' ♫ ♪Yeah, the Holidays are a rockin', don't bother knockin'♫ ♪Yeah, the Holidays are a rockin', don't bother, come on in!♫ Get your party rockin' with these Chocolate Dipped Peanut Butter Ritz. You'll have everyone in the house a rockin' in the Holidays and the New Year!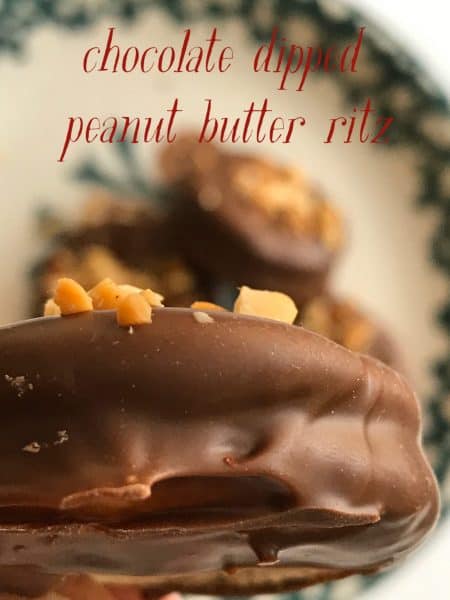 Chocoley
Chocoley sent me three of their super products; Bada Bing Bada Doom Dipping Chocolate. Since I'm a die-hard Sopranos fan, the name Bada Bing, Bada Boom, immediately caught my attention:) Dark-Just Melt It! Fondue Chocolate and Coconut Dough. Chocoley  products are celiac safe, peanut free, tree nut free, egg free, and gluten free. If you are on a restricted diet and are a fan of chocolate then you are in luck. Now you can have your chocolate and eat it too.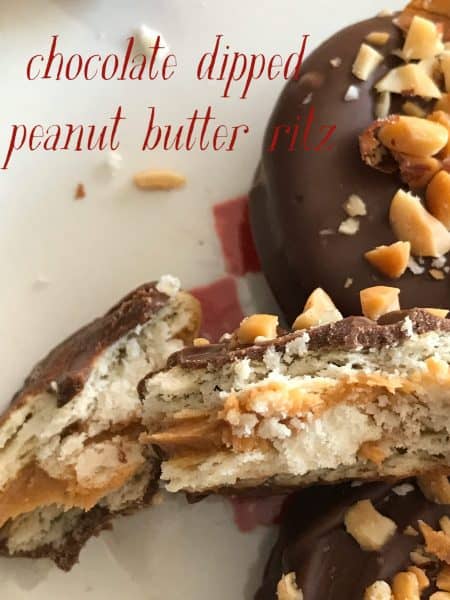 Crackers and Candy
This recipe came about because I've always been intrigued with the fact that crackers, saltines and buttery crackers, hold their shape and don't get soggy when made into candy. Saltine crackers are often used to make toffee or "saltine cracker crack" and everyone knows how good that is! So why not use buttery crackers, like Ritz or Townhouse? Well that's just what I did.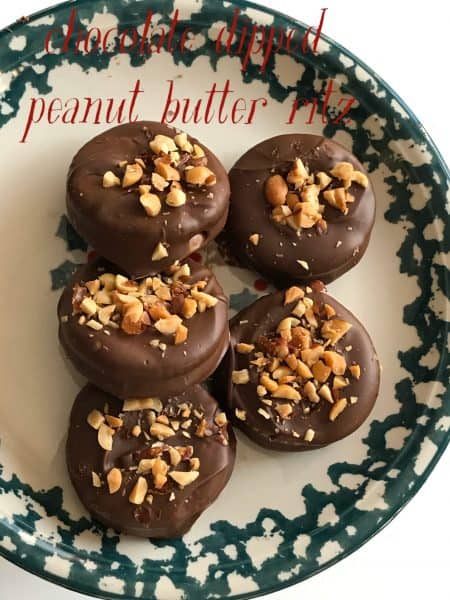 Peanut Butter
Never, never, ever do I not have peanut butter in my cupboard. I absolutely love the stuff. Peanut butter on toasted sourdough bread with a drizzle of honey, ooh that's good! It made complete sense to me then to smother peanut butter, creamy or chunky on Ritz crackers and then dip them into melted milk chocolate. A sprinkle of chopped salted peanuts on top, even better. You can never too much peanut butter, peanuts or chocolate.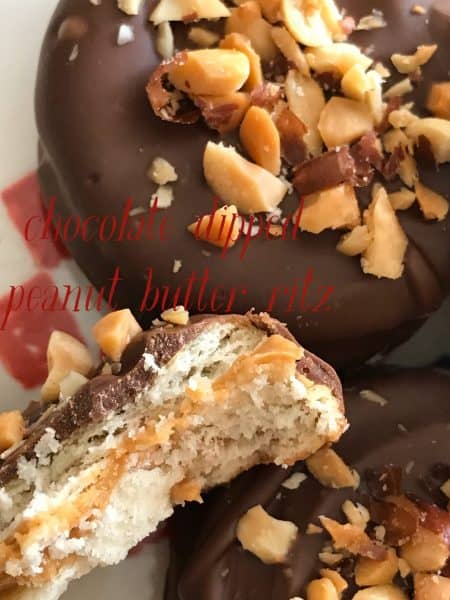 If you're like me, the holidays are my last hurrah to over indulge in sweets and chocolate until I get back on that hamster wheel called the  "New Years Resolution Diet." At least until February when those cherry ju ju hearts come out:) Now, let's get back too, ♪ Well, the Holidays are a rockin', don't bother knockin' ♫ ♪Yeah, the Holidays are a rockin', don't bother knockin'♫ ♪Yeah, the Holidays are a rockin', don't bother, come on in!♫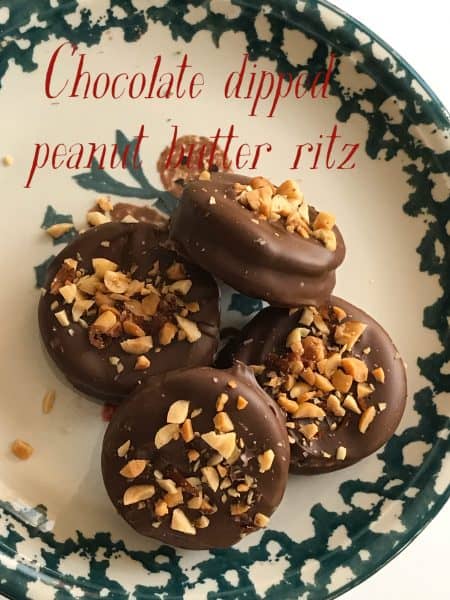 Chocolate For All
Chocolate Dipped Peanut Butter Ritz can be dipped into any good quality milk chocolate such as Ambrosia. For all of you that are on restricted diets, never fear Chocoley is here. Bada Bing Bada Boom milk chocolate works super for this recipe or any recipe that calls for regular milk chocolate. This recipe can be made with gluten-free ritz-style crackers by Lance and a wonderful brand of gluten-free peanut butter products try; Justin's.
Chocolate Dipped Peanut Butter Ritz
Ingredients
1

sleeve

Ritz Crackers or Gluten-Free Ritz-Style Crackers

1

cup

Peanut Butter or Nut Butter of Choice

1

pound

Milk Chocolate or Chocoley Milk Chocolate

1

cup

salted peanuts
Instructions
Line a baking sheet with wax paper or parchment paper. Lightly spray wire cooling rack with non-stick cooking spray. Place sprayed cooling rack over the paper. Set aside. Coarsely chop salted peanuts. Set aside.

Spread peanut butter on flat side of one cracker. Place the second cracker flat side down on top of peanut butter to form a sandwich. Set aside.

Place chocolate in a medium size microwave-safe glass bowl. Microwave chocolate at 30 second increments, stirring after each 30 seconds. Continue this process, stirring often, until all chocolate is melted and creamy.

Drop peanut butter cracker sandwich into melted chocolate. Using a fork or slotted spoon, turn sandwich over, until completely covered with melted chocolate. Transfer to prepared cooling rack. Continue with remaining sandwiches until all coated with chocolate. If necessary re-heat chocolate in microwave, following directions above.

Generously sprinkle chopped salted peanuts on tops of chocolate covered sandwich crackers.

Place baking sheet in the refrigerator until chocolate has set, 30 minutes or so. Remove chocolate covered sandwich crackers in the refrigerator between sheets of wax paper.
Recent Recipe: Lemon Glazed Madeleine Recipe
Looking for more sweet treats? Here you go.  Chocolate Coconut Marshmallow Cups and Mini Peanut Butter Cup Fudge.
Words to the song: The House is a Rockin' by Steve Ray Vaughan.