Ham and Cheese Croquettes with Sausage Gravy
We may earn money or products from the companies mentioned in this post.
Ham and Cheese Croquettes with Sausage Gravy
Croquettes are something that have been on my culinary "to make" list for as long as I can remember. At my age, that isn't very long! Actually according to my hubby,  I remember everything and never forget a thing:) I recently entered Clifty Farms  Recipe Contest using their fantastic ham products. Ham and Cheese Croquettes with Sausage Gravy the sausage gravy part was my hubby's suggestion, the perfect mix of flavors.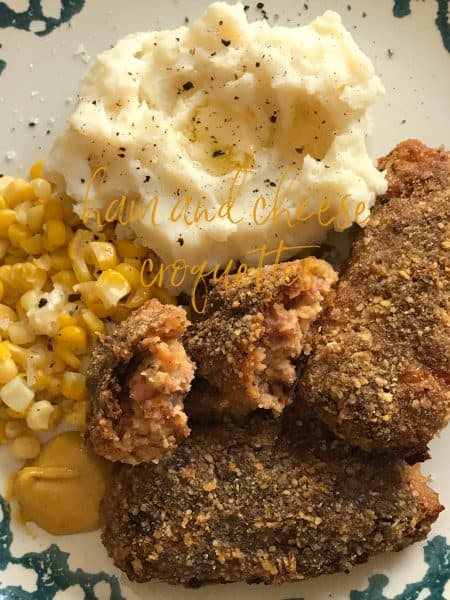 What is a Croquette?
Croquette pronounced [kroh-KEHT] not croquet like the yard game, is a mixture of minced meat or vegetables in a thick white sauce. Seasonings are added and the mixture is formed into small cylinders, ovals or rounds. The cylinders are dipped into beaten egg and then breadcrumbs. Croquettes are usually deep-fried until crisp and brown but this recipe calls for baking the croquettes.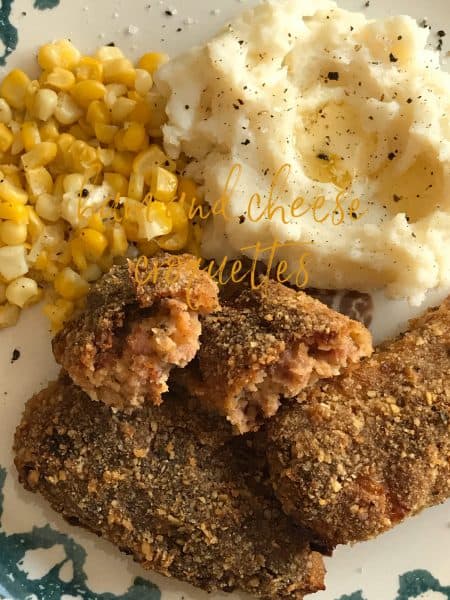 Sausage Gravy
Sausage Gravy is a traditional Southern breakfast dish in the United States. Ground pork sausage is cooked in a skillet and removed. A roux is made by browning flour in the pork fat left in the skillet. Milk and seasonings, such as salt and pepper are added to create a moderately thick gravy. The cooked sausage is added back to the skillet until heated through. Occasionally cayenne pepper or spicy sausage are used to make a spicier gravy.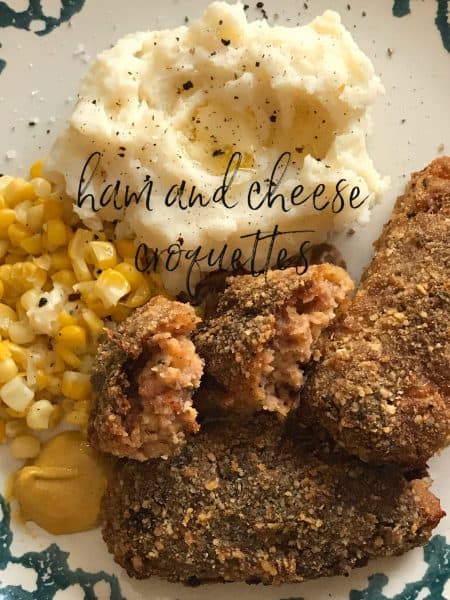 Sausage gravy is traditionally served as part of the dish biscuits and gravy. Often accompanied by other typical Southern breakfast a fare such fried eggs, fried apples, sliced tomatoes and country-style bacon or ham. A combination gravy is a variation sausage gravy but made with bacon and sausage to make the gravy. Gravy made this way is slightly darker in color than straight sausage gravy and carries the flavor of the bacon.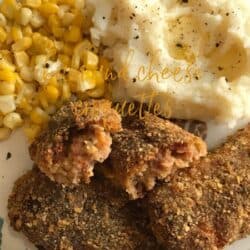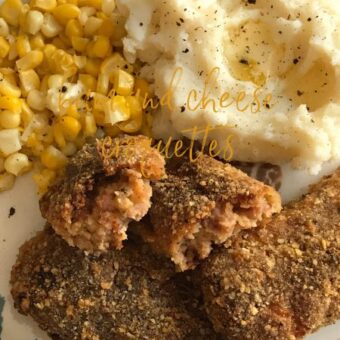 Ham and Cheese Croquettes with Country Sausage Gravy
Ingredients
2

tablespoons

of olive oil

1/4

cup

of salted butter

1/4

cup

of chopped onions

1

tablespoon

of parsley flakes

1

teaspoon

dry mustard

1/2

tablespoon

of garlic powder

pinch

of cumin optional

2 to 3

cups

ground ham

,

Clifty Farms Country Ham Seasoning Pieces

1

cup

flour

1 ½

cups

milk

1

cup

shredded Swiss cheese

Extra flour

3

beaten eggs

2

cups

of breadcrumbs
Instructions
Grind ham pieces in meat grinder or food processor in batches. Set aside.

In a large pan, over medium heat, melt butter and oil together. Stir in onions and seasonings. Cook until onions are translucent, 5 minutes.

Whisk in flour, continue to whisk 1 minute, add 1 cup milk, continue whisking until smooth. Add remaining ½ cup milk and whisk continuously 2-3 minutes, or until sauce has thickened.

Whisk in cheese. Turn off the heat and fold in the ham. Transfer the ham mixture to a large bowl and cover. Refrigerate 4-24 hours.

Remove ham mixture from refrigerated, fill a pie plate with flour, another pie plate with breadcrumbs and a bowl with beaten eggs.

Take a tablespoon of the ham mixture and roll it in your hands to form a log. Use a little flour on your hands if mixture is sticky. Roll logs in flour, shake off excess. Dip logs into the beaten eggs, and then roll in the breadcrumbs. Continue until all the ham mixture is used. Remove and repeat with remaining croquettes.

Place breaded logs into a lightly greased 2 quart baking dish. Bake at 375 until golden brown and crispy. 45 minutes.
*The photos in this blog post were taken without the country sausage gravy.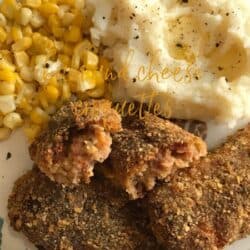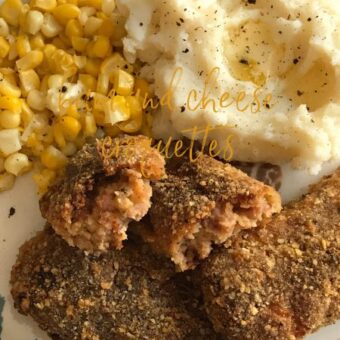 Country Sausage Gravy
Delicious served over your favorite jumbo biscuits.
Ingredients
1

pound

ground pork sausage

2

tablespoons

butter

1/3

cup

flour

3

cups

milk

1/4

teaspoon

garlic powder

1/4

teaspoon

seasoned salt

1/4

teaspoon

salt

1

teaspoon

black pepper
Instructions
Brown the sausage in a large skillet over medium-high heat until no longer pink.

Add the butter to the pan and stir it around until melted.

Sprinkle the flour over the sausage and stir for 2 minutes.

Pour the milk into the sausage and flour mixture slowly, whisking constantly until smooth.

Whisk in the seasonings. Taste the gravy and adjust seasoning if necessary.

Serve immediately with your favorite biscuits.
Barbecue Bacon Wrapped Onion Bombs, Layered Hamburger Bake, and Mini Cheese Biscuits with Country Ham are all delicious recipes to make on a cold winters day. Recent Recipe: 5 Winter Dishes to Make, That Aren't Stew