Lime Garlic Shrimp
We may earn money or products from the companies mentioned in this post.
Lime Garlic Shrimp
Lime Garlic Shrimp with mango mint salsa is like eating summer on a plate. Cool, refreshing, citrusy, minty and delicious. Perfect to enjoy on a hot summer evening, while sitting on the patio, basking in the sights and sounds of summer. Lime Garlic Shrimp is best served warm or at room temperature. Mango Mint Salsa is outta this world, great with shrimp or even tortilla chips.
Fresh Summer Flavors
Lime, garlic, mango, mint, red onion and jalapeno are just a few of the incredible flavors that blend together beautifully to make this a tasty and satisfying summertime meal. If you aren't a fan of shrimp, don't shy away from making this recipe. The mango mint salsa is worth making and serving with tortilla chips and you can easily substitute grilled boneless, skinless chicken breasts or grilled scallops for the shrimp.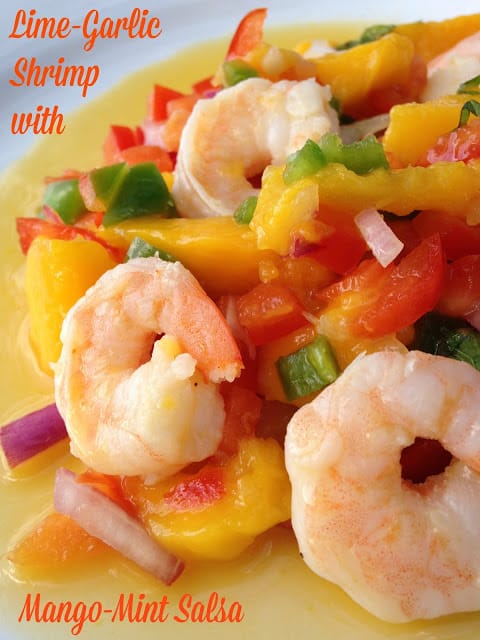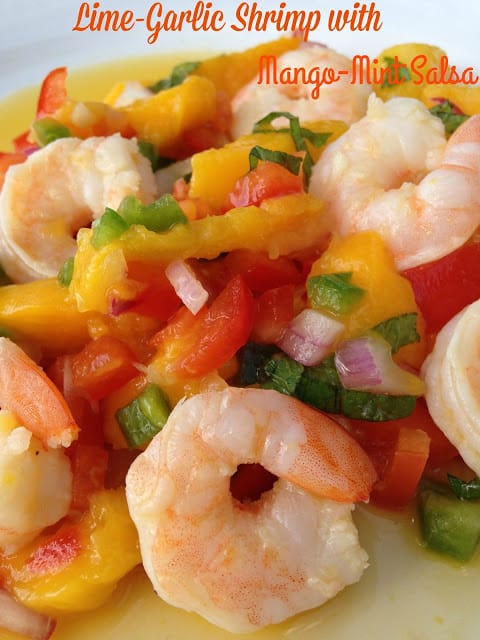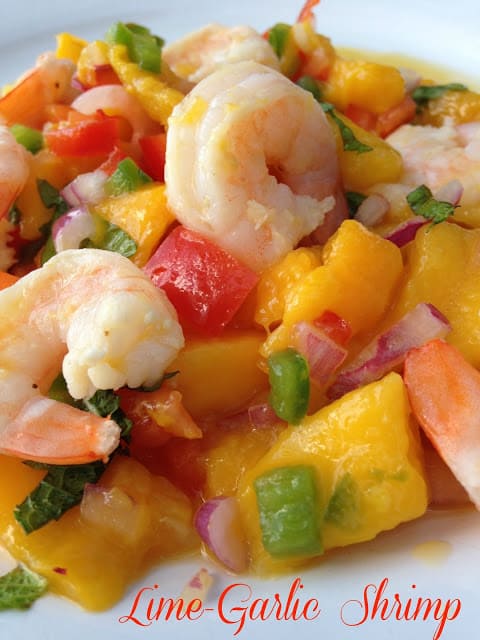 Serve with
You can serve Lime-Garlic Shrimp over chilled mint rice and serve the mango mint salsa on the side. You can serve traditional margaritas with this meal or a nice light fruity wine, such as a German Riesling. If you aren't a fan of shrimp, hey no problem! Serve mango mint salsa with grilled salmon or baked haddock. Make the delicious mango mint salsa and serve with tortilla chips for a fresh, new taste.
Shrimp
This delicious crustacean is America's favorite shellfish. Most of the shrimp in the United States comes from the bordering water, notably the Atlantic and Pacific Oceans. and the Gulf Coast. There are hundreds of shrimp species, most of which can divided into two broad classifications, warm water shrimp and cold water shrimp. As a broad and general rule, the colder the water, the smaller and succulent the shrimp.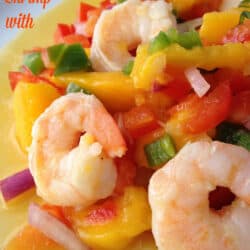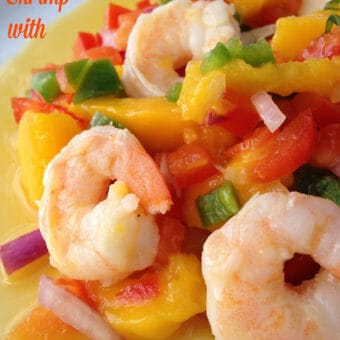 Lime-Garlic Shrimp 
The perfect summer dinner. Light and refreshing.
Ingredients
12

jumbo

unpeeled, raw shrimp

2

tablespoons

fresh lime juice

2

cloves

garlic, crushed

1

teaspoon

hot chili oil

1/2

teaspoon

salt

1/4

teaspoon

pepper

2

tablespoons

vegetable oil
Instructions
Peel shrimp and devein. Leave tails on, if desired. Set aside.

Combine lime juice, and next 4 ingredients in a medium bowl.

Add shrimp, tossing to coat. Cover and chill 45 minutes.

Preheat grill to medium-high heat.

Remove shrimp from marinade; discard marinade.

Coat grill rack with cooking spray; place shrimp on rack; grill, uncovered, 3 minutes on each side or until shrimp turn pink.

To serve: spoon salsa onto serving plate, arrange shrimp on top of salsa.
Recipes on Tap:
Try these recipe using the wonderful, versatile shrimp. Shrimp Noodle Supreme,  Shrimp in Spicy Garlic Sauce and Marinated Shrimp. There are many brands of seafood brands to choose from. Check around or do your own taste tests and see which brands you prefer. Here is a source for all of your 'shrimp' needs; Premium Seafood Company