Mango Mint Salsa
We may earn money or products from the companies mentioned in this post.
Mango Mint Salsa
Mango Mint Salsa is the perfect way to cool off on a hot summer evening. It's especially delicious served alongside grilled pork, chicken or shellfish such as shrimp. Mango Mint Salsa is also delicious served alongside grilled halibut or mahi mahi. It's also great served with lime flavored tortilla chips, as a delicious appetizer. This summer take a dip into Mango Mint Salsa!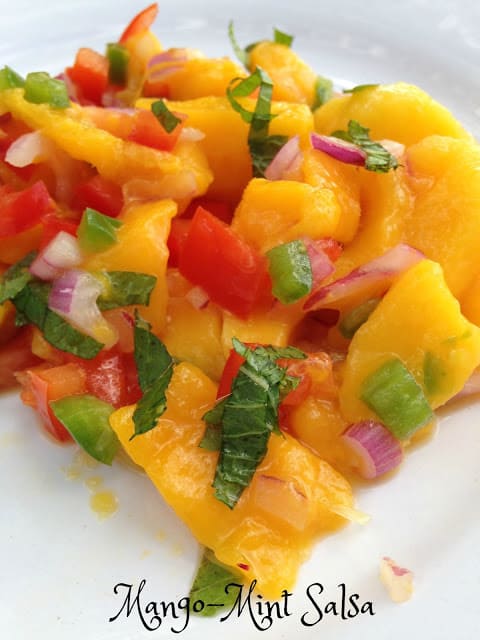 Cool and Refreshing
This summer try this cool and refreshing salsa. Mango-Mint salsa gets it's tropical flare from the chopped mango, the spice comes from the red onion and jalapeno. Mint lends a cool breeze to this salsa, with lime juice adding a citrus tang. Frozen Mini Key Lime Tarts  are the perfect ending to this cool and refreshing meal of mango mint salsa and grilled halibut.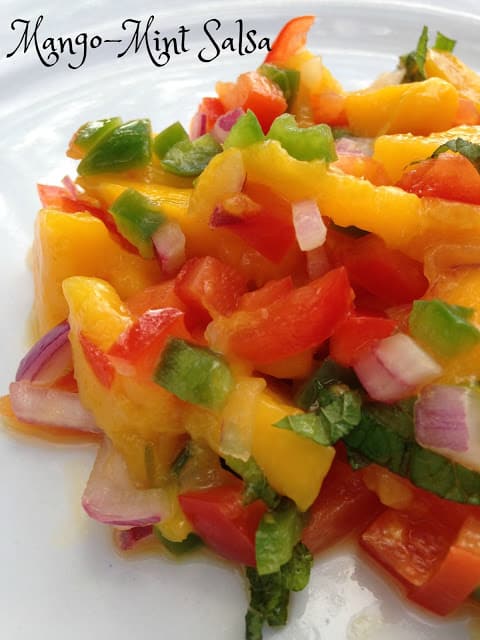 Serve With..
Serve this sensational salsa with Garlic-Lime Shrimp or any grilled fish such as: Grilled Tuna, Halibut or Mahi Mahi. Mahi-mahi is the Hawaiian name for the species Coryphaena hippurus, also known as dolphin fish in English. Please don't worry, we're not talking about Flipper, the bottle-nose dolphin, which is an air-breathing mammal. The mahi-mahi or dolphinfish is a surface-dwelling ray-finned fish found in  tropical and subtropical waters worldwide.
History of Mint
Long a symbol of hospitality, Greek mythology claims that mint was once the nymph Mentha. She angered Pluto's wife Peresphone, who turned her into this aromatic herb. There are over 30 species of mint, the two most popular and widely available being peppermint and spearmint. Peppermint being the most pungent of the two. It has bright green leaves, purple-tinged stems and a peppery flavor. Spearmint leaves are gray-green or true green and have a milder flavor and fragrance.
Mint is most plentiful during the summer months but many grocery stores now carry mint year round. Choose leaves that are evenly colored with no sign of wilting. Store bunches of mint as you would parsley and cilantro. Cut ends with a scissors, place cut stems down in a glass of water with a plastic bag over the leaves. Refrigerated this way for up to one week, changing water ever 2 days.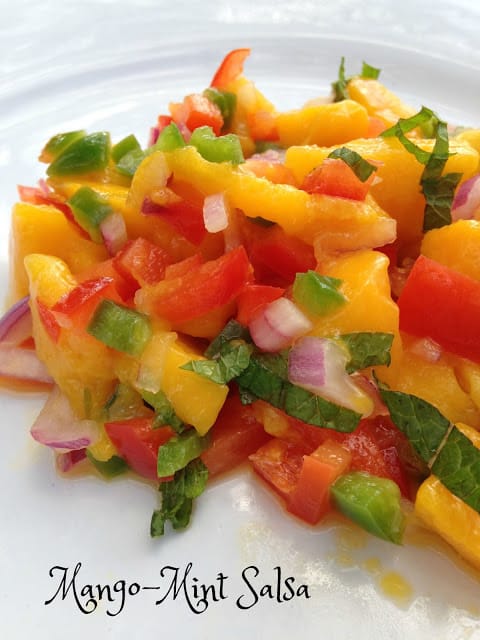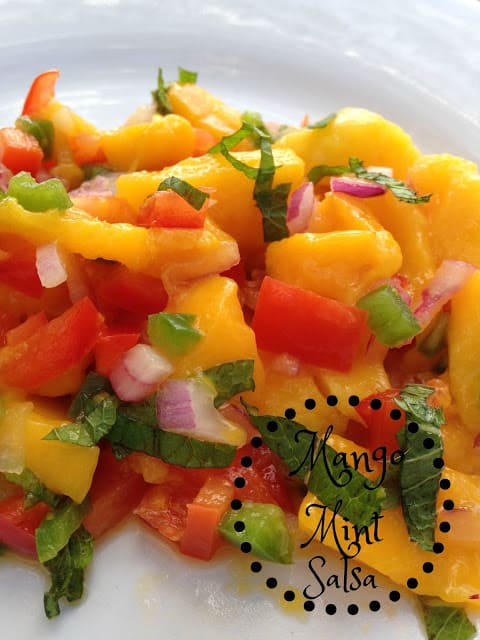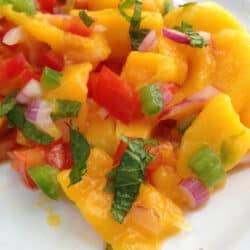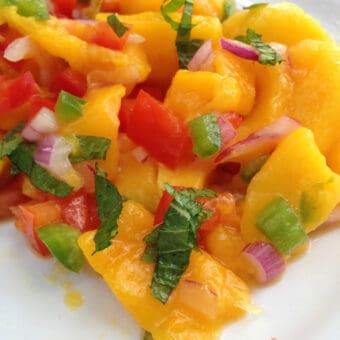 Mango Mint Salsa
Take a dip into this refreshing salsa.
Ingredients
2

cups

diced mango

3/4

cup

minced red onion

2

jalapeno peppers, seeded and minced

1

medium-size red bell pepper, seeded and diced

1

tablespoon

plus 1 teaspoon chopped fresh mint

3

tablespoons

fresh lime juice
Instructions
Combine all ingredients in a medium bowl and toss well.
Serve Mango Mint Salsa with Lime Garlic Shrimp with Mango Mint Salsa
Serve Mango Mint Salsa with Tostitos Hint of Lime Chips.