Lemon Poppy Seed Sourdough Waffles
We may earn money or products from the companies mentioned in this post.
Lemon Poppy Seed Sourdough Waffles
Light and lemony, with a slight tang from the sourdough, this recipe is great. Adding jarred lemon curd to the batter makes these delicious waffles extra special. In my family we would much rather have waffles for breakfast than pancakes. It just seems to me that there are so many different ways you can make waffles. Like this recipe for Lemon Poppy Seed Sourdough Waffles. Dust off your waffle makers everyone, it's time to make waffles.
Waffle Makers
I had never made waffles before until I purchased a very inexpensive waffle maker at a thrift store. The waffle maker I purchased was a Cuisinart  waffle maker which isn't an inexpensive brand by any means. I bought it at a thrift store for $2.00, so from my point of view it was inexpensive. Now the person who originally bought the waffle maker probably spent good money on it and from the looks of it, never used it. My grandkids had been hounding me for some time to make them waffles but before I went out and bought a good one, I wanted to see if they were actually going to like and eat them.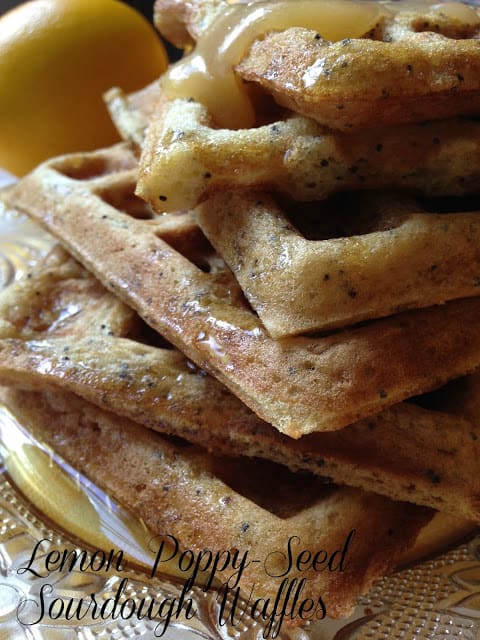 Belgium Waffle Maker
After trying out the ? waffle maker and the fact that my grand-kids have fallen in love with homemade waffles, good-bye frozen waffles, I decided to buy a Cuisinart Belgium Waffle Maker. I like the bigger or thicker waffles that a Belgium waffle maker produces. The thicker waffles also freeze really well, which I also like. They make fantastic Chocolate Chip Waffle Ice Cream Sandwiches which are not only my grandson's favorite but also mine.
.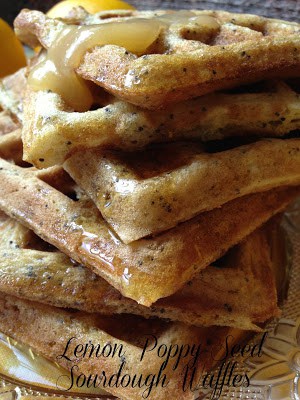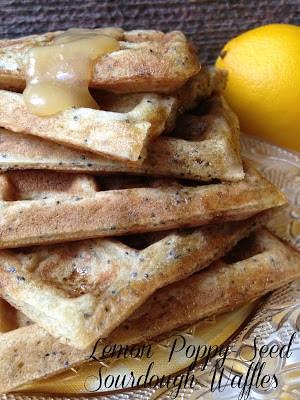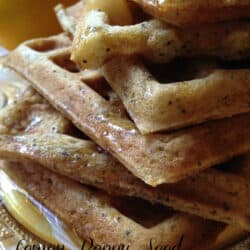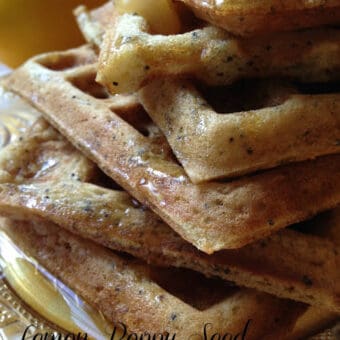 Lemon Poppy-Seed Sourdough Waffles
Delicious waffles with the tang from the sourdough and citrus from the lemon.
Ingredients
2

cups

sourdough starter

1

teaspoon

baking soda

1/2

teaspoon

salt

2

tablespoons

sugar

2

eggs

3

tablespoons

lemon curd

zest of one lemon

4

teaspoons

poppy seeds

1/4

cup

butter

,

melted
Instructions
In a mixing bowl, combine starter, baking soda, salt, sugar, eggs, lemon curd, lemon zest and poppy seeds. Stir in melted butter. Cook on a hot, greased waffle iron, following manufactures directions.

Serve with lemon cured and maple syrup.
Recipe on Tap
If you like lemon you'll love these light and lemony bars with a touch of raspberry. Lemon Raspberry Bars. For this recipe we used Mc Cormick poppy seeds.