On the Menu Today~

Lemon Raspberry Bars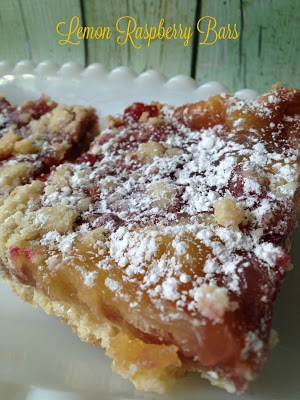 If you're looking for a light, lemony bar,
with just a hint of raspberry jam then
these bars will surely tantalize your taste buds.
Biting into a Lemon Raspberry Bar,
is like biting into a piece of springtime.
Sunny and a breathe of fresh-air.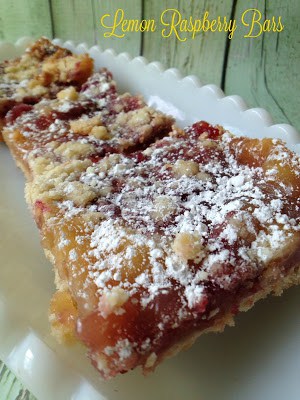 Lemon Raspberry Bars have a shortbread crust,
are made with a purchased lemon curd and
a swirl of your favorite seedless raspberry jam.
These delicious bars are a cinch to make and
they will disappear fast…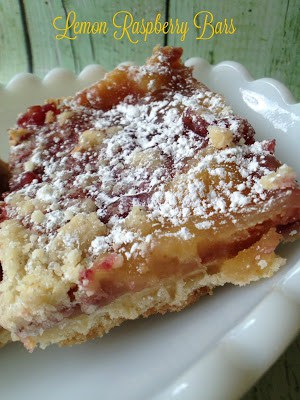 To save time, we used a purchased jarred lemon curd.
You can certainly make your own lemon curd
and use that in place of the purchased lemon curd.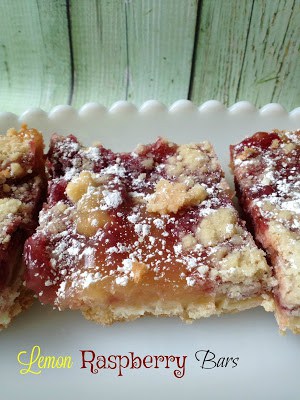 Shortbread crust with a light lemony taste and a hint of raspberry.
Prep time: 10 minutes
Cook time: 35 minutes
Yield: 8 x 8 square baking pan
Ingredients
1/2 cup




butter, softened

1/2 cup




sugar

1 1/4 cups




flour

1/4 teaspoon




baking soda

1/8 teaspoon




salt

1 (10 oz) jar




lemon curd

1/4 cup




seedless raspberry jam

2 tablespoons




powdered sugar
Cooking Directions
Heat oven to 350º
Lightly spray a 8 x 8 square baking pan with non-stick cooking spray.
Beat butter and sugar in a large bowl until creamy. Add flour, baking soda and salt. Mix until mixture forms coarse crumbs. Pat 3/4 of mixture into bottom of prepared pan.
Bake 10 minutes. Remove from oven and cool slightly. Spread curd and seedless raspberry jam over baked layer, swirling together. Sprinkle remaining crumb mixture over top.
Bake an additional 25 minutes or until browned. Remove from oven and cool slightly.
Dust with powdered sugar and cut into squares.

Lemon, Raspberry, Jam, Curd, Bars, Butter
Products used in this recipe:
Trader Joe's Lemon Curd
Johnson Berry Farms Raspberrry Jam