Krispy Kreme Cake with Glaze and Roasted Strawberries
We may earn money or products from the companies mentioned in this post.
Krispy Kreme Cake with Glaze and Roasted Strawberries
I was recently on one of my stalking expeditions at the grocery store and spotted this New Cake Mix from Betty Crocker Krispy Kreme Doughnuts Cake Mix with Original Doughnut Glaze. Wow, what a great new food find and this isn't even a sponsored post! Well, what can I say? How yummy does that cake mix sound! Certainly sounds yummy to me but what if we top this cake with some Roasted Strawberries. Now we've got Wow.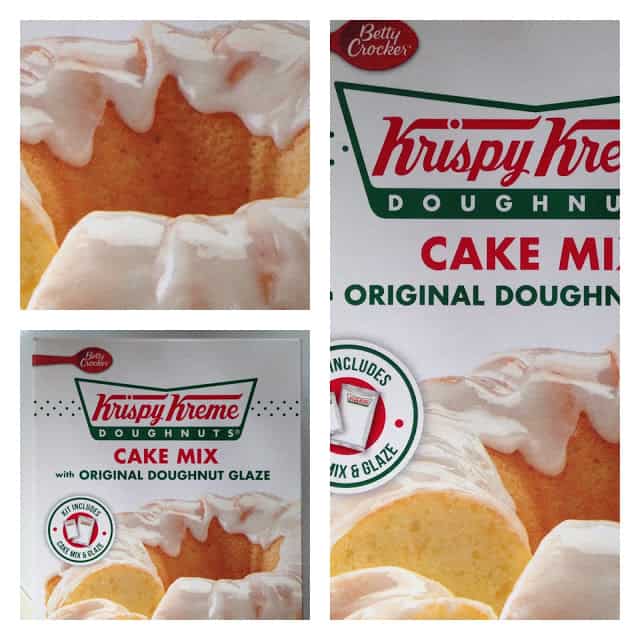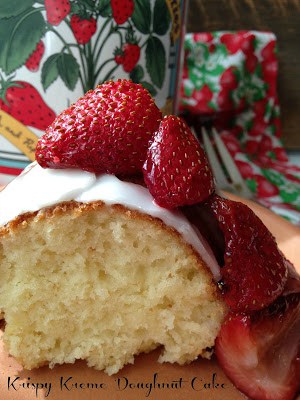 Food Find: Krispy Kreme
The first time I make a New food find, I like to follow the directions on the box or package exactly per directions. After that, I will tweak the recipe by changing or adding ingredients or using the cake mix in a whole different way. That's why I always buy 2 boxes, packages, bottles etc. of every New food find that I find. Enough already, let's get to the recipe.
If you are looking for a fantastic recipe, that is easy and quick to put together, is relatively inexpensive and cooks all day, than Crock Pot Ring Bologna with Sauerkraut is the recipe you are looking for. Even kids like this dish! Think of it as a big hot dog and pile it with kraut and ketchup.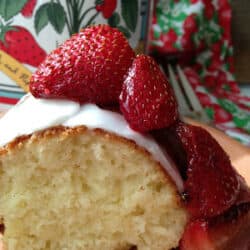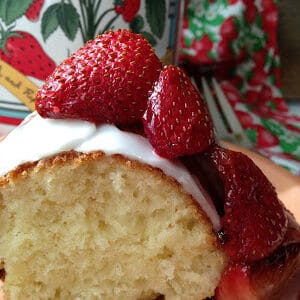 Krispy Kreme Doughnut Cake Mix with Original Doughnut Glaze
Ingredients
1

box

Krispy Kreme Doughnuts Cake Mix with Original Doughnut Glaze

2/3

cup

water

1/3

cup

vegetable oil

2

eggs
Instructions
Heat oven to 350° for shiny metal or glass pan, or 325° for dark or nonstick pan.

Grease and flour bottom and sides of bundt pan.

Beat cake mix, water, oil and eggs in a large bowl on low speed 30 seconds, then on medium speed 2 minutes.

Pour batter into pan; spread evenly.

Bake for 25 to 30 minutes or until toothpick inserted in center comes out clean.

Cool 10 minutes, then remove from pan and place on cooling rack.

Knead pouch of glaze 10 times. Cut 1/4- inch tip from corner of pouch.

Drizzle glaze over warm cake; spread evenly over top of cake.

Cool completely on cooling rack.
Roasted Berries and Fruit
Roasting strawberries is easy and simple. Berries especially are the easiest fruit to roast. Roasting adds concentrated flavor and sweetness to the berries. I've roasted many types of berries, mangos and rhubarb with fantastic results. If you're looking for an easy dessert idea, roasting fruit is the answer. Simple place the berries on a baking sheet, sprinkle with sugar and bake until berries are tender and juicy.
Spoon berries over ice cream, cake, angel food cake, even brownies. Add a dollop of whipped cream and you're all set. The options are endless, let your imagination run wild and see what dessert you can come up with. Serve Krispy Kreme Cake with Roasted Strawberries