Cinnamon Chip No-Fail Blondies
We may earn money or products from the companies mentioned in this post.
Cinnamon Chip No-Fail Blondies
A delicious 'blondie' with that classic buttery, butterscotch taste and just the right amount of cinnamon flavor from the cinnamon chips. I have never made Blond Brownies before. Why? No Clue. I decided that I wanted to change that fact so I went on a mission to find a recipe for Blondies. I was looking for a blondie recipe that was easy to make, convenient, versatile enough to accommodate a bag of cinnamon chips and a recipe that could be made in an 8 x 8-inch pan.
What Is A Blondie?
What is a Blondie? A Blondie is a first cousin to the Chocolate Brownie, minus the cocoa. A Blondie is similar to a brownie, except that it's based on brown sugar, usually dark brown sugar instead of cocoa. This results in a taste that's reminiscent of butterscotch rather than the more common chocolate brownie flavor. Basically, it's a butterscotchy brownie with caramel undertones. A delicious alternative to its chocolate cousin.
Light or Dark Brown Sugar?
Blond Brownies can be made with either light or dark brown sugar but using dark brown sugar with result in a brownie with a richer butterscotch caramel flavor. As with it's chocolate brownie cousin, most any optional ingredient(s) can be added such as; flavored chips, dried fruit, nuts, flavored extracts and/or liquor. Serve Cinnamon Chip Blondies with a scoop of cinnamon ice cream for a decadent treat.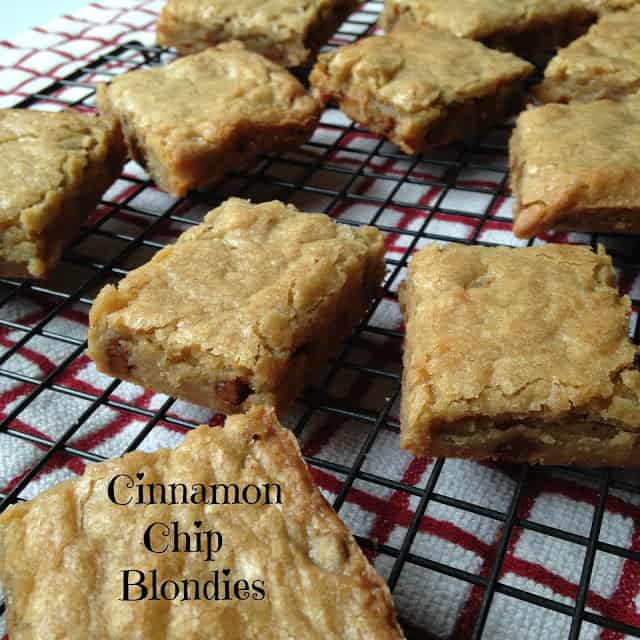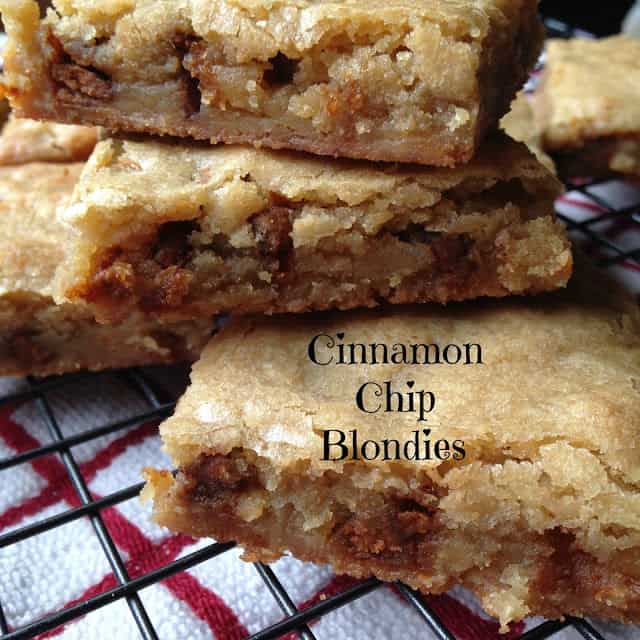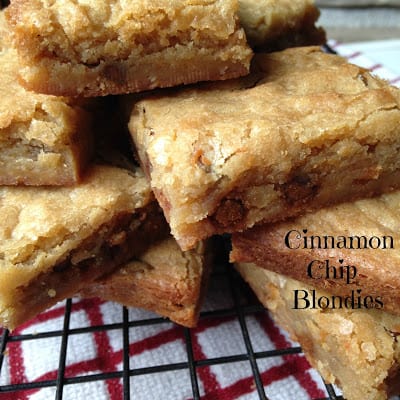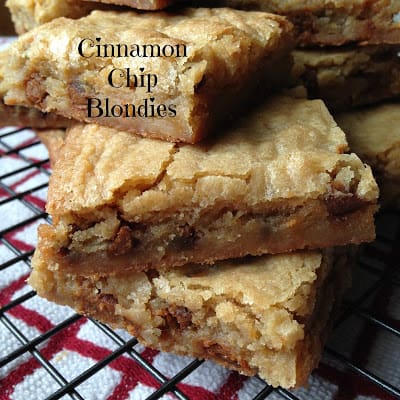 No-Fail?
I can definitely vouch for this recipe, it is what the name suggests, no-fail. The ingredient list is nothing really, butter, dark brown sugar, egg, extract and flour. Then your choice of "add in" ingredients, which can be anything from flavored chips to espresso powder to flavored extracts, making these "blondies" truly "no fail."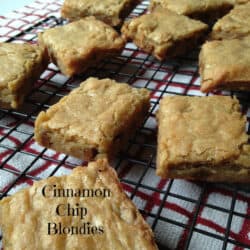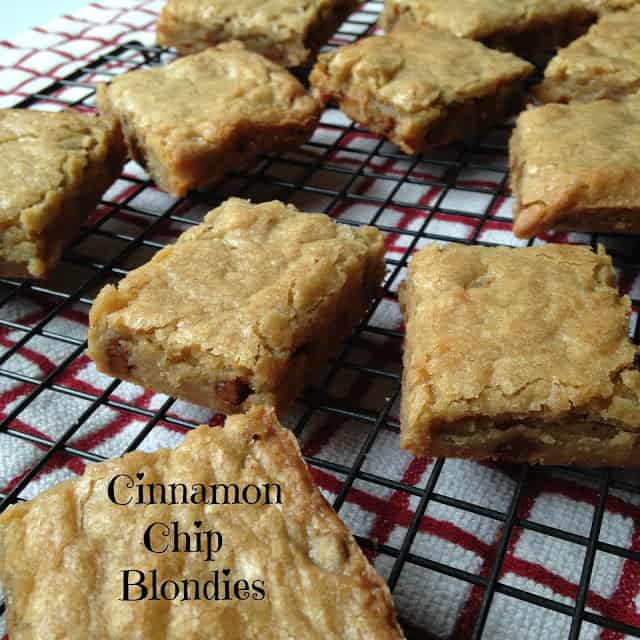 Cinnamon Chip No-Fail Brownies
Serve Cinnamon Chip No-Fail Brownies with vanilla or cinnamon ice cream. For added yumminess drizzle with caramel sauce!
Ingredients
8

tablespoons

unsalted butter, melted

,

(1 stick)

1

cup

lightly packed dark brown sugar

1

large

egg

1 1/2

teaspoons

vanilla extract

1/8

teaspoon

salt

1

cup

flour

Optional Extras:

add one or a combination to customize

1/2 to 1

cup

cinnamon chips, chocolate chips, white chocolate chips, milk chocolate chips, semi-sweet chocolate chips, dark chocolate chips or butterscotch chips

1/2 to 1

cup

chopped toasted nuts, pecans, walnuts, macadamia, peanuts

1/2 to 1

cup

chopped dried fruit or shredded/flaked coconut

1/4

cup

liquor, bourbon, rum, whiskey. Note: If using liquor, increase flour by 1 tablespoon to accommodate.

1/2

teaspoon

flavorings or extracts. coconut, mint, rum, raspberry

2

tablespoons

espresso powder. instant
Instructions
Heat oven 350º F. Line an 8 x 8-inch metal baking pan with aluminum foil.

Lightly spray foil with non-stick cooking spray.

In a medium bowl, stir melted butter and brown sugar until blended. Add the egg, vanilla extract, and salt. Stir vigorously until smooth. When the batter looks well blended, add the flour and stir until no more streaks of flour remain. Stir in cinnamon chips, nuts or dried fruit, if using.

Spread the batter evenly in lined pan and bake 20 to 25 minutes or

until a toothpick inserted into the middle comes out relatively clean.

Cool, then cut into 16 squares.

Serve with vanilla or cinnamon ice cream
This recipe is brought to you via Inspired Taste via Smitten Kitchen. For this recipe we used Hershey's Cinnamon Chips