Homemade Refrigerator Pickles
We may earn money or products from the companies mentioned in this post.
Homemade Refrigerator Pickles
If you're looking for a super easy recipe for homemade refrigerator pickles than you found it. This recipe makes only two small jars of pickles. No need to dig out your water bath canner either, they don't require a hot water bath. Since this recipe calls for using two cucumbers, you can make them year round. Besides the two cucumbers, this recipe calls for water, white wine vinegar, apple cider vinegar, salt, sugar, onions, garlic, green peppers and jalapeño peppers. With this recipe you won't need to spend all day in the kitchen making pickles.
Bread and Butter Pickles
Several years ago, in fact now that I think about it, it was eons ago, my then sister-in-law Lynn made a batch of bread and butter pickles. They were the best pickles I had ever tasted. She kept the pickles in a large glass bowl in the refrigerator and the pickles were "self-serve" I think the recipe was from her mom LaVerne. Anyway, that summer I made bowls of pickles, therefore I ate bowls upon bowls of Lynn's sweet bread n' butter pickles. I've never said this to anyone before but I have never eaten or made them since. I ate so many of Lynn's bread n' butter pickles that summer I can't even look at bread n' butter pickles anymore. In fact I don't even like pickles that much anymore.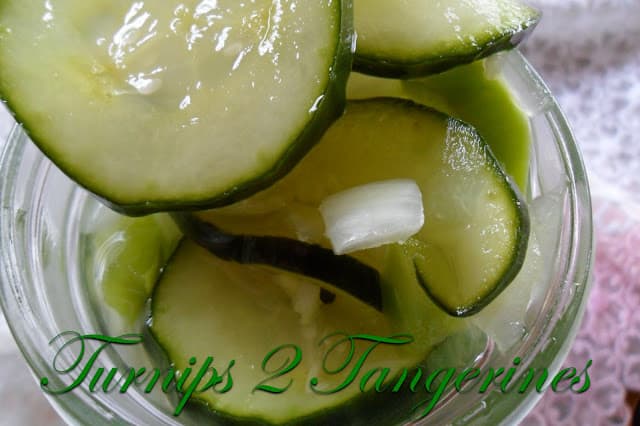 My Family Loves Pickles 
But on the other hand, my family loves pickles. Everyone from my hubby, down to my youngest grandchild (who is 2 years old) are crazy about pickles. There is always a tray of pickles served at our family gatherings too. When I made Dill Pickle Dip they went nuts. I made "homemade" dill pickles and they went crazy for them too. Typically they're favorite brand is Claussen but they'll devour any kind. Here's the recipe: Grandma's Dill Pickles.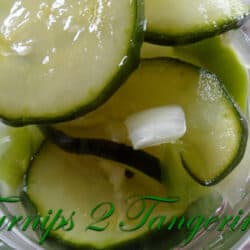 Homemade Refrigerator Pickles
This makes a small batch but can easily be doubled or tripled to feed a crowd.
Ingredients
2

large

cucumbers

2

cups

cold water

1/4

cup

white wine vinegar

1/4

cup

apple cider vinegar

1

tablespoon

salt

1

teaspoon

sugar

1

onion

1/2

cup

green pepper

10 to 15

whole

peppercorns

1 to 2

cloves

garlic

1

jalapeno

2

small mason style jars, sanitized
Instructions
*To sanitize, place a large pot of water on to boil. Once the water is boiling, place jars and lids into the pot for 10 minutes. Allow jars to cool completely before filling.

Cut cucumbers and jalapenos into very thin slices. Dice onion and bell pepper. Mince garlic and set aside. Mix together cucumber, jalapeno, onion and bell pepper in a medium glass bowl. Add one tablespoon salt. Cover with plastic wrap, allow cucumber mixture to sit for 2 hours.

In a small saucepan add vinegar, water, minced garlic, peppercorn and sugar. Bring to a boil. Boil for 2 to 3 minutes, turn off heat. After the cucumber mixture has sat for 2 hours, drain the liquid and reserve. When the vinegar mixture is cool, pour over the cucumber mixture. Fill the sanitized mason jars with the cucumber mixture. Top off with the reserved liquid. Seal the jars and place in the refrigerator. Leave for 2 days.

This recipe can be doubled or tripled with super results.
Super Easy Pasta Salad is just that, super easy and super delicious. Praline Pecan Brownies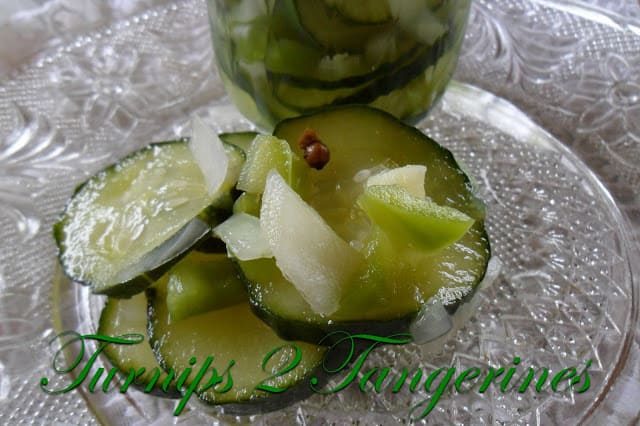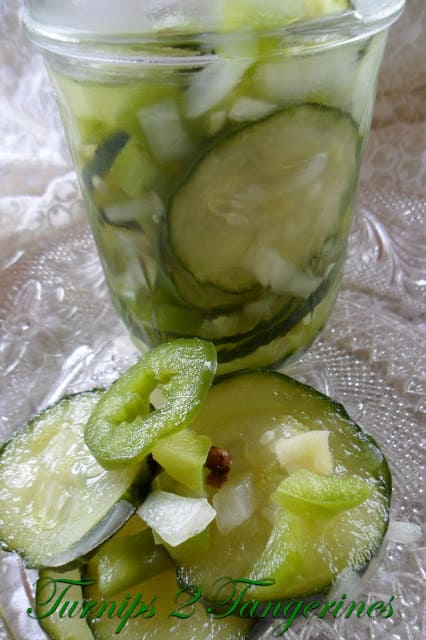 Canning Recipes
If your looking for more canning recipes, here are a few you might want to try. Dilly Beans, Small Batch and Homemade Horseradish. Take some time to look through our recipe box, where you will find many more canning recipes you might be interested in making.