Sourdough Crepes with Brie and Fried Apples
We may earn money or products from the companies mentioned in this post.
Sourdough Crepes with Brie and Fried Apples
This recipe for Sourdough Crepes with Brie and Fried Apppes is a delicious recipe that you can make for a special birthday breakfast in bed or an elegant dessert. The flavors blend perfectly together. This recipe is great to make in the fall when apples are at their peak. You can certainly make this with store-bought apples. Pears would fill in nicely here also, to replace the apples.

Cracker Barrel
The first time I had ever saw fried apples, let alone ate fried apples was when I worked at the Cracker Barrel Old Country Store. At the time I worked there, many moons ago, fried apples were served as a side with most meals. They were included in price of your meal. I always looked forward to my fried apples. Being an employee, I ate for literally next to nothing and I always ordered fried apples with every meal. Fried apples can also be used in apple recipes but remember to adjust the sugar and cinnamon called for in the recipe. Next time you stop by a Cracker Barrel, pick up a jar of  fried apples, you'll be glad you did!
Brie Cheese
In this recipe I used a nice Brie I had leftover from a different recipe. Brie and apples seem to just kinda go together just like Brie and pears. But if your not a fan of Brie like my hubby, (he thinks Brie smells and tastes like sweating gym (j) socks) which I beg to differ, you can use a honey goat cheese, mascarpone or a creamy Camembert. Serve Sourdough Crepes with Fried Apples and Brie as a dessert with Champagne, Chardonnay, Port and/or Fruit or Cider Beers.
Sourdough Crepes
The French word for "pancake," which is exactly what these light, paper-thin creations are. They can be made from plain or sweetened batters with various flours or as with this recipe, a sourdough batter. Crepes can be used for savory or dessert dishes. Dessert crepes can be spread with a jam or fruit mixture, rolled or folded and sometimes flamed with brandy. Savory crepes are filled with meat, cheese or vegetables mixtures, topped with a sauce and served as a first or main course.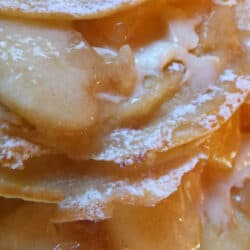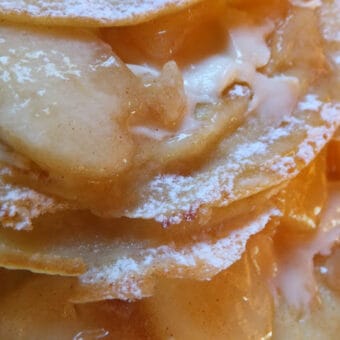 Sourdough Crepes with Brie and Fried Apples  
Perfect for breakfast, lunch and/or dinner.
Ingredients
1

cup 

sourdough starter

2 

eggs

2

tablespoons 

melted butter

1/4

teaspoon 

sea salt

1/4 to 1/2

cup 

milk

extra butter

4 to 6

slices

of brie cheese

powdered sugar

Fried Apples:

1

tablespoon 

butter

3

medium

tart cooking apples, peeled, cored and cut into thin slices

2

tablespoons 

firmly packed light brown sugar

1/4

teaspoon 

ground cinnamon
Instructions
Fried Apples: In a 10-inch non-stick skillet, melt butter over moderately high heat. Add the apples and cook for 3 minutes or until lightly browned, stirring frequently.

Stir in the brown sugar and cinnamon. Lower the heat to moderately low and cook covered for 2 to 3 minutes more or until apples are tender.

Crepes: Whisk all ingredients together in a bowl. Add milk until it reaches a very smooth, thin batter consistency.

In a 8 to 10 inch frying pan, heat pan over medium high heat. Once hot, add a teaspoon of butter, allow butter to melt quickly.

Pour a 1/4 cup batter into pan, tilt the pan with a circular motion so that the batter coats the surface of the bottom of the pan evenly. Cook the crepe for about 2 minutes, until the bottom is light brown. Loosen with a spatula, turn and cook the other side. Cool.

Spread brie on 1/2 of crepe, spoon warm fried apples on brie. Fold crepe over, sprinkle with powdered sugar. Repeat with remaining crepes. Serve.
Nutrition
Serving:
1
g
,
Calories:
140
kcal
,
Carbohydrates:
14
g
,
Protein:
6
g
,
Fat:
7
g
,
Saturated Fat:
3
g
,
Cholesterol:
94
mg
,
Sodium:
197
mg
,
Potassium:
89
mg
,
Fiber:
1
g
,
Sugar:
2
g
,
Vitamin A:
285
IU
,
Calcium:
66
mg
,
Iron:
0.4
mg
For this recipe we used President Brie
Crepes with Mascarpone Cheese Filling and Blueberry Sauce is another delicious crepe recipe you will want to try.