Bumbleberry or Mixed Berry Pie
We may earn money or products from the companies mentioned in this post.
Bumbleberry or Mixed Berry Pie
Bumbleberry or Mixed Berry Pie is a real firecracker of a pie! Made with three different kinds of berries: raspberries, blackberries and blueberries. Not only is this pie loaded with berries, it also has rhubarb. The perfect balance of sweet and tart. Talk about delicious!! Serve slices of warm pie with big scoops of vanilla ice cream.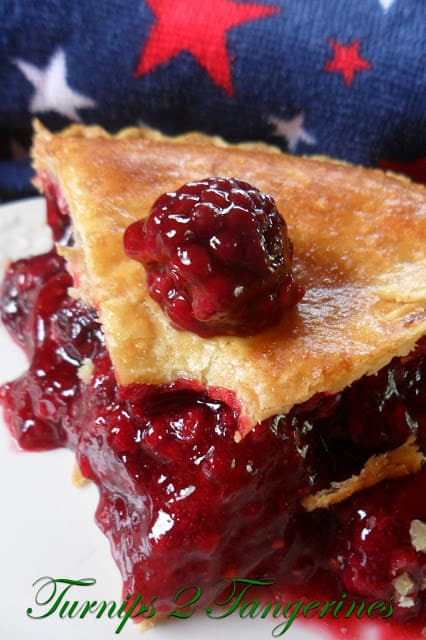 Bumbleberry
I really can't tell you why this pie is called 'bumbleberry' pie. I came up with two theories of my own. The first theory is: there are three different types of berries plus rhubarb used in this pie. When the fruit is mixed together with the other ingredients they get all jumbled and bumbled together. The second theory, the name sounds fun! Actually the truth is, "bumbleberry" is usually given to pretty much anything that contains three or more berries. There is bumbleberry pie, jam, jellies and pie filling.
Boxed Crust
For this recipe we used a refrigerated ready-made pie crust. You can easily make a made from scratch pie crust. I usually make my own pie crust but I happen to have a packaged pie crust so to save time I opted that. I make a homemade crust using Crisco and the same recipe that has been written on the label for eons.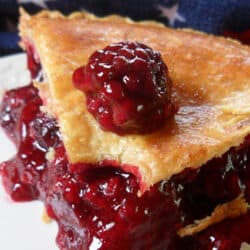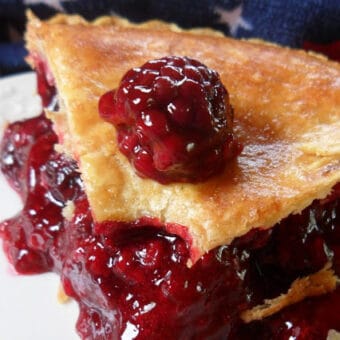 Bumbleberry Pie
A delicious blend of several berries and rhubarb.
Ingredients
1 1/3

cups

sugar

1/3

cup

flour

1 1/2

cups

fresh raspberries

1 1/2

cups

fresh blackberries

1

cup

fresh blueberries

1

cup

fresh rhubarb

,

sliced

1

tablespoon

lemon juice

1

egg

,

beaten

1

teaspoon

sugar

1

box refrigerated pie crusts

,

softened as directed on box
Instructions
Preheat oven to 425º

In a large bowl combine sugar and flour. Add the raspberries, blackberries, blueberries, rhubarb and lemon juice; toss to coat.

Place one pie crust in ungreased 9-inch glass pie plate. Press firmly against sides and bottom. Spoon filling into crust lined pie plate.Top with second crust. Wrap excessive top crust under bottom crust edge, pressing edges together with tines of fork to seal. Cut 4 slits in top crust. Brush top crust with beaten egg and sprinkle with 1 teaspoon sugar. Cover edges of crust with a 2 or 3 inch strip of foil to prevent excessive browning. Remove foil after 20 minutes of baking.

Bake at 425º for 45 minutes or until crust is golden brown and filling is bubbly.

Cool on wire rack
Like Pie?? So do we and here are just two of our favorites; Old Fashioned Apple Pie  and Pecan Pie