Gruyere, Onion and Bacon Mini Quiche
We may earn money or products from the companies mentioned in this post.
Gruyere, Onion and Bacon Mini Quiche
Fast, Easy, and Delicious. Besides being a wonderful appetizer, Quiche are great served for breakfast, brunch, lunch or dinner. I've found that even kids love these little mini quiche as much as adults do. Gruyere, Onion and Bacon Mini Quiche are the perfect little morsels to pop into your mouth, that's why they're perfect as appetizers as well, no plate necessary.
Quiche Facts:
Quiche [KEESH] This dish originated in northeastern France in the region of Alsace-Lorraine. It consists of a pastry shell filled with a savory custard made of eggs, cream seasonings and various other ingredients such as onions, mushrooms, ham, shellfish or herbs. The most notable of the savory pies is the Quiche Lorraine, which has crisp bacon bits and Gruyere cheese added to the custard filling. Quiche can be served as a lunch or dinner entree, or as a first course or hors d oeuvre.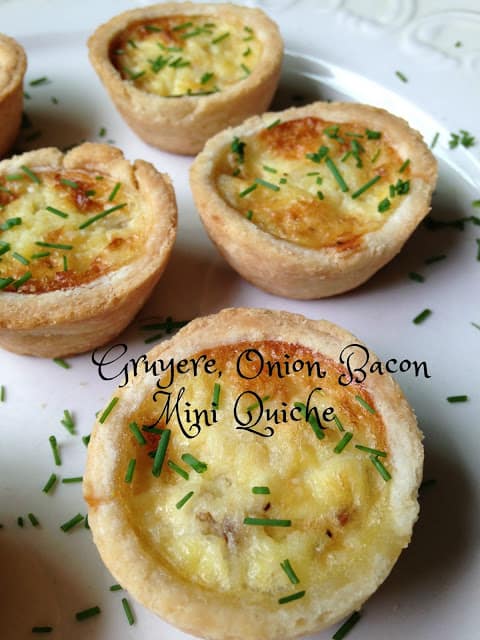 Swiss Gruyere Cheese
Swiss Gruyere cheese is named for the valley of the same name in the canton of Fribourg. Switzerland now has AOC standards for Gruyere cheese. Gruyere has a semi-hard to hard texture that's very dense, compact and subtle. The hard rind is golden brown, the interior ranges from ivory to medium yellow with occasional eyes. It has a complex flavor that's creamy, fruity, nutty, earthy and mushroomy.
With the exception of French Gruyere, most Gruyere-style cheeses are not considered on a par with the Swiss original. That's mainly because most non-Swiss versions are factory-produced with pasteurized milk whereas AOC standards for Swiss Gruyere say they can only be made from raw milk of two milkings of cows fed only grass or hay and must be prepared in copper pots.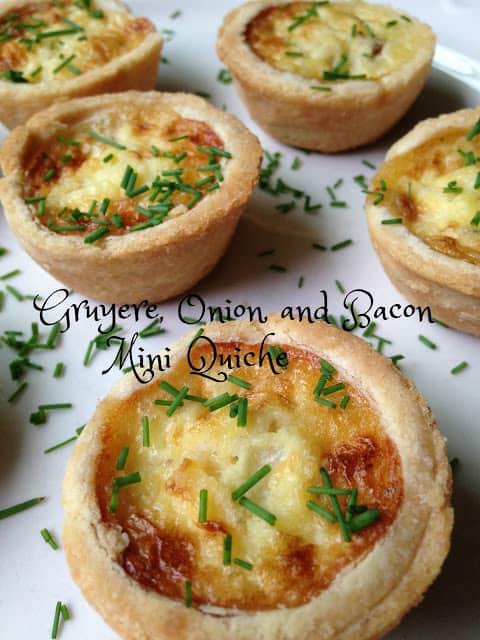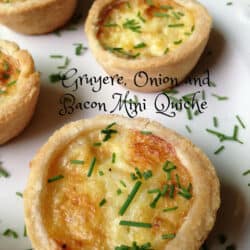 Gruyere, Onion and Bacon Mini Quiche
Great for brunch, lunch or a child's birthday party!
Ingredients
6

strips

bacon, diced

1

tablespoon

butter

1

small

onion, thinly sliced

2

teaspoons

chopped fresh thyme

1

cup

grated Gruyere cheese

4

eggs

1 1/4

cups

heavy cream

pinch

of nutmeg

salt and pepper, to taste

2

packages

refrigerated pie crusts, room temperature (follow package directions)
Instructions
Preheat oven to 375 degrees. On a lightly floured surface, roll out each pie crust to about 1/4 inch thickness. With a circular 3" biscuit cutter, cut out circles from the pie crust dough. To keep biscuit cutter from sticking to the pie crust dough, dip it occasionally in flour. Press each pie crust circle into a mini muffin pan. Use a fork to flute the edges at the top or use a sharp knife to cut the edge flush with the top of the muffin tin.

Fry the bacon in a large skillet, remove and set aside. To the drippings, add the butter and the onions and cook over medium heat until the onions are soft. Reduce the heat to low and add the thyme. Season with salt and pepper. Cook, stirring often until the onions are golden and caramelized. Allow to cool, divide the onions among the mini muffin pans. Top with the crisped bacon.

Grate the cheese and divide among the shells. Whisk together the eggs and cream, season with a pinch of nutmeg. Pour the mixture over the onions, bacon, and cheese in each shell to just below the top of the pie crust.

Bake at 375 degrees for 25 to 30 minutes, or until the egg custard is set and the quiches are golden brown on top. Allow to cool slightly before serving. Garnish with snipped chive.
For this recipe we used refrigerated pie crusts made by Pillsbury