Pork Roast with Kraut in Crock Pot
We may earn money or products from the companies mentioned in this post.
Pork Roast with Kraut in Crock Pot
Too hot to cook? Don't want to heat up the house or are you already tired of grilled food? Then give this recipe a try. Made in your slow cooker…pork roast with kraut won't heat up your kitchen, will give you a break from grilled burgers and you can throw everything in the crock pot, turn it on low and take the kids swimming for the day. When you get home, make some mashed potatoes and Wallah, supper is served. Smothering the pork roast in sauerkraut, keeps it nice and moist during the long hours of cooking.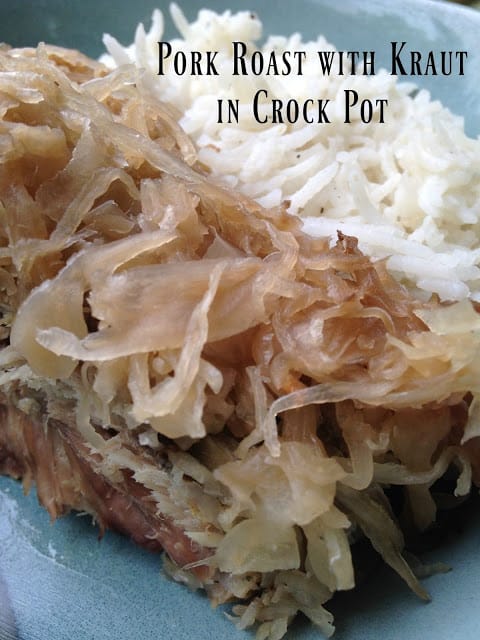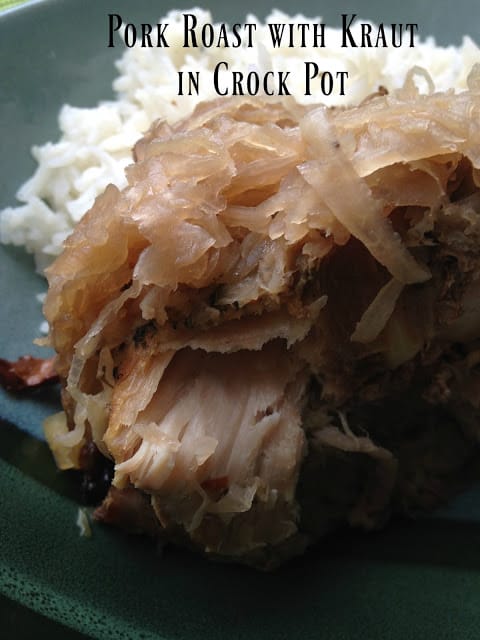 Little Pockets
This simple kitchen tip is the easiest way to add flavor to any style pork roast. I use this simply trick only with pork roast but I'm sure it would work just as well with beef. If you try it with beef, let us know how it turns out:) Let's get to the simply trick, depending on the size of your pork roast, cut anywhere from four to eight 'pockets' in the top and sides of the pork roast. In each pocket, insert one clove of garlic and a small sliver of onion. Generously season the top and sides of the pork roast with your favorite seasoning or salt and pepper.
Crock Pot Method
This simple trick works super for crock pot cooking or when made in the oven. For crock pot method; place pork roast with garlic and onion filled pockets in the bottom of crock pot. Completely cover the pork roast with sauerkraut using a fork. Pour any leftover water from the kraut can into the crock pot. Cover and cook on low 6 to 8 hours.
Oven Method
The oven method is just as easy as the crock pot method. Double line a 2 or 3 quart baking dish (depending on size of roast) with heavy duty aluminum foil. Place pork roast in foil lined baking dish. Completely cover the roast with sauerkraut. Tightly wrap the pork roast up in the aluminum foil, adding an additional sheet of foil if necessary. Place wrapped pork roast in baking dish, add a small amount of water to the baking dish. The water will help prevent any drippings from the roast from burning in bottom of the dish. Add additional HOT  water to the baking dish, if necessary, throughout the baking time. Bake at 325 degrees 3 to 6 hours. Cooking time will vary depending on the size of your roast.
Both Methods
Either method will result in a delicious and fork tender pork roast. We like to serve pork roast with mashed potatoes and a steamed vegetable. A simple, yet delicious gravy can be made from the pan/crock pot drippings. This meal is comfort at its best. It will definitely chase away the winter chill or the rainy day blues. Below is Pork Roast with Kraut in Crock Pot in a series of pictures. It's always nice to "see" the recipe:)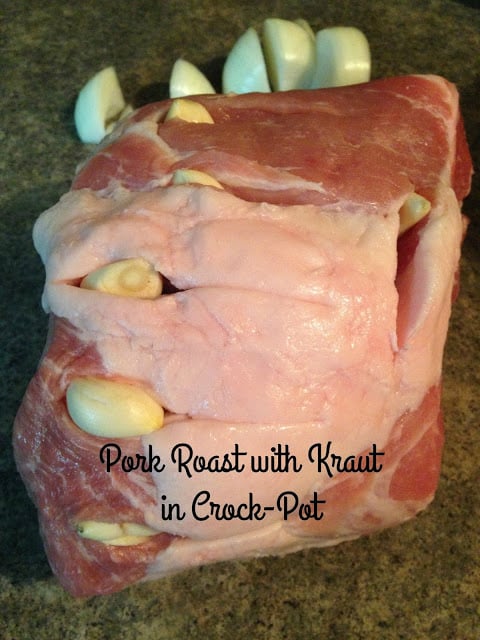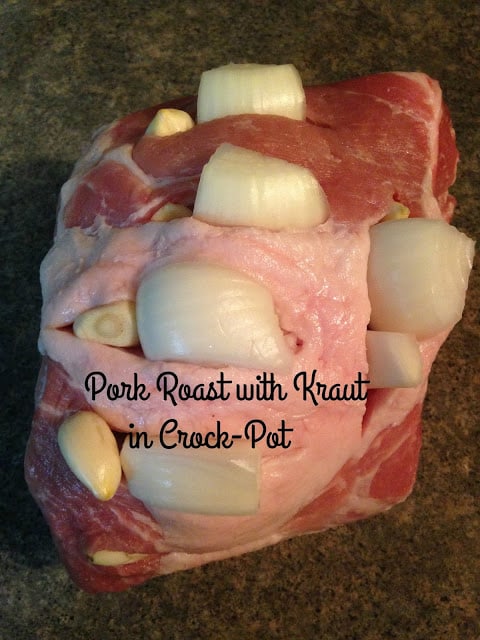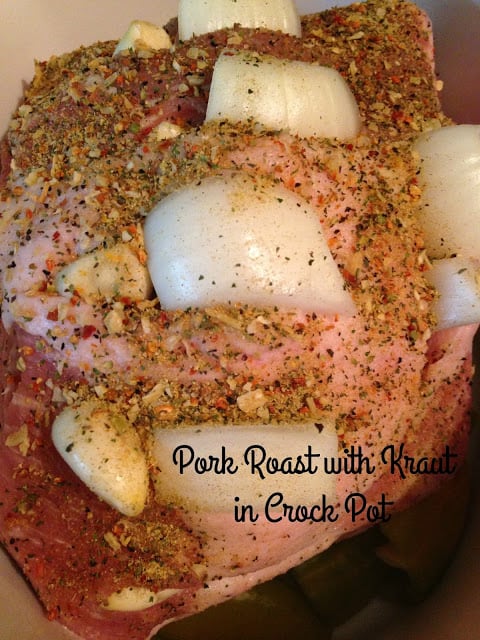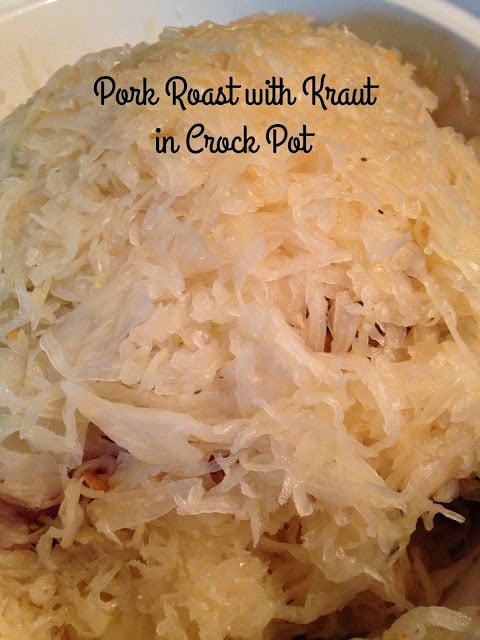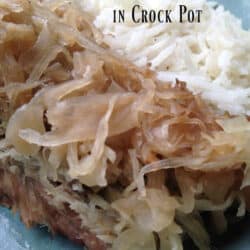 Pork Roast with Kraut in Crock Pot
Ingredients
4

pound

pork roast loin end

1

medium

onion, quartered

6

cloves

garlic, peeled and left whole

6

sweet mini peppers, sliced in half, membranes and seeds removed

1

tablespoon

seasoning blend of your choice

1

16 oz jar

sauerkraut
Instructions
With a sharp knife, make six small cuts on top and side of pork roast.

Place a piece of onion and one garlic clove into each cut. Sprinkle with seasoning blend.

Put sweet mini peppers in the bottom of crock pot.

Place pork roast on top of sweet mini peppers.

Spoon kraut on top and sides of pork roast, completely covering roast.

Turn crock pot to low, cook 6 to 8 hours.
Notes
Add pared whole potatoes and carrots to the slow cooker for a complete meal.
Recent Recipe on Tap: Cherry Cheesecake Dip, and Danish Rhubarb Liqueur. 
For this recipe we used out favorite kraut; Frank's Kraut