Frozen Lemonade Icebox Pie
We may earn money or products from the companies mentioned in this post.
Frozen Lemonade Icebox Pie
Just the name "Frozen Lemonade Icebox Pie" screams summertime! Cool, light, lemony and refreshing. The perfect pie to enjoy on a hot, humid, summer evening. My hubby loves frozen-style pies and since he eats the majority of pies at our house, I'm happy to oblige. I on the other hand like to cool off with a nice big bowl of ice cream and not the soft-serve kind either. No sirree! Not for me…
Soft Serve or Not?
My hubby makes fun of me, (he likes soft serve and I don't) because I keep our freezers so cold that it takes an hour to thaw the ice cream enough just to scoop it out. He doesn't realize that when I'm home alone, I don't bother with a bowl, why dirty a dish! I just take the gallon of ice cream, grab a spoon and go sit down. It thaws out eventually:) I will admit that I don't partake in this ritual as much as I would like too it's extremely hard on the waistline!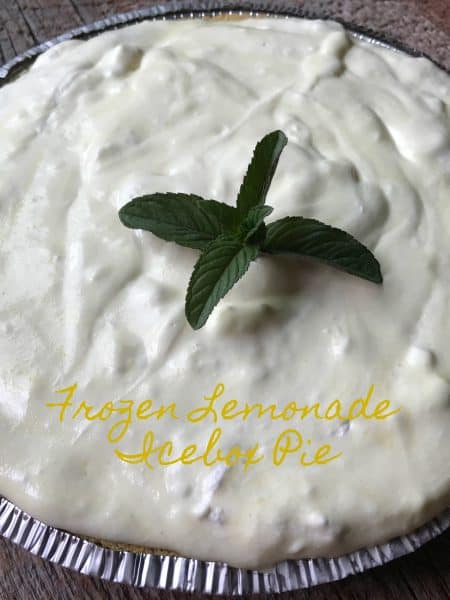 Cream Pies
My hubby's favorite pie was/is Banquet Frozen Cream Pies. Banana, Chocolate and Coconut. You know the kind, the ones with the decorative cream top. I'm not even sure if they still make cream pies but if you grew up in the 1960's and 70's, you definitely know what Banquet frozen cream pies are. You've probably have eaten a slice or two. They were all the rage back then, along with Banquet pot pies, t.v dinners and fried chicken.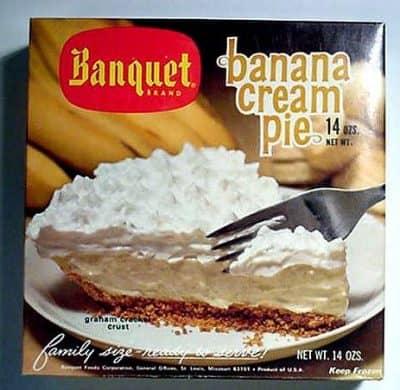 Easy and Affordable
I'm sure Aggie purchased one or two of these pies from time to time but she must not have liked them because I don't remember eating them very often growing up. I do know that Aggie served us slices of this pie frozen and I didn't realize until years later that Banquet cream pies are supposed to be served thawed! Banquet cream pies and Banquet products in general, were super affordable. Probably why Aggie purchased them at the Red Owl.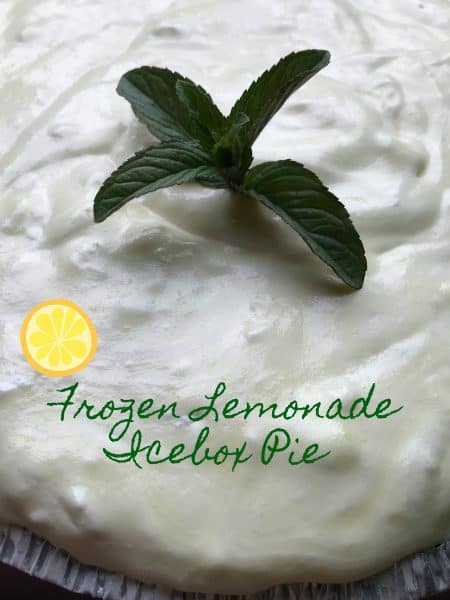 Make Ahead
Frozen Lemonade Icebox Pie is kept in your freezer making it a great "make ahead option" for entertaining. Frozen pies can be kept in your freezer up  to three months, if they last that long! I like to keep a frozen pie in my freezer during the summer months for any unexpected guest who stop by. Plus my grandson really likes frozen pies too. "E" and papa love their pies!
It's that time of year again!! It's rhubarb time! Here are two of our favorite rhubarb recipes.  Country Rhubarb Cake and Rhubarb Upside Down Cake.
Frozen Lemonade Icebox Pie
Author:
Prep time:
Total time:
A delicious light, creamy and lemony pie. Nice and refreshing on a hot summer day.
Ingredients
1 2.82 oz package Luscious Lemon Cream Dessert (Diplicious, optional)
1/4 cup hot water
1 8 oz package cream cheese, softened
1 14 oz can sweetened condensed milk
3/4 cup lemonade concentrate
1 teaspoon lemon extract
1 8 oz carton frozen whipped topping, thawed
1 9-inch graham cracker crust.
Instructions
In a small mixing bowl, dissolve the contents of the luscious lemon cream dessert package with the 1/4 cup hot water. If using. Set aside.
In a large mixing bowl, beat the cream cheese until smooth. Gradually beat in sweetened condensed milk until blended. Beat in lemonade concentrate. Fold in whipped topping and lemon cream/water mixture if using. Pour into crust. Cover with plastic wrap and place in freezer. Store pie in freezer.
All the Red, White and Blue Recipes you'll ever need. Incredible Independence Day Recipes