Asparagus and Bacon Quiche
We may earn money or products from the companies mentioned in this post.
Asparagus and Bacon Quiche
Asparagus and Bacon Quiche, heck quiche in general is delicious. You can served quiche anytime! I like to serve quiche for dinner and the left-overs are great served the next day for breakfast or as a light lunch. All you need to serve with this quiche would be a wedge of cantaloupe or a small cup of mixed fresh berries.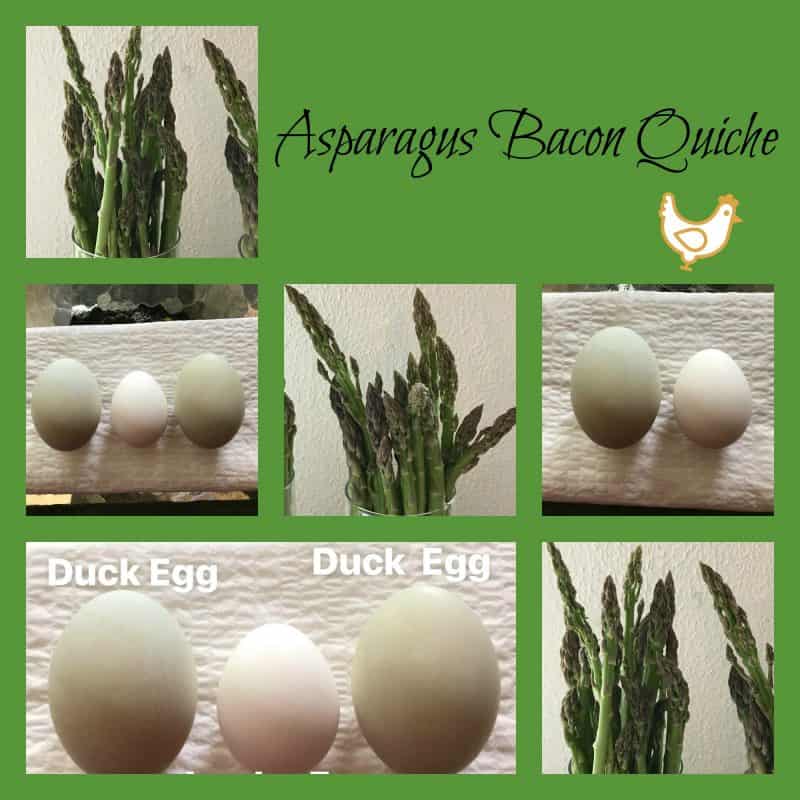 Duck Eggs
This recipe is made with duck eggs. Yes, you read that right, duck eggs. Now don't go running around the house with your hands in the air screaming, "Duck Eggs?!?" "Did she say Duck Eggs?" Duck eggs are similar to chicken eggs except they're a whole lot better. Think of duck eggs as chicken eggs on steroids. Duck eggs are twice the size of regular eggs which means that the yolk and white part is larger and thicker than a regular chicken egg.
Great in Recipes
Duck eggs are richer in flavor making them a great choice. I use them in any recipe that calls for an egg but my favorite ways to use duck eggs is in quiche recipes and meringue topped pies. Duck eggs are creamier, fluffier, thicker and richer than chicken eggs. They also have a thicker shell which helps them to last longer in the refrigerator. In general, duck eggs add flavor and richness to anything that they are added too.
Find a Source
If you would like to try duck eggs, I would suggest finding a good source and stick with them. I have wanted to try duck eggs for sometime and way before I found a farm that sold duck eggs. I found my duck lady in the Marketplace on Facebook of all places. She doesn't always have eggs for sale and sometimes only a half dozen but when I want them, they're usually available. Start looking at farm markets and outdoor markets.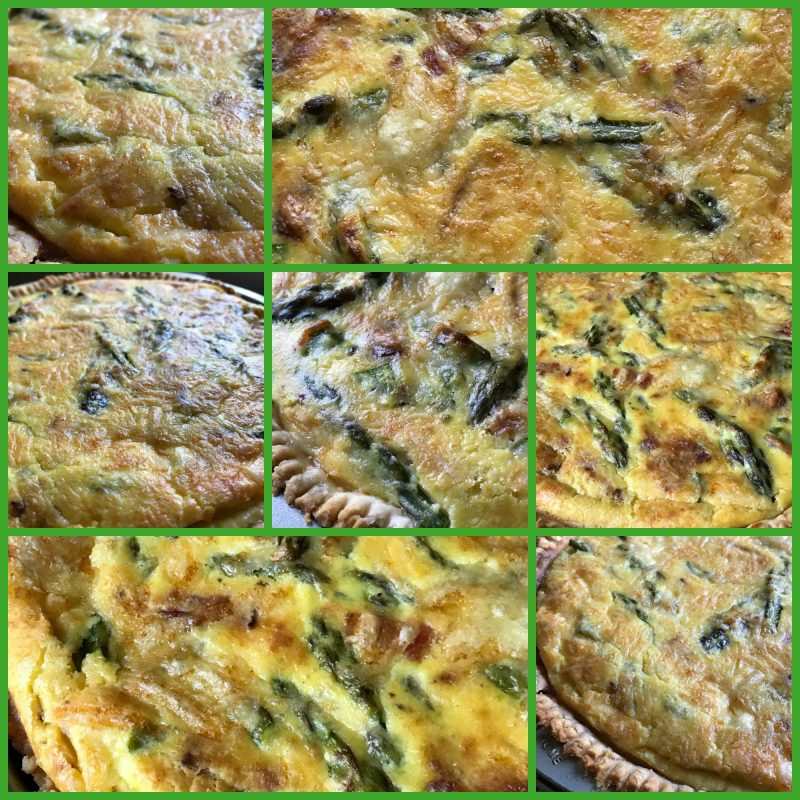 Asparagus
It's asparagus season here in northern Wisconsin and I'm lovin it. My favorite way to eat asparagus is roasting, preferably wrapped in bacon and my second favorite way is quiche. If you have some extra time, make a "from scratch" crust or to save time use an unbaked, store bought pie crust. In my opinion, either or works great. I always use the recipe found on the back of the Crisco container.
Want to read more about asparagus? Find out more here: Asparagus 101.
Asparagus and Bacon Quiche
Asparagus and Bacon Quiche
Author:
Prep time:
Cook time:
Total time:
Asparagus and Bacon Quiche is a great way to serve fresh springtime asparagus. This recipe also uses duck eggs which adds a rich flavor.
Ingredients
1 unbaked pastry shell (9-inches)
1 pound fresh asparagus, trimmed and cut into 1-inch pieces
6 slices bacon strips, cooked and crunbled
3 duck eggs or 4 regular eggs
1 1/2 cups half-and-half
1/2 teaspoon garlic pepper seasoning blend
1 1/4 cups shredded Swiss cheese, set aside 1/4 cup for the top.
Instructions
Line the unpricked pastry shell with a double thickness of heavy-duty foil.
Bake at 450 for 5 minutes.
Remove foil and bake 5 minutes more; remove from the oven and set aside.
Cook the asparagus in a small amount of water until crisp-tender, about 3-4 minutes; drain, rinse with cold water and drain well.
In a medium bowl, beat eggs; add cream, garlic pepper seasoning, and 1 cup Swiss cheese. Stir in asparagus and bacon. Pour mixture into pastry shell. Sprinkle top with 1/4 cup cheese.
Bake at 400 degrees for 10 minutes. Reduce heat to 350; bake 23 to 25 minutes longer or until knife inserted near the center comes out clean.