We may earn money or products from the companies mentioned in this post.
Country Rhubarb Cake
Country Rhubarb Cake. Is it a Cake or a Pie? Make this recipe and you decide.. Head on out to your rhubarb patch and pick some stalks of rhubarb or if your like me, head to your local farm stand and pick up a bunch or two. You'll be so glad you did After all, It's Rhubarb Time! Country Rhubarb Cake is the perfect summertime dessert to serve your family, especially over this holiday weekend. One thing is for certain, after one bite of this cake, you'll be calling Country Rhubarb Cake Delicious!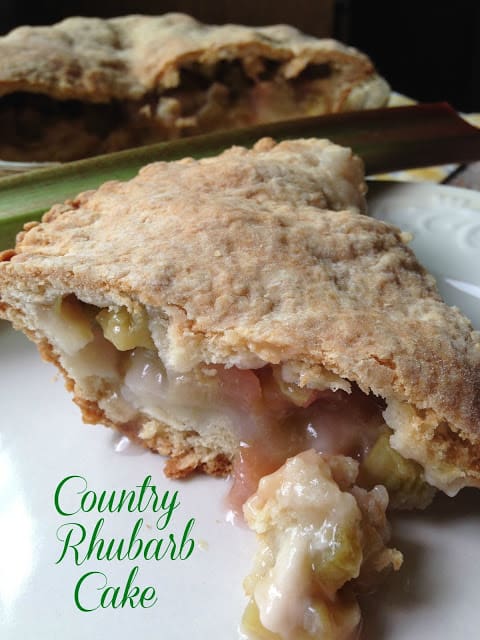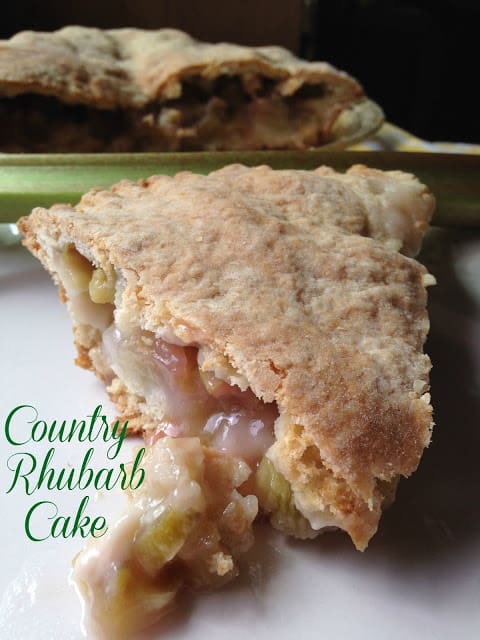 Freeze Some
Another thing to remember…rhubarb is excellent when frozen. Simply chop fresh rhubarb into bite-size cubes, measure rhubarb cubes, place cubes into zip-lock freezer bags, write the amount and date on the front of the freezer bags and freeze for up to one year. No need to thaw frozen rhubarb before using in a recipe.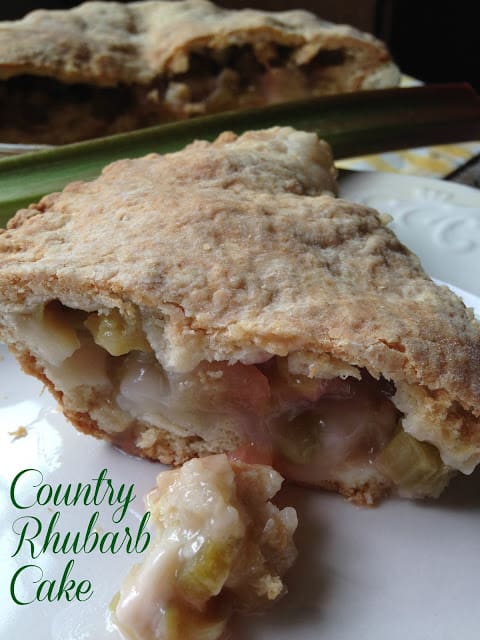 Country Rhubarb Cake
One of our favorite rhubarb desserts!
Keyword:
Amish Bread/Cake, Cake, Rhubarb
Ingredients
3

cups

all-purpose flour, plus 2 tablespoons extra for work surface

1/4

teaspoon

salt

3/4 to 1

cup

sugar

1/2

teaspoon

baking soda

1

teaspoon

fresh grated lemon zest

1

stick

cold butter, cut into cubes

2

eggs

1/2

cup

buttermilk

4 1/2 to 5

cups

sliced fresh rhubarb

1

teaspoon

water

whipped cream or vanilla ice cream for serving, optional
Directions
Heat oven to 350 degrees.

In a bowl, sift flour, salt, 3 tablespoons sugar. baking soda and lemon zest together.

With fingers, rub in butter until mixture is sandy. Beat 1 egg and add to flour mixture, add buttermilk and blend, then turn dough out onto a floured surface. Knead briefly until the dough comes together. Dough will be quite stiff and sticky. Divide in two. Roll out each piece to fit a 9-inch round baking dish. Line bottom of pan with one round, pinching together any tears.

Cover dough in dish with rhubarb. In a small bowl, mix together remaining sugar and 2 tablespoons of flour. Sprinkle evenly over rhubarb in dish. Place second pastry round on top and pinch edges together. Pinch together any holes. Beat remaining egg with 1 teaspoon water. Brush over dough.

Place a baking sheet in oven to catch any drips. Place baking dish on baking sheet and bake about 1 hour. If crust browns too soon, cover the cake with a piece of aluminum foil and continue baking.

Serve warm with whipped cream or vanilla ice cream, optional
Recipes On Tap
Old Fashioned Rhubarb Pie and Rhubarb Strawberry Filling .
Each year we purchase rhubarb from Nicolet Farms