Deep-fried Mushroom
We may earn money or products from the companies mentioned in this post.
Deep-fried Mushrooms
Whether they are served as an appetizer during a football game or as a side with grilled hamburgers, deep-fried mushrooms are always a favorite in my house. This is my take on a favorite that my daughter and I always ordered at one of our local drive-in's. Do you remember what a "Drive In" is? Do they even call them "Drive In's" anymore?? Well, if you remember what a "drive-in" is and you still call them a "drive-in" by accident now and then, you must be around my age:) Cough 50-ish Cough. Back to the story.
Local Restaurant
In Appleton WI, there is a drive-in/fast food called Tom's Drive In. Tom's Drive In has served Appleton and the surrounding area for over 40 years. I can remember when my kids were young and we'd go to Tom's and get 5 burgers and 5 fries for $5.00 or was it 4 burgers for a $1.00 and 4 fries for a $1.00?!? Something like that. Tom's also had/has the best deep-fried cheese curds, onion rings and fries.
Tom's also had the best deep-fried mushrooms too. Like I said they had the best deep-fried mushrooms.  For some reason and I'm not sure why, Tom's doesn't have deep-fried mushrooms on the menu anymore. That's what inspired me to make my own. Sometimes you just need to reminiscence about days gone by. When you get to be my age anyway, you tend to do a lot more reminiscing.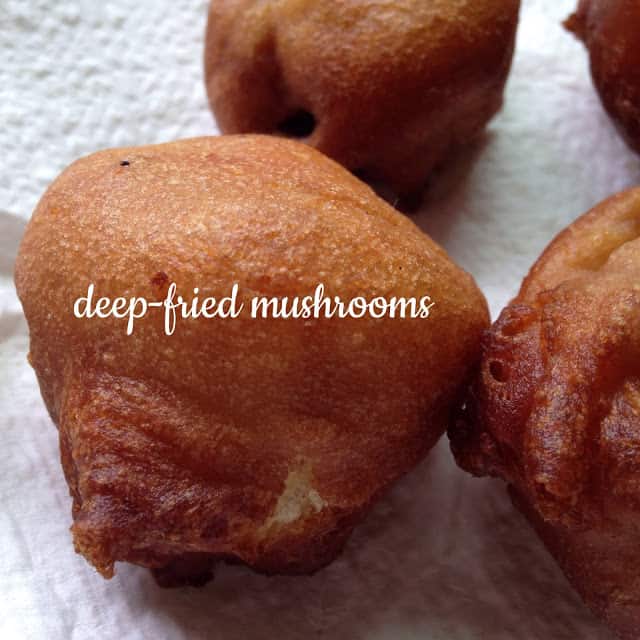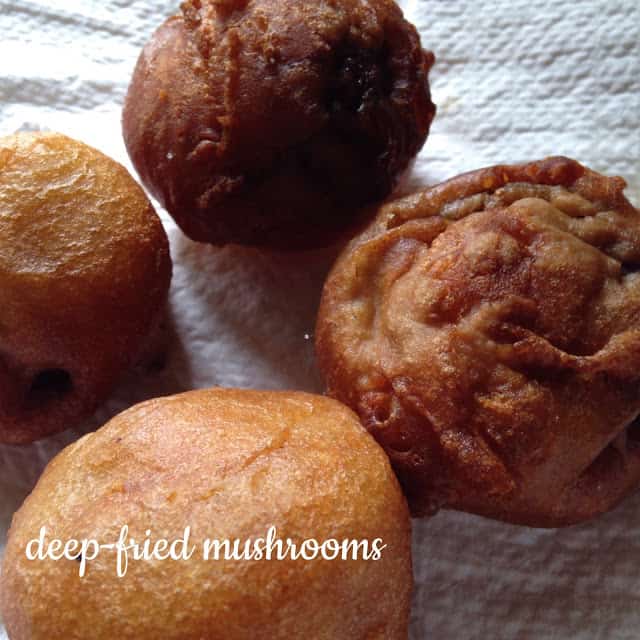 J D's Drive In
Another popular restaurant is JD's Drive In. JD's has been at the same and only location since the 1970's. In fact my hubby and I ate lunch at JD's when we were in High School, back in the 70's, so I know it's been around since then. It has been owned and operated by JD himself since it open way back when. I don't think I've ever eaten at JD's when he hasn't been there. There food is super good and the turtle sundae is to die for!!!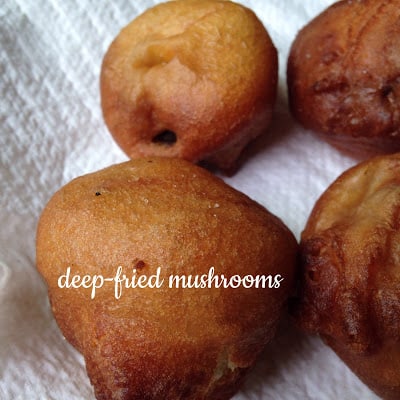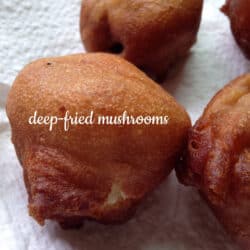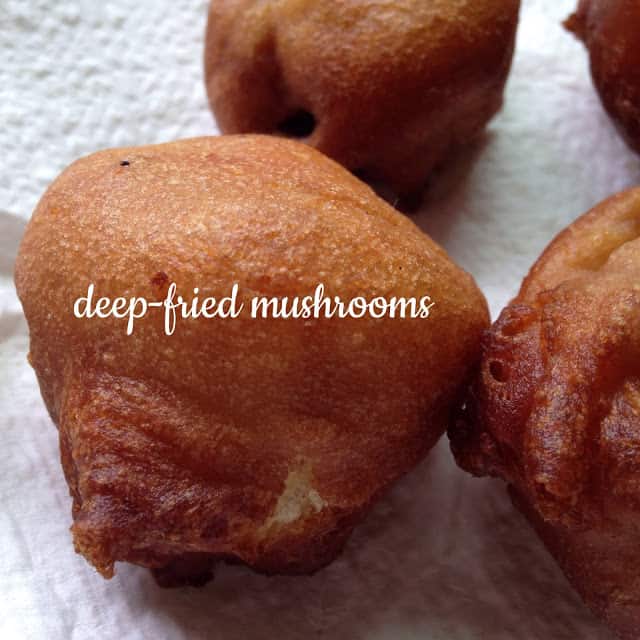 Deep-fried Mushrooms
Serve these tasty deep fried mushrooms with ketchup, honey mustard or campfire sauce.
Ingredients
2

cups

beer

,

your favorite

2

cups

sifted flour

2

teaspoons

garlic powder

2

teaspoons

salt

1

teaspoon

pepper

1

teaspoon

parsley flakes

1/2

teaspoon

baking powder

1

egg

1

tablespoon

oil

3 to 6

cups

cooking oil

1 to 2

pounds

whole large fresh mushrooms, wiped clean
Equipment
cast iron Dutch oven for deep frying
Instructions
Pour at least 3 inches of oil into a large, deep cast-iron Dutch oven.

Heat until it reaches about 375º

Meanwhile mix beer, flour, garlic powder, salt, pepper, parsley flakes, baking powder, egg, and oil in a large bowl.

Mix until smooth and well blended without any lumps.

Dip mushrooms into batter and coat well.

Fry mushrooms in batches in oil until crispy and brown, about 8 minutes.

Remove mushrooms to a plate lined with paper towels to drain excess oil.

Sprinkle with salt and serve with favorite sauce or ketchup.