Saucy Pork Chops with Five Grain Blend
We may earn money or products from the companies mentioned in this post.
Saucy Pork Chops with Five Grain Blend
This is my version of a dish Aggie made many, many years ago. In fact, it was the only way Aggie made pork chops. Wait, I take that back, she also made shake 'n bake pork chops too, but this recipe was the one she made most often. In fact, Aggie really didn't make this recipe but a recipe easier.   Pork chops, oil and cream of mushroom soup, that was about it. I guess this is my updated version of Aggie's version.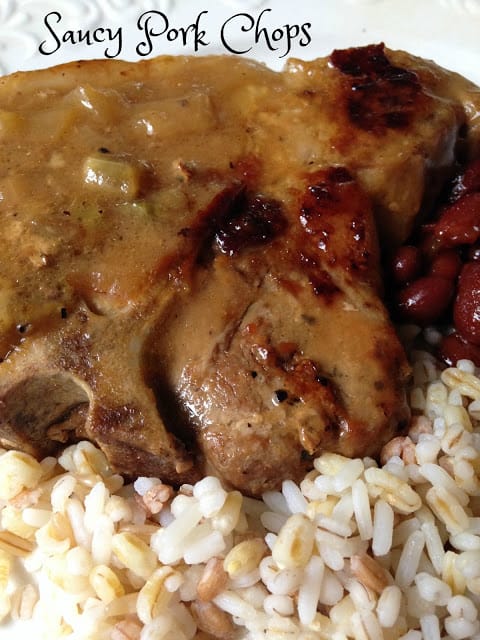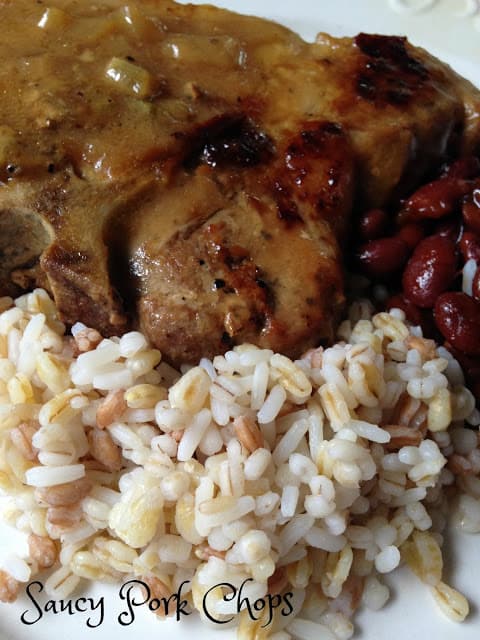 Word About 5 Grains Blend
This recipe uses Earthly Grains Quick Cook 5 Grains Blend. You can purchase Earthly Grains at Aldi. Five grains blend has 5 grains which are:
spelt, barley, wheat, rice and wholegrain oats. My mom Aggie made this dish without garlic, onions and white wine. She served  saucy pork chops alongside mashed potatoes. We like to serve these tender, saucy chops with mashed potatoes also but today we're going to serve them with Five Grain Blend.
Earthly Grains Five Grains Blend
Earthly grains is a good source of fiber and a low fat food. "Earthly Grains brings you truly wholesome products harvested from the earth. Grains contain important sources of many nutrients, including fiber, B vitamins and minerals, The Earthly Grains range provides a variety of satisfying grains. rice, couscous and more." We really like the new and different styles of grain blends, rice blends and couscous blends that are available at most grocery stores.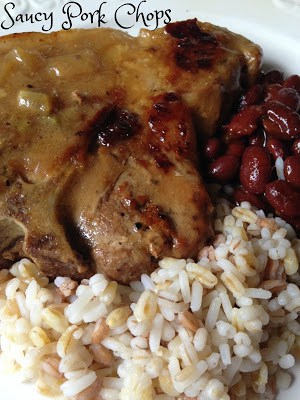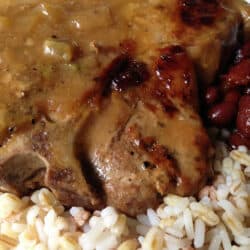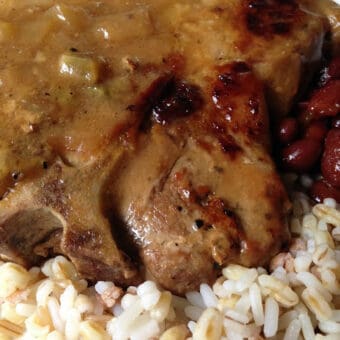 Saucy Pork Chops with Five Grain Blend
Serve with your favorite vegetable.
Ingredients
4

tablespoons

oil

2

tablespoons

butter

1

medium

onion, thinly sliced

2

cloves

garlic, minced

4 to 6

thick pork chops

1

10 oz can

condensed cream of mushroom soup

1

cup

water

1/4

cup

quick cook 5 grains blend

3/4

cup

water
Instructions
In a large skillet, heat oil and butter over medium heat for 2 minutes.

Add sliced onions and minced garlic, saute' stirring constantly for 5 minutes.

Add pork chops, brown on both sides, 10 minutes per side.

Remove chops to a serving plate, set aside.

Pour water into skillet, stirring constantly, loosen browned bits from the bottom of pan.

Stir can of condensed cream of mushroom soup into water in skillet, stirring constantly.

Return pork chops to skillet, reduce heat to medium low. Cover, simmer gently for 1 hour.

Meanwhile, prepare five grains blend.

In a medium saucepan combine water and grains.

Bring to a boil; reduce heat to low, cover and cook for 10 minutes.

For softer grains, cook 2 to 3 minutes longer.

Remove from heat, let stand, covered, for 5 minutes.

Drain any excess water, fluff with a fork and season to taste.
Recipes On Tap
Here on Turnips 2 Tangerines we love Pork! Give these favorite recipes a try. Creamy Pork Roast in Crock Pot, Asian Inspired Sesame Pork Ribs and Hawaiian Pork Sliders. And for dessert; Cherry Cheesecake Dip