Crackle Colored Eggs & Coconut Nests
We may earn money or products from the companies mentioned in this post.
Crackle Colored Eggs & Coconut Nests
Start a new tradition in your house this Easter season and make crackle colored eggs and chocolate coconut nests. Get your kids and/or grand-kids involved in the fun. Crackle eggs are made simply by rolling cooled, hard-boiled against a hard surface to make a crackle effect on the shells. Allow to sit in colored dye for X amount of time, peel off the crackled shells and poof, you've got yourself some crackle colored eggs.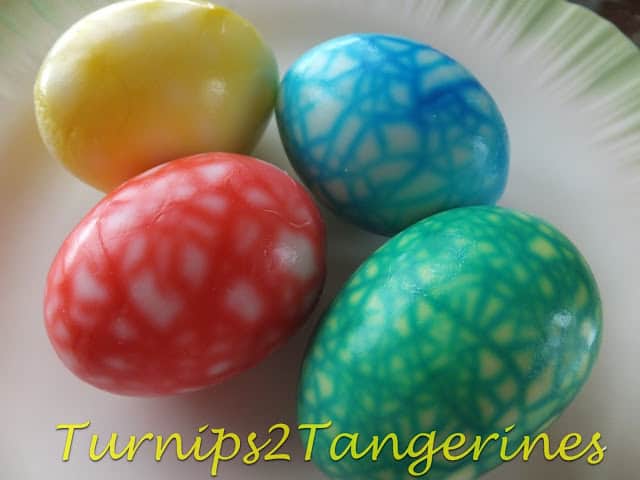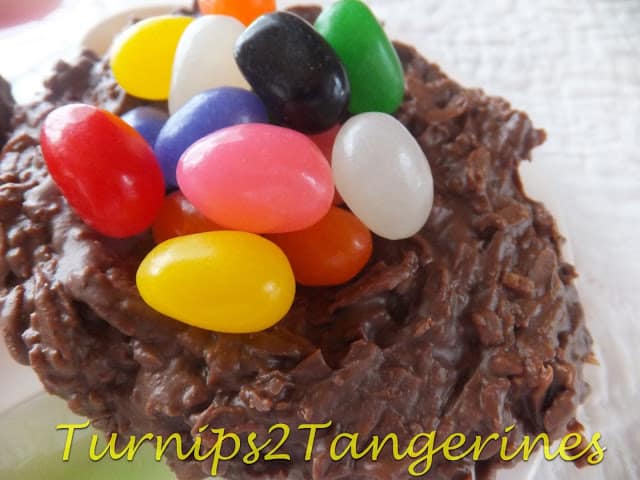 Recipe Idea

Give your favorite deviled egg recipe a fun new twist. Prepare your eggs crackled style for a fun, festive and colorful new look. Use different colors for different holidays such as: red and green for Christmas, orange and black for Halloween and orange and red for Thanksgiving. You can also make your deviled eggs in your favorite Team Colors!! Deviled eggs made "crackle style" will be a welcomed sight on any buffet or appetizer table.
Chocolate Coconut Nests
All this talk about deviled eggs we forgot to mention chocolate coconut nests. Chocolate coconut nests are made the same way that I make chocolate coconut haystacks. This only difference, the nests are made much bigger! I melt my chocolate using a double boiler and I use a good chocolate such as Ambrosia. Stir in your sweetened flaked coconut. Drop large spoonfuls if chocolate mixture onto tin foil. Make a nest with the back of a spoon.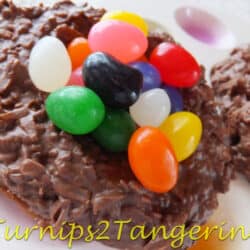 Chocolate Coconut Nests
So simple but so delicious.
Ingredients
1

pound

milk chocolate, use a good quality chocolate

1

14 oz bag

sweetened flaked coconut

1

bag

jelly beans or candy of your choice
Instructions
Place chocolate in a glass bowl, microwave 1 to 2 minutes on high, stir until melted and smooth or melt chocolate using a double boiler stirring until chocolate is melted and smooth. Stir in coconut until well blended. Drop by large spoonfuls onto tin foil. With the back of the spoon, make a well in the middle of the chocolate to make a "nest" Let chocolate set up, this might take a few hours.

Remove "nests" from foil and fill with jelly beans or candy of your choice.

Store in an air tight container, between sheets of waxed paper.

Store in a cool place or refrigerator.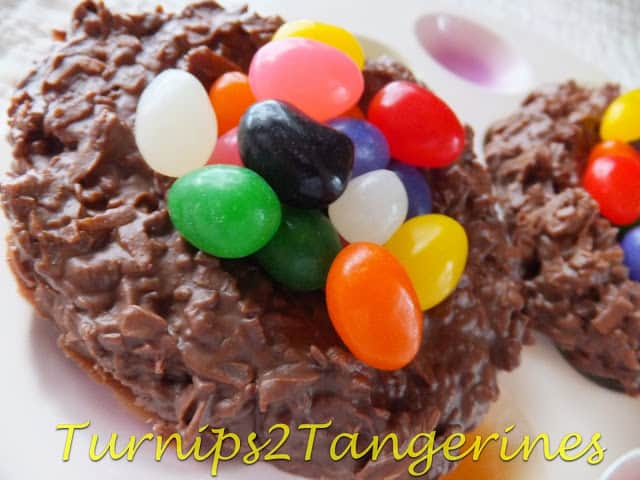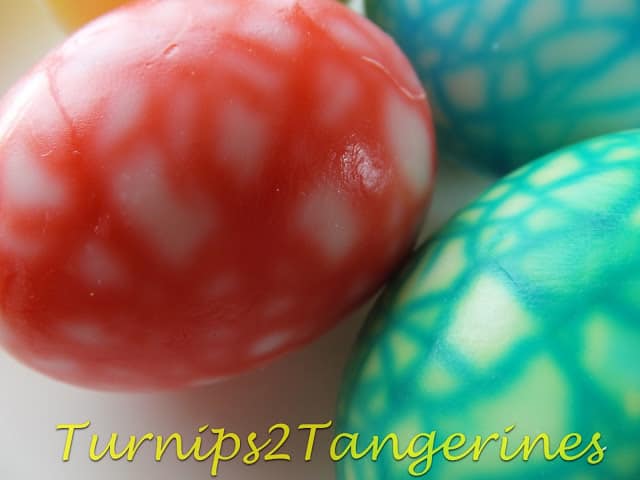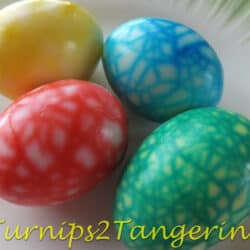 Crackled Colored Eggs
A fun new twist on an old favorite.
Ingredients
6

eggs

6

assorted food coloring colors, neon colors work great

6

cups

hot water

2 1/2

teaspoons

white vinegar
Instructions
Cook eggs by placing them in a saucepan in a single layer. Cover with water to 1-inch above the eggs. Heat just to boiling, cover the pan and remove it from the heat. Let stand 15 minutes.

Immediately run cold water over eggs until they're cool to the touch. Once the eggs are cool, roll them gently on the counter top to crack the shells.

Choose your favorite food coloring and place a few drops of each color in their own cup. Fill the cups with 3/4 cup hot water, add 1/2 teaspoon distilled vinegar to each cup, place eggs into the cups. Allow them to sit for at least 4 hours in the refrigerator.

Remove eggs from water/vinegar mixture. Peel back the shells and reveal your finished eggs!
Raspberry Streusel Bars are always delicious. Perfect to serve on Easter.
For this recipe we used Americolor Coloring Gel