Pork Egg Rolls with Orange Sauce
We may earn money or products from the companies mentioned in this post.
Pork Egg Rolls with Orange Sauce
Pork Egg Rolls with Orange Sauce are fast, easy, portable and best of all delicious. Egg rolls are a great way to use up leftovers. Just about anything can be enclosed in a egg roll wrapper.  Ground pork is used in this recipe but ground turkey will work also. When we make egg rolls here at Turnips 2 Tangerines, coleslaw blend is our cabbage of choice. So much easier than shredding a head of cabbage and your knuckles on a box grater.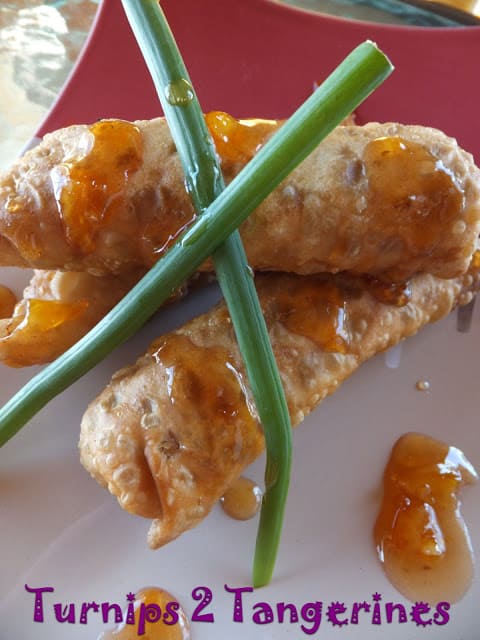 Baked not Fried
Traditional egg rolls are always deep fried but now that more and more people have become health  conscious, egg rolls are now often baked and not fried. When baking egg rolls, line them up single file in a baking dish. Spray them well with a non-stick cooking spray. Bake until crispy and light golden brown. The inside should be hot as well.
Spicy Sauce
Just remember that baked egg rolls will have a slightly different appearance than deep fried but baked are delicious all the same. Pork Egg Rolls are dipped into a delicious slightly spicy, sweet orange sauce. Made with sweet orange marmalade, Malibu coconut rum, bottled sweet sour sauce and hot chili peppers. Make an alcohol free sauce and replace the Malibu rum with orange juice, coconut milk or water.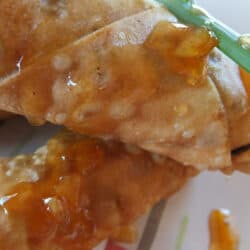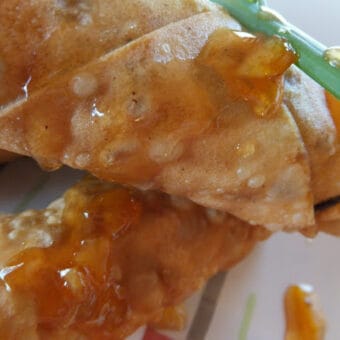 Pork Egg Rolls with Sweet Orange Sauce
Delicious pork egg rolls with a fantastic dipping sauce.
Ingredients
1

teaspoon

cornstarch

4

teaspoon

soy sauce

1/2

teaspoon

sesame oil

1

tablespoon

oil

4

cups

purchased coleslaw blend

1

cup

canned bean sprouts, drained and chopped

2

tablespoons

sliced green onions

1/2

teaspoon

grated ginger root

1/2

pound

ground pork, cooked and drained

oil for frying

1

package egg roll wrappers, you can find egg roll wrappers in the produce section

1

12 oz jar

sweet orange marmalade

1/4

cup

Malibu rum or orange juice

1/4

cup

sweet and sour sauce

3

dried hot chili peppers or to taste
Instructions
In a small bowl, combine cornstarch, soy sauce and sesame oil; set aside.

Heat 1 tablespoon oil in large skillet or wok over medium-high heat until hot. Add coleslaw blend, bean sprouts, onions and ginger root; cook and stir 3 to 4 minutes or until veggies are tender. Add pork and cornstarch mixture; cook and stir until mixture is fully coated, 1 to 2 minutes. Remove from skillet; cool to room temperature. In deep fryer, heavy saucepan or wok, heat 3 to 4 inches of oil to 375º F.

Meanwhile, place 1 egg roll wrapper on working surface with 1 corner facing you. Place 1/4 cup coleslaw mixture slightly below center of egg roll wrapper. (Cover remaining skins with a damp paper towel to prevent from drying out) Fold corner of egg roll wrapper closest to filling over filling, tucking point under. Fold in and over flap. Wet the remaining corner with water; gently roll the egg roll toward remaining corner and press to seal. Repeat with remaining egg roll wrappers and coleslaw mixture. Fry egg rolls in hot oil, a few at a time, 4 to 6 minutes or until golden brown, turning once.

Drain on paper towels.

Make and Serve with Sweet Orange Dipping Sauce

Combine all ingredients in a small saucepan.

Bring to a boil, reduce heat and simmer 10 minutes.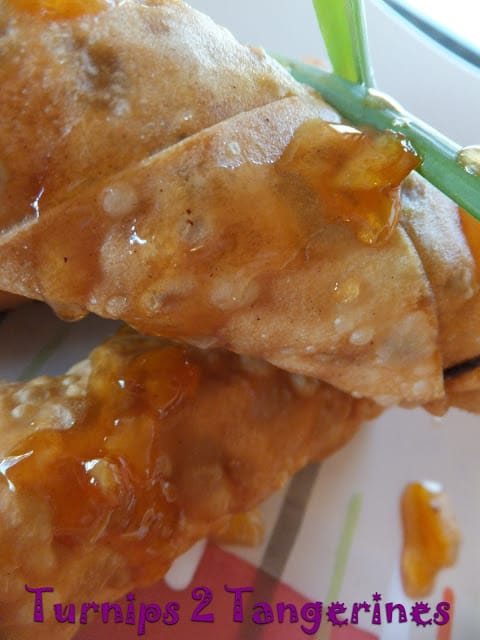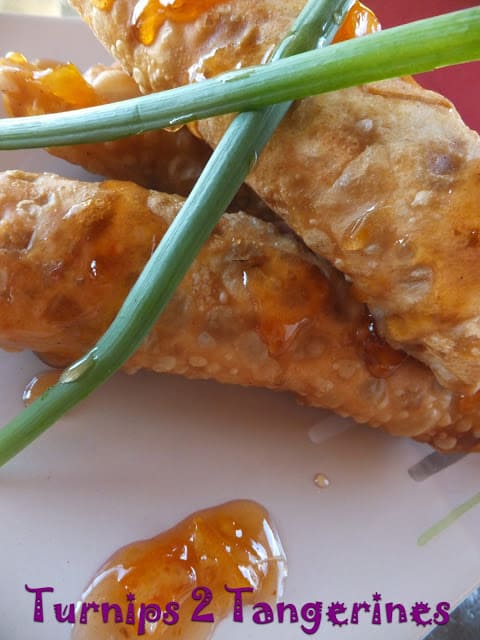 Here are a few more egg roll recipes you'll want to try. Shrimp Egg Rolls, Pineapple Pork Spring Rolls and Stuffed Poblano Pepper Egg Rolls.
This recipe is made with Kraft Sweet Marmalade and Malibu Coconut Rum.