Grilled Polenta and Eggs
We may earn money or products from the companies mentioned in this post.
Grilled Polenta and Eggs
What a wonderful way to serve grilled polenta triangles or squares, topped with two eggs sunny-side up. Try this recipe for an early morning breakfast or a late night snack. This recipe has three easy parts to it. First you will need to make a basic recipe for polenta. Refrigerator the polenta until firm. Cut the polenta into triangles, squares or in any shape you want using cookie cutters.
After the polenta is cut out into desired shapes, squares or triangles, brush both side with olive oil. Fry polenta until golden brown and edges are crisp. In a separate skillet fry the eggs sunny-side up. Top polenta with the eggs and serve. For an added extra layer of deliciousness, sprinkle top of eggs with shredded Parmesan cheese. Doesn't get much easier than that! Doesn't get much tastier either that either.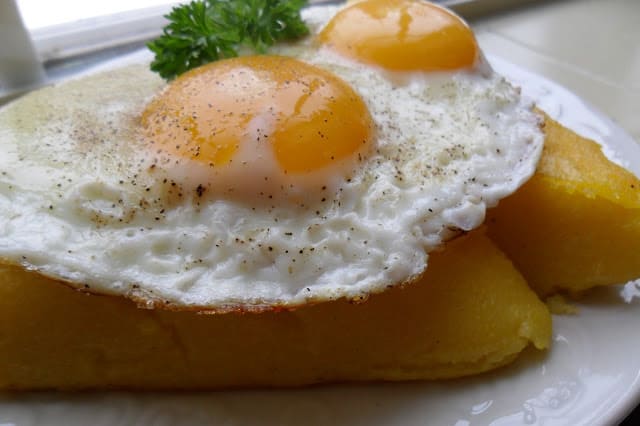 What is Polenta?
Polenta is ground corn that is ground very fine and is used in muffins, bread, polenta or 'mush' and eaten for breakfast. Cornmeal has been around for-ever and was once used more often than flour in many recipes. Every region/state/country has their own trademark recipe using yellow or white cornmeal. For this recipe we used Quaker Oats Cornmeal.
Precooked Polenta
If time is running short and you don't have time to make polenta from scratch, reach for a tube!  Polenta is available in many different brands in 16 or 18-oz tubes. It's fully cooked, usually doesn't require refrigeration until after its opened. I like to keep a tube around to whip up any number of quick appetizer recipes, to make a quick dinner casserole with or for a fast and easy breakfast on the weekends. Next time you see one of those tubes in the market with the word "polenta" on the side, pick one up and see what you can whip up.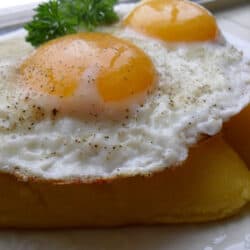 Basic Polenta, Grilled Polenta, Sunny-side Up Eggs
Three recipes for making a fast, easy and delicious breakfast, lunch, dinner or late-night snack.
Ingredients
6

cups

water

2

teaspoons

salt

1 3/4

cups

yellow cornmeal

3

tablespoons

butter

3

green onions, thinly sliced

Grilled Polenta

4

squares

polenta, see recipe above

2

tablespoons

olive oil

Sunny Side Up Eggs

4 

eggs

4

teaspoons

butter

salt and pepper, to taste
Instructions
Bring 6 cups of water to a boil in a large heavy saucepan, add 2 teaspoon salt. Gradually whisk in the cornmeal. Reduce heat to low and cook until the mixture thickens and the cornmeal is tender, about 15 minutes, stirring often.

Turn off the heat and add the butter, stirring until the butter is melted. Stir in chopped green onions. Pour mixture into a buttered 11 x 7 baking dish. Cool. Refrigerate until set. Cut polenta in large squares or triangles. You can also cut the polenta with cookie cutters for a more festive look.

Make Grilled Polenta

Brush both sides with olive oil.

Heat a large skillet over medium heat. Lay polenta slices in skillet and cook until nicely browned and crisp, about 10 minutes. Flip over and brown the other side. Set aside and keep warm if necessary.

Make Sunny Side Up Eggs

Crack each egg into a custard cup.

In a nonstick skillet over medium-low heat, melt butter.

When butter has melted and begins to bubble, gently pour the eggs into the skillet, one at a time. Cook until the whites are opaque and the yolk has set, about 2 to 3 minutes, depending how you like your eggs.

Sprinkle with salt and pepper to taste.

Serve on top of grilled polenta.
Eggplant Parmesan is a great, meatless dish that uses breaded eggplant in place of the lasagna pasta noodles typically used in a traditional.