Cherry Walnut Cream Cheese Log
We may earn money or products from the companies mentioned in this post.
Cherry Walnut Cream Cheese Log
With Thanksgiving and the holidays fast approaching, its time to start planing your menu. I like to make at least one new dish and/or appetizer. In our house, we start the day off with the Macy's Thanksgiving Day parade, followed by football, food, more football and more food! We might even throw in the movie "A Christmas Story" just for fun. If you're looking for a new and different appetizer to make for the holidays, give this a try. Fast, easy and slightly sweet. Make cherry cream cheese log and try something new this holiday season.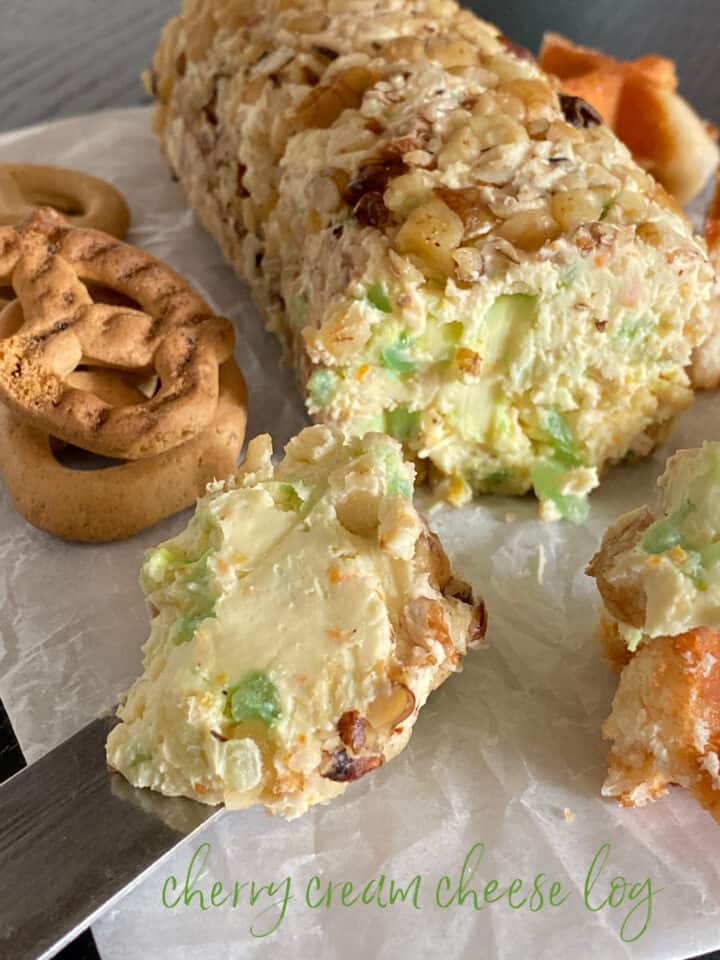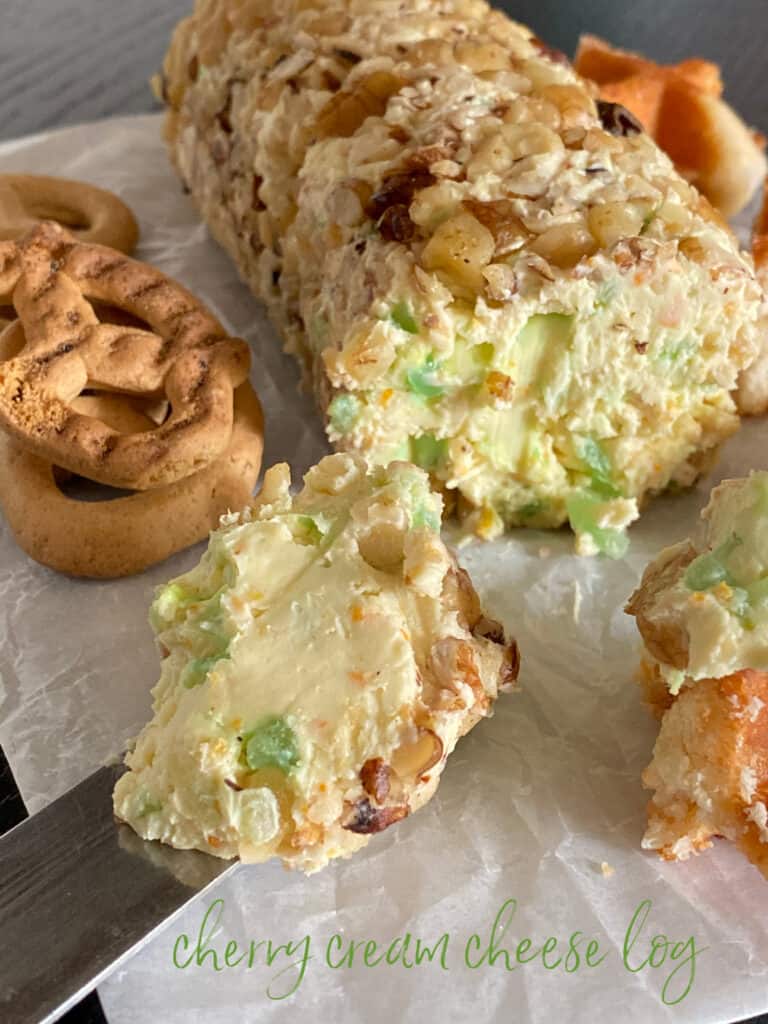 Changing the Way
I'm sure for many families, COVID-19 will change the way they celebrate Thanksgiving or the holidays in general. For us though, they will stay the same. Over the years, Thanksgiving has changed for us. Not necessarily for the bad mind you but changed. A better way to put it, its evolved into something different. What has changed over the years that would cause our way of celebrating to change? Divorce and re-marriage. Children growing up and becoming adults. Adult children getting married and having children. Parents getting older and handing the reins over to next in line.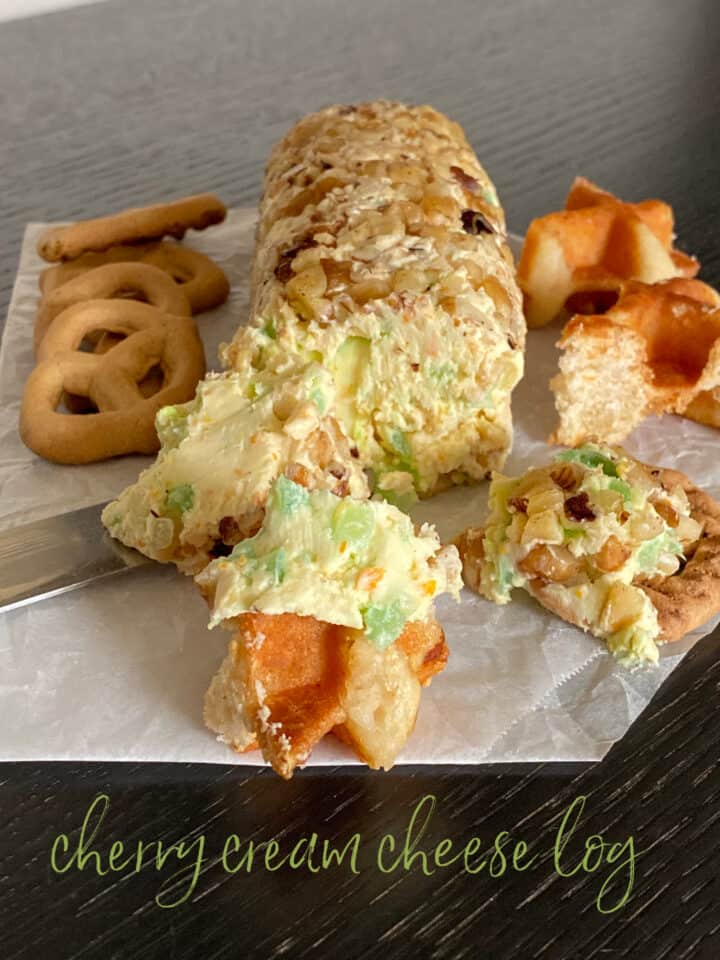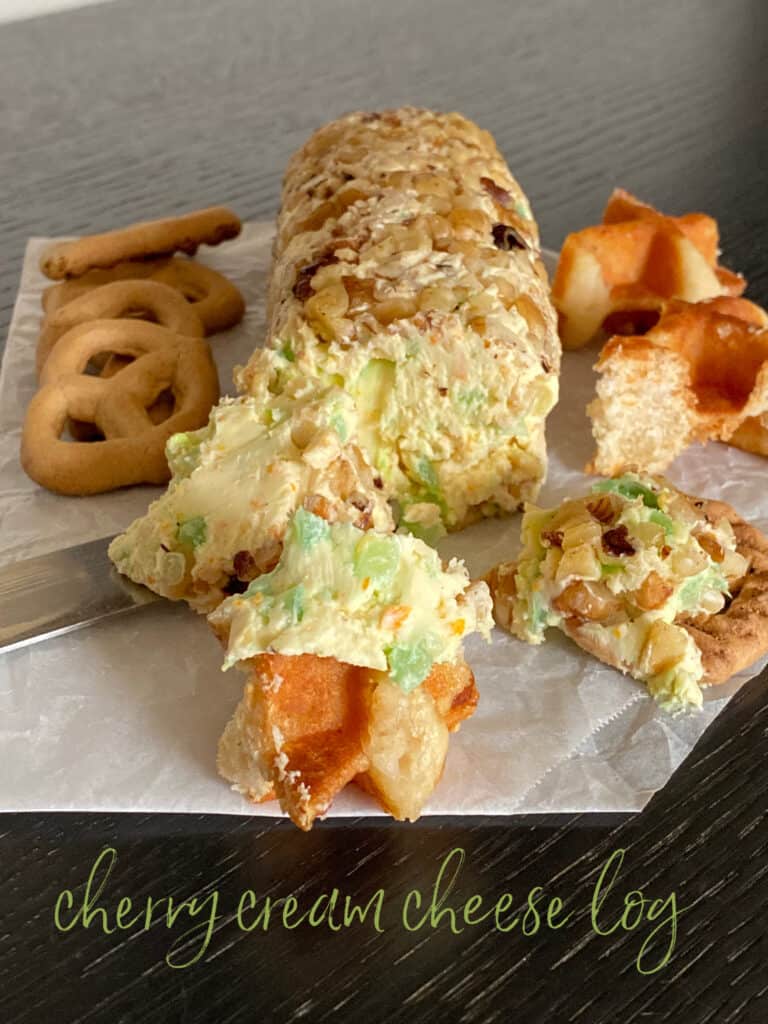 Our Way
In my family, we all do our own thing. Bob my son and his wife Kim spend Thanksgiving with her family. Mindy my daughter and her husband Fred stay home and cook for their family, our  grandkids. Lastly, my step-daughter and her wife go out to eat for Thanksgiving. What do me and poppa do? Stay home, snug in our little 'cottage' on beautiful Green Lake. We stay in our matching pajamas most of the day. Pajamas that we bought specifically for Thanksgiving. Our way might not work for everyone but it works for us.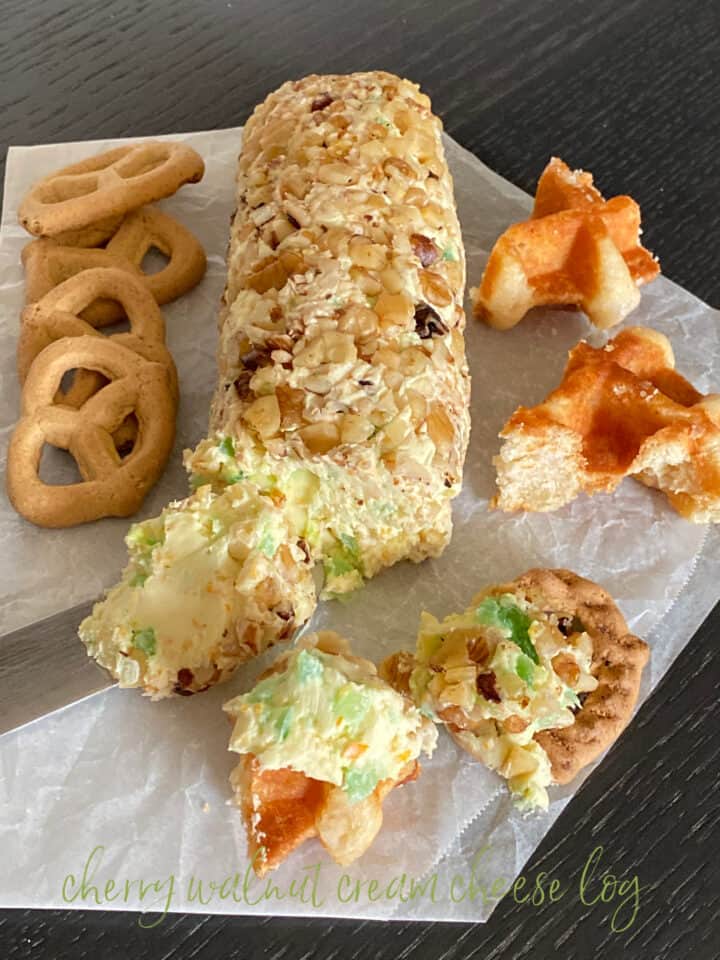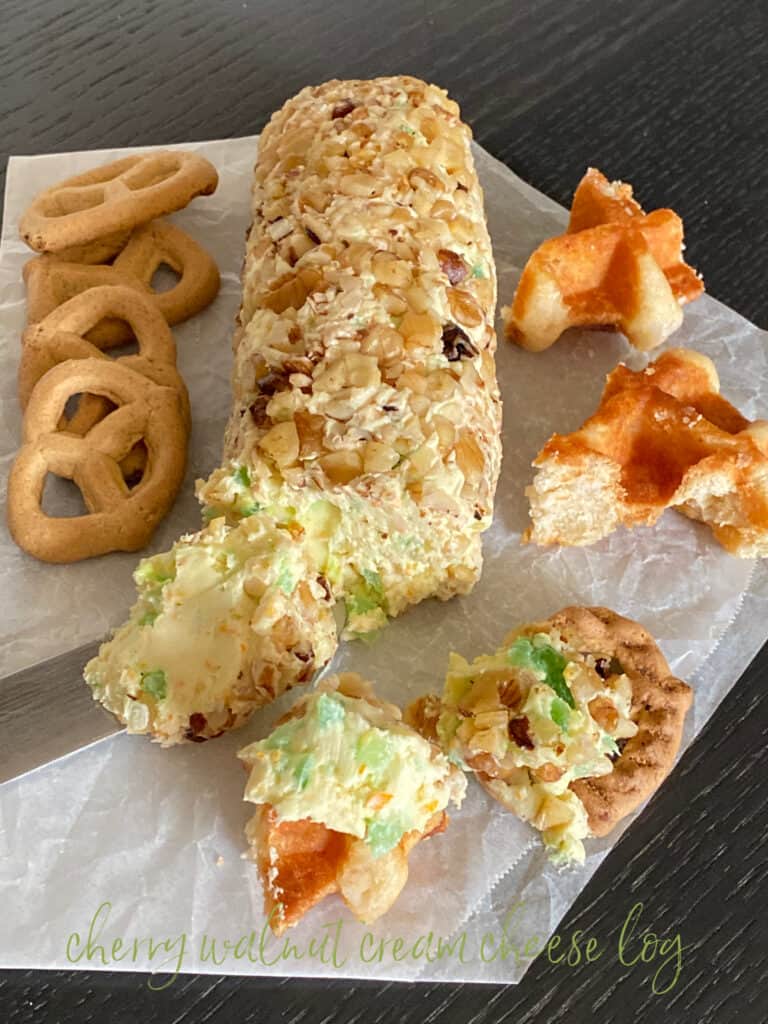 Candied Cherry and Cream Cheese
This recipe is made with only 5 ingredients. Cream cheese, brown sugar, a fresh orange, ground ginger, candied cherries and chopped walnuts. It's easy to whip together and can be made ahead of time. Serve with cinnamon honey pretzel grahams or chocolate honey pretzel grahams. Both are favorites of mine for sweet dips or just for snacking. This is another recipe using fruit from Paradise Fruit Co.
UP NEXT: "Frozen" Vanilla Chip Blondies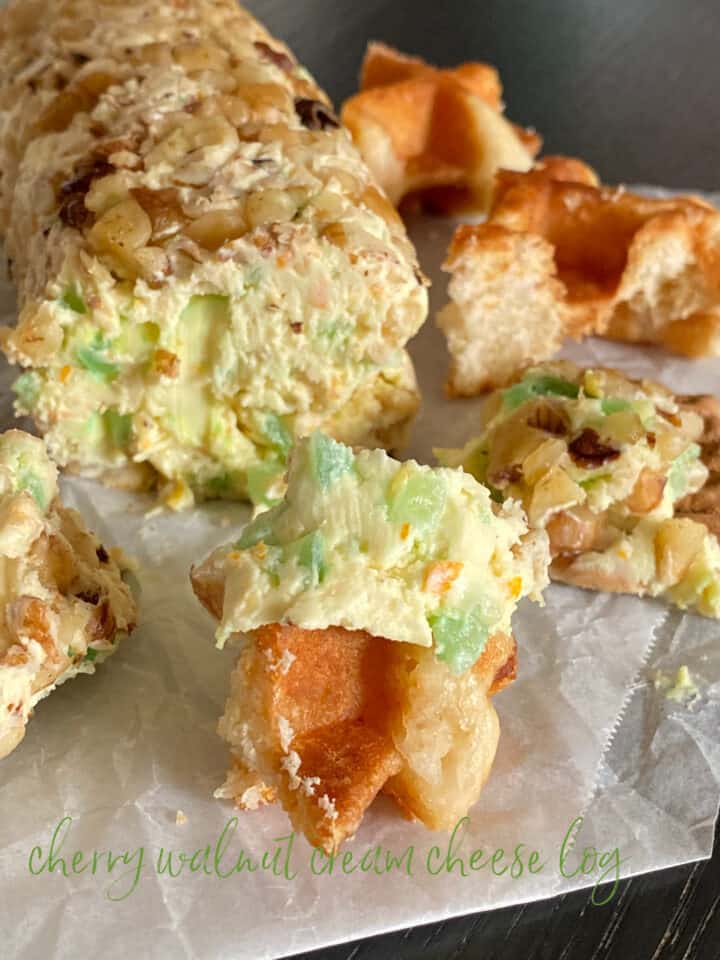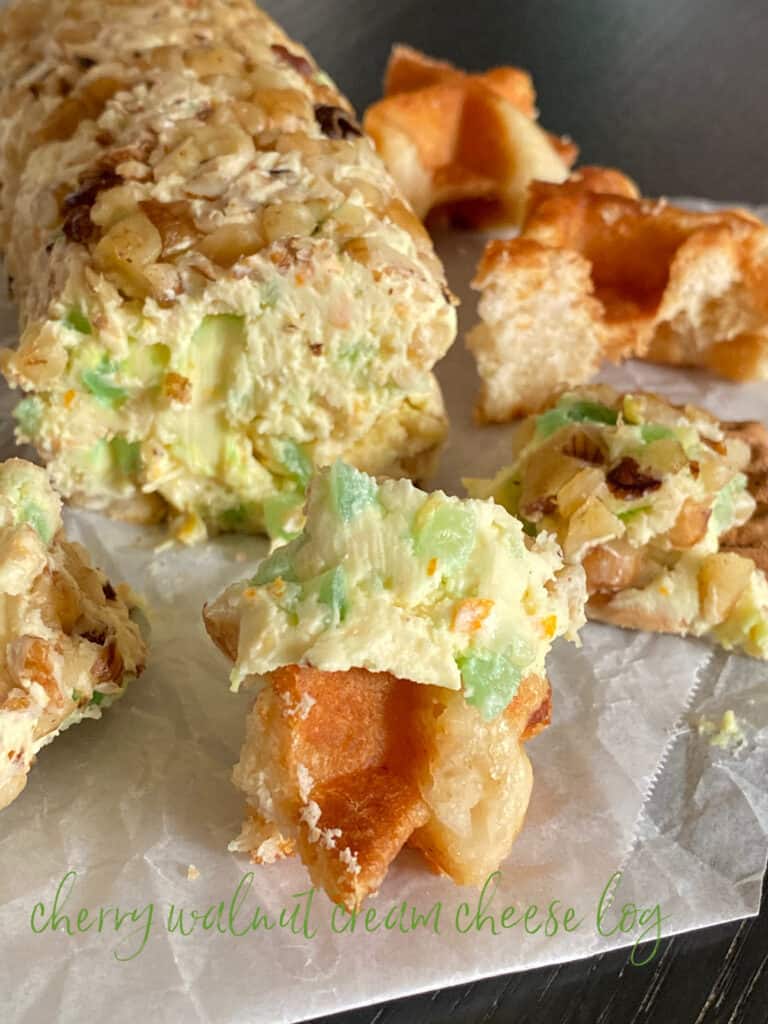 Recipes on Tap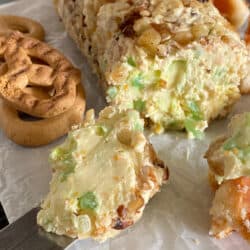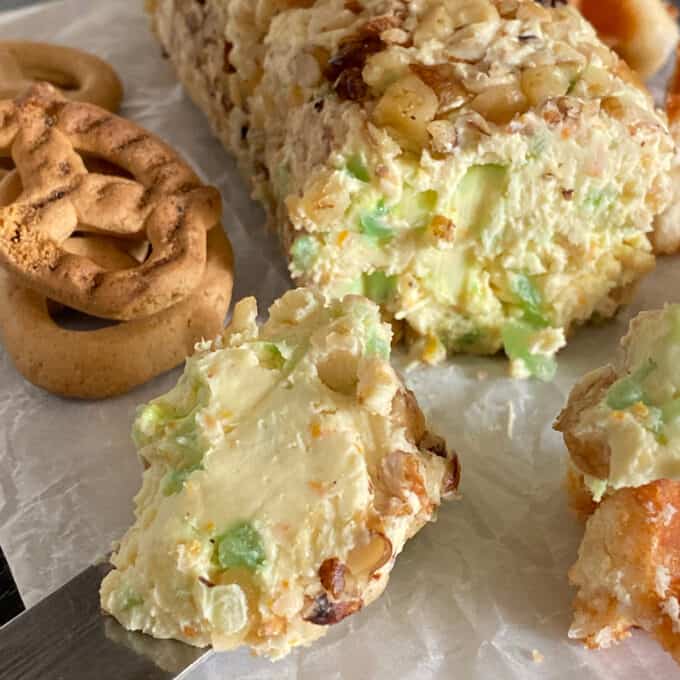 Cherry Walnut Cream Cheese Log
A delicious appetizer, perfect for the holidays.
Ingredients
3 packages

8 oz each

cream cheese, room temperature

2

tablespoons

brown sugar

1

tablespoon

fresh squeezed orange juice

1/4

teaspoon

ground ginger

2

teaspoons

orange zest

1

cup

red and green candied cherries, chopped

1

cup

chopped walnuts, toasted*

cinnamon honey pretzel grahams
Instructions
In a large bowl, beat cream cheese, sugar, orange juice, ginger and orange zest until smooth. Fold in cherries. Refrigerate, covered, at least 1 hour.

Place walnuts in a shallow bowl. Shape cheese mixture into two 7-inch long logs; roll in walnuts and coat evenly. Wrap logs in plastic wrap; refrigerate at least 1 hour. Serve with crackers, pretzels or waffles.

*Heat walnuts in a small skillet over medium low heat until lightly browned, stirring occasionally.