Slow Cooker Pepper Steak
We may earn money or products from the companies mentioned in this post.
Slow Cooker Pepper Steak
Believe it or not, this easy and delicious recipe is made with none other than crystallized ginger. Crystallized ginger provided by Paradise Fruit Co. As most of you already know and for those of you who are new to Turnips 2 Tangerines, I'm a guest food blogger for Paradise Fruit Co. This is my third year and I must say, who knew you could make so many delicious recipes using candied fruit.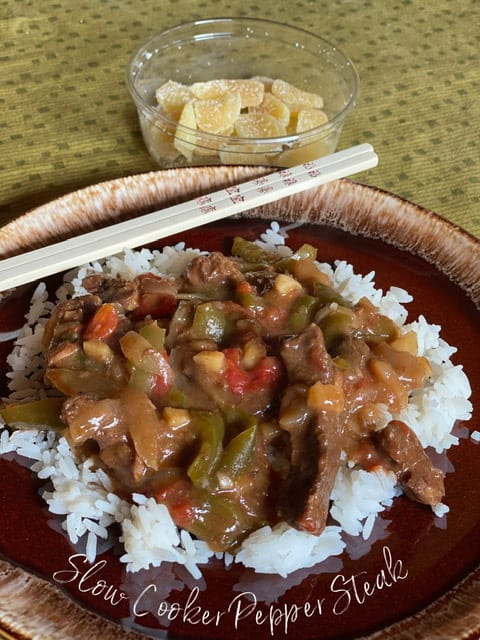 I certainly didn't!! What is a guest food blogger you might be wondering? A guest food blogger develops recipes like this one for Slow Cooker Pepper Steak. I then post the recipes on my blog and on the Paradise Fruit Co. website. Go to the Paradise Fruit Co.  and look under  "Recipes" to find many yummy things to make using their delectable candied dried fruit. Or under "Categories" here on Turnips 2 Tangerines and click on "Paradise Fruit."
Slow Cooker Magic
Let your slow cooker make some magic! Someone once said to me that a slow cooker is only used by lazy cooks. After a few choice words to Mr. Dumba$$, I proceeded to turn and walk away. After all, I'm too old to spend time talking to someone who has no idea what they're talkin' about! A slow cooker preforms magic by turning a tough cut of meat into something super tender and tasty. By allowing the meat to slow cooker all day also allows it to make its own gravy or sauce. Now I call that magic! I've made this super easy and delicious recipe several times now, and…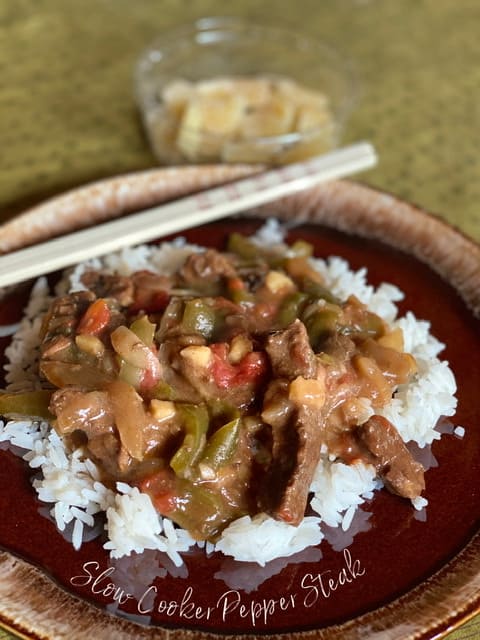 I guess you could say that it has become a permanent resident on our monthly meal plan. Slow Cooker Pepper Steak is the perfect go to 'Saturday afternoon raking leaves' kinda recipe. Throw everything in the slow cooker, turn it on low and walk out the door. When you get back home after a day of picking apples, spending time at the pumpkin patch or shopping at the mall, a delicious hot meal will be ready and waiting. Make some 'minute' rice, pour a glass of wine and grab a fork….it's time to eat!
Marinate 24 Hours
This recipe calls for making a quick and easy marinade. Many recipes often suggest to marinate meat for 30 minutes or up too an hour. Personally, I don't feel that that's long enough, for any recipe. Unless of course it's fish and that's a whole different post:) As I mentioned in the previous paragraph, I've made this recipe several times. That's why I suggest you marinate the steak overnight. The round steak doesn't take on the flavor of the marinate in less time. As I stated, this is my personal preference. If you don't have time, don't want too or simply fell asleep on the couch, not to worry. You can still make this recipe! Just marinate your round steak for as long as you are able too.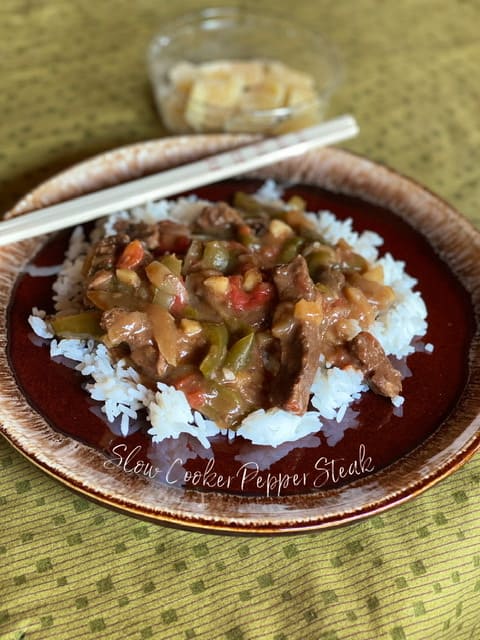 Looking for Slow Cooker Recipes?
We have several slow cooker recipes we know you're going to love. All are easy and delicious. Slow Cookers are great for making appetizers, breakfast, lunch, dinner or even desserts. We've listed just a few of our favorite slow cooker recipes but don't forget to check out all of our crock pot or slow cooker recipes in the recipe index.
Breakfast
Appetizers
Slow Cooker PEPPER STEAK
The steak and peppers become super tender after slow cooking all day.
Ingredients
2

lbs

top sirloin or round steak

4

tablespoons

cornstarch

2

teaspoons

minced garlic

¼

teaspoon

baking soda

⅔

cup

soy sauce

2

tablespoons

crystallized ginger

1

yellow onion, thinly sliced

2 (14.5 oz.)

cans

petite diced tomato, drained

3

tablespoons

brown sugar, lightly packed

3

tablespoons

soy sauce

1

tablespoon

Worcestershire sauce

3

large

green bell peppers, thinly sliced

1

cup

beef broth

1

teaspoon

minced garlic

1/4 - 1/2

teaspoon

ground cayenne pepper

1/4

teaspoon

ground ginger

¼

cup

crystallized ginger, diced

3

tablespoons each

cornstarch and water
Instructions
Remove the fat and slice the top sirloin or round steak into 1 ½ inch strips. Place in a large resealable bag. Add the cornstarch, minced garlic, and baking soda. Massage into the meat. Add the soy sauce and crystallized ginger to the bag. Seal the bag and massage again, place the bag in the fridge overnight.

Place sliced yellow onions into the crockpot. Pour in the drained chopped tomatoes. Add the brown sugar, soy sauce, Worcestershire sauce, sliced green bell pepper, beef broth, minced garlic, cayenne pepper, ground ginger and crystallized ginger.

In a small bowl, whisk together the cornstarch and water. While stirring constantly, add to the crockpot.

Discard the marinade and add the meat. Cover and cook on low for 6-8 hours.
Nutrition